Posted on
Sun, Dec 11, 2011 : 5:59 a.m.
Trials help turn undersized Michigan center David Molk into legitimate NFL prospect
By Kyle Meinke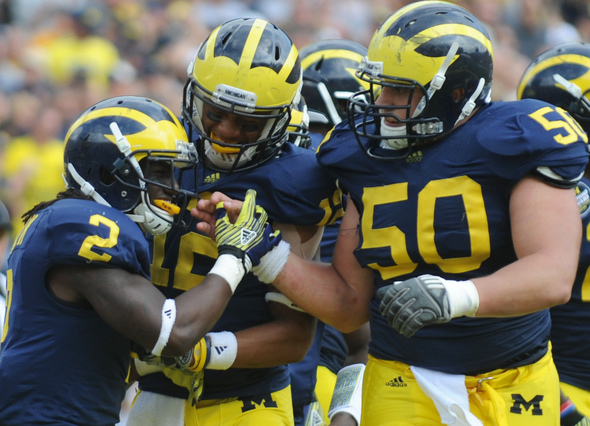 Angela J. Cesere | AnnArbor.com
David Molk
signed up to play for a winner. He signed up to play for
Lloyd Carr
. He signed up for Big Ten championships.
He didn't get what he signed up for.
Instead, the fifth-year senior center endured some of the darkest days the Michigan football team has ever known. He's among the first group of players in more than 80 years to play for three coaches at Michigan. He lost almost an entire season to injury.
And, now that he's in the twilight of his college career, Molk isn't bitter for any of it.
"To be honest with you, I'm glad I went through it," he said recently.
Why?
Because those trials helped to fuel a fire that molded him into the country's top college center, an award he won Thursday night in Orlando. He was named the Big Ten's Offensive Lineman of the Year last week.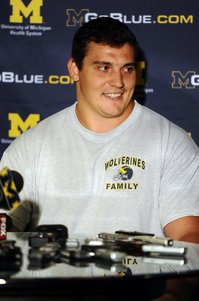 Melanie Maxwell | AnnArbor.com
And, he's turned himself into a legitimate NFL prospect, despite standing 6-foot-2, 286 pounds — short and light, by Big Ten and pro standards — and being thrust into three offensive systems in five years.
Those are obstacles that inhibit most players. Molk used them to his advantage.
"There's a couple different ways you can look at it," he said. "There's, 'Oh, it's tough, a new system, a new set of wording.'
"Another way to think about it is, 'Oh, I get to learn another set of options.' Because, obviously, with what's coming up in my career, I really don't know what everything's going to be called, or what the coach is going to want, so now I know three different ways to do every single block, every single technique, and I know which way works best for me and which way works best in certain situations.
"So, it's really prepared me for everything I'm going to face in the future."
Molk discussed that future with the media for the first time while in Indianapolis recently to be honored as the Big Ten's best offensive lineman.
He said that although the coaching transitions were painful — especially the first, when many of his classmates left and the team struggled to a program-worst 3-9 record — they've made him a better pro prospect because he's now played in three systems, and excelled.
"I don't know what I'm going to be doing next year — what kind of system, what kind of coach, what kind of plays were going to run," Molk said. "So, it's nice to be ready for anything."
One AFC scout said that is an attractive quality to NFL teams, and unique among college players. The scout said it shows how cerebral Molk is as a player, which will be his best quality at the next level.
But the scout also said that, although Molk is athletic, his measureables will hurt his stock.
"He's a smart kid, and I love the intangibles on him," the scout said. "Would he have a chance to make it here? Absolutely. But, size is always going to be the issue."
Another AFC scout, who also expressed concerns about Molk's size, said he has one thing going for him: His position.
"Center is the one place you can get away with (lack of size) at the NFL level," he said. "You don't want to, but you can.
"I don't think he'll ever start. But, do I think he has a chance? Yeah, because you see some of the guys who are playing sometimes because of attrition, injury, age, all kinds of factors."
Those criticisms are nothing new to Molk, dating to when he entered high school in Lemont, Ill., at 5-foot-6, 180 pounds.
"When I was going through recruiting in high school ... I had a lot of good things, and I had one outstanding bad thing that every single person in the world told me: That I was too short, and that I was too light," he said.
"I told myself there would be absolutely no reason or no way that would affect how I play, and that's what I've tailored my entire career after."
Molk said he's learned to use that frame to his advantage.
"I don't have 330 pounds to let somebody run into," he said. "I'll adapt, and I'll manipulate a player before they can get to me. It's a preventative way of playing the game."
That style is unique to Molk, and it's worked well for him at Michigan, where he's a four-year starter — although he lost much of 2009 to a series of injuries — and team captain. He learned to dominate college tackles, despite being outweighed by nearly every one he faced.
He became the Big Ten's best. He became the country's best.
That's a triumphant send-off for a senior who has "been through the mud," as Mike Martin likes to say.
It all came together for Molk when he called his father after winning the Big Ten award.
"It was kind of a mutual agreement and understanding of, this finally all worked itself out," he said of the conversation. "It's just a moment I'll remember for a long time."
Kyle Meinke covers Michigan football for AnnArbor.com. He can be reached at 734-623-2588, by email at kylemeinke@annarbor.com and followed on Twitter @kmeinke.