Posted on
Fri, Sep 23, 2011 : 4:28 p.m.
Turnovers, safeties' playmaking ability helps Michigan defense bend but not break
By Kyle Meinke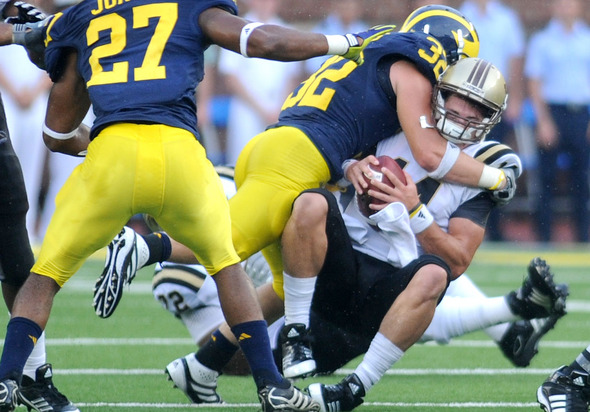 Angela J. Cesere | AnnArbor.com
The Michigan football team's defense has showed measured gains in total defense through three games, checking in at 53rd after finishing 110th last season.
Its shown significant gains in scoring defense, currently ranking 24th after finishing 107th last year.
Why the discrepancy between scoring and total defense this year? Its ability to force turnovers and limit big plays, two problems from past years the Wolverines (3-0) seemingly have addressed on a bend-but-don't-break defense.
They'll look for that trend to continue Saturday when they take on San Diego State's 26th-ranked scoring offense at the Michigan Stadium (Noon, BTN).
"We talk every day about creating turnovers," safety Thomas Gordon said. "We all want to be playmakers. That's one thing this program's been missing the last couple years, is people on the back end making plays and turn the ball back over to the offense, and that's what we're trying to do."
According to coaches, Michigan's defense will face its biggest test to date against San Diego State, which features an NFL prospect in Ryan Lindley at quarterback and the nation's second-leading rusher in Ronnie Hillman at tailback.
The Aztecs also hang onto the ball, having lost only one interception and one fumble this year. Michigan, meanwhile, has forced 10 turnovers, fifth most in the country. Its plus-six turnover margin is fourth (when counting the Western Michigan game, which the NCAA does not do statistically).
The Wolverines wouldn't have beaten Notre Dame without turnovers (they forced five), turned around the Western Michigan game with an interception (which Brandon Herron returned for a touchdown) and stayed close to Eastern Michigan early with a pick and fumble recovery.
Michigan's safeties have been paramount to the defense's bend-but-don't-break attitude, and are playmakers on a defense largely devoid of them.
Gordon came up with both of the Wolverines' turnovers last week against Eastern Michigan, first recovering a fumble forced by defensive end Jibreel Black on the Eagles' first drive.
In the second quarter, the sophomore read a "funky formation" by the Eagles, on which the backup quarterback also was on the field, and wasn't fooled by a double-pass in his direction. He intercepted the pass with a one-handed, over-the-shoulder catch at the goal line.
Gordon said much of his success stems from the position change he was asked to make by coach Brady Hoke and defensive coordinator Greg Mattison, which moved Gordon back to free safety, where he feels most comfortable.
Former coach Rich Rodriguez had moved Gordon from safety to hybrid linebacker.
"I feel like I'm back at my natural position now," said Gordon, who earlier this year said he enjoys being a "ball-hawk" at free safety. "But wherever the coaches put me, i just try to do my best to do what they want me to do."
The safeties also have been pivotal to limiting the big plays that plagued the team last year. Michigan is one of 12 teams that have not allowed multiple plays of 30 yards or longer.
Last year, it allowed 29.
The turnaround is a confluence of Jordan Kovacs' sure tackling (he's first on the team and eighth in the Big Ten with 26 tackles), Gordon's explosive playmaking and the pair's ability to keep plays in front of them.
"Coach Mattison talks about keeping the ball inside and in front to give our lineman a chance to get to the football, and that proved key in the (EMU) game. We kept it inside, and Jibreel Black got to the ball and popped it out," Gordon said of the first-quarter fumble he recovered.
"That's just something we have to work on. We work it in practice. We reppin' and reppin' every day, so it's just instilled in us when we go to the game, we keep the ball inside and in front — and that will stop the big plays."
Kovacs has been explosive, too. He had a fourth-down tackle against the Eagles to stall a 72-yard drive at the goal line, an interception in the previous game against Notre Dame and forced a fumble in the opener with a crushing blow to Western Michigan quarterback Alex Carder.
What is the next step Hoke would like to make defensively before the Big Ten opener next week against Minnesota?
"That's a good question," Hoke said this week. "I would say our front seven, defensively, we've got to play better."
If Michigan can do that, it just might all come together.
Kyle Meinke covers Michigan football for AnnArbor.com. He can be reached at 734-623-2588, by email at kylemeinke@annarbor.com and followed on Twitter @kmeinke.