Posted on
Wed, Jan 4, 2012 : 4:19 p.m.
Two key calls shaped Michigan's Sugar Bowl win against Virginia Tech
By Rich Rezler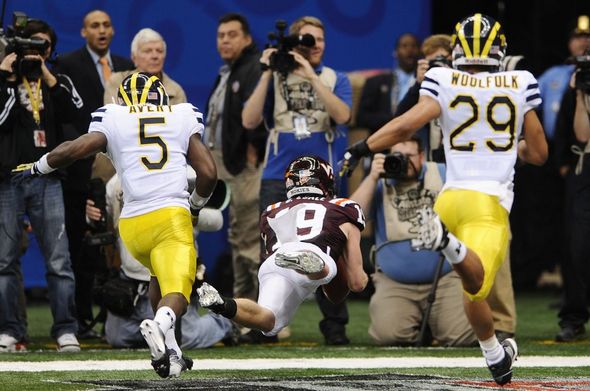 Melanie Maxwell | AnnArbor.com
NEW ORLEANS -- The city of New Orleans has begun its transition from gracious
Sugar Bowl
host to focus on the upcoming BCS National Championship game, which will be played at the Superdome on Monday night.
Around town, Michigan's maize and blue is being replaced by LSU purple and gold; Virginia Tech's maroon and orange by Alabama crimson.
While Michigan fans rolled out of town thrilled with a perceived return to national relevance after the Wolverines' 11-win season was capped with a 23-20 overtime victory in the BCS bowl game on Tuesday night, Hokies fans were likely focused on two game-changing calls.
One was made by the Pac-12 officiating crew. The other was made by their head coach and special teams guru, Frank Beamer.
Both involved fifth-year senior Danny Coale.
The most dramatic, of course, was the replay official overturning a touchdown call on Coale's diving reception in overtime on a 3rd-and-5 play. The incomplete pass was followed by a Justin Myer missed field goal, setting up Michigan for a game-winning kick by Brendan Gibbons.
Video and still photographic evidence has fueled a debate around the Internet about whether Coale caught the ball in bounds -- the highlight clip ESPN posted to YouTube is titled "Danny Coale Robbed of Amazing Catch" -- which in itself questions the replay official's ability to find a conclusive reason to overturn the touchdown call made on the field.
During the review process, Hokie fans cheered every time the replay was shown on the giant Superdome video screens. Virginia Tech players agreed with their assumption that the play would stand.
"He made a great play. From the two angles we saw, I guess we thought it was a touchdown," said quarterback Logan Thomas. "And we couldn't see any other way, because inconclusive evidence or whatever it was, but I guess the official saw something.
"So, I mean, it's tough. But just to know that we were that close."
Virginia Tech running back David Wilson, who was trailing Coale into the end zone, also thought the catch was good.
"I mean, I was standing right in front of him. I was probably the closest person to him on the catch and I saw it. I turned around and the referee said touchdown, and threw his hands up," Wilson said. "They reviewed it and, for some reason, they changed it.
"I don't think there was clear evidence to reverse the call."
In retrospect, Beamer would reverse a different call.
The veteran Virginia Tech coach has used Coale as his full-time punter since the Hokies' final regular season game against Virginia. In that time, they have experimented in practice with a rugby-style rollout punt-run option that capitalizes on the athleticism of the second-leading receiver in school history.
Beamer called for the play for the first time in game action in the Sugar Bowl, with the score tied 17-17 and seven minutes left to play.
Coale took the snap on the 4th-and-1 play from the Michigan 48-yard-line, rolled to his right and was stopped by Michigan redshirt freshman linebacker Jake Ryan -- his fourth tackle-for-loss, tying a Sugar Bowl record.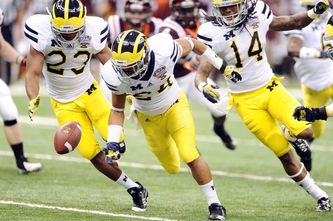 Melanie Maxwell | AnnArbor.com
"It was a yard. If (Michigan) dropped off, had a little seam, we were going to go for the first. If not, we're going to kick it and try and pin them down deep," Beamer said. "So we had that option going. And their guy (Ryan) did a nice job. He looked like he was going to go outside and all of a sudden jumped back in underneath and got us."
Coale was stopped for a loss of 7 yards, giving a struggling Michigan offense the ball at the Virginia Tech 45. The Wolverines moved 23 yards in seven plays before Gibbons put Michigan ahead 20-17 with a 39-yard field goal.
"In the big picture, you know, we gave them the ball on our side of the 50 too many times," said Beamer.
The Wolverines had already turned two Virginia Tech turnovers into short scoring drives. Freshman cornerback Delonte Hollowell recovered a fumble on a kickoff that led to a Gibbons field goal and a 10-6 lead as time expired on the first half. Early in the second half, an interception by freshman defensive end Frank Clark led to a three-play, 35-yard scoring drive capped by game MVP Junior Hemingway's second touchdown catch.
The failed fake punt gave the Wolverines another short field to work with at a crucial point in the game.
At the time, Michigan had 16 yards of offense in four second-half possessions. The Hokies finished the game with a 377-184 advantage in total yards while keeping Wolverines quarterback Denard Robinson - who rushed for a career-low 13 yards - under wraps.
"If you could go back, I'd take a couple of decisions back," Beamer said. "But that's knowing how things worked out. They are what they are."
Rich Rezler is a sports producer for AnnArbor.com. Contact him at richrezler@annarbor.com or 734-623-2553.