Posted on
Thu, Sep 1, 2011 : 5:58 a.m.
Two years later, Michigan quarterback Denard Robinson still has Western Michigan buzzing
By Kyle Meinke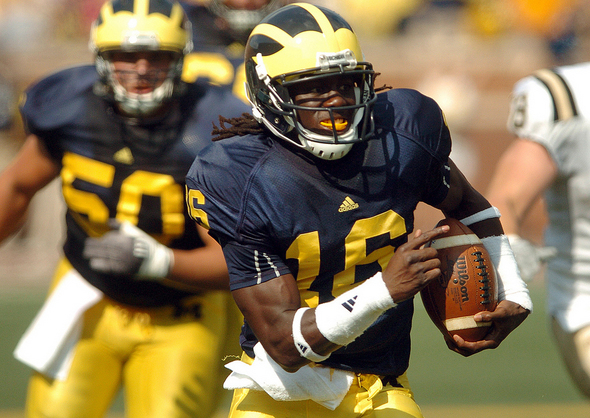 Melanie Maxwell | AnnArbor.com
"Fumbles the snap. Takes off. Broken plays are very dangerous for a kid like thi… Look at that speed. See ya!"
---
So went ESPN's narration to Denard Robinson's college football debut, helping to make Shoelace a household name and YouTube hit.
The Michigan football team was facing Western Michigan in the 2009 season opener. Freshman Tate Forcier had won the starting quarterback job, but Robinson, also a freshman, entered the game late in the first quarter.
He didn't waste any time showcasing that blazing speed the world would come to know, taking off on a 43-yard, broken-play touchdown on which he hardly was touched.
"I was just thinking, 'I hope I get another chance to get back in, so I'm just going to grab the ball and try to run for the end zone," Robinson said before Wednesday's practice. "Sometimes, broken plays are the most dangerous plays."

The Broncos return to Michigan Stadium on Saturday (3:30 p.m., ABC) for another season opener, the teams' first meeting since that 2009 game.
"We still talk about it here," Western Michigan coach Bill Cubit said Monday during his weekly teleconference. "I can remember turning on the sidelines to somebody, 'Oh, that's what they mean by Shoelace.'"
After Robinson rushed for an NCAA quarterback-record 1,702 yards last year and finished sixth in Heisman Trophy voting, he certainly won't have the element of surprise.
LIVE CHAT TODAY
Come back to AnnArbor.com at noon today to join Kyle Meinke for a live chat. He'll discuss the latest Wolverines' news and preview Saturday's game against Western Michigan. Graham Couch, who covers the Broncos for the Kalamazoo Gazette, will stop by and answer some questions, too.
That doesn't mean Western Michigan can do much about him anyway.
"Put a call out to (sprinter Usain) Bolt and see if he'd be available," Cubit said when asked what his team is doing in practice to prepare for Robinson. "We don't have anybody like him.
"We put some running backs back there to run around and stuff like that, but we don't have anyone who can run around (like) that guy."
The difficulty of corralling Robinson will be compounded Saturday, when he debuts in Michigan's new pro-style offense.
The junior will be under center more, and Michigan will rely on sophomore Fitz Toussaint or senior Michael Shaw to be the primary back. Robinson, who averaged 19.7 carries per game last year, is expected to receive about 10 to 15 carries, but it will be a different look.
He'll operate more from under center and in the pocket, where he said he's feeling more comfortable, and will go through check-downs.
And if no one's open?
"There's been days that we've had a pretty good rush on him, or blitzed him, (but) maybe we didn't contain well enough," Michigan coach Brady Hoke said. "Maybe it was contained well enough for a guy of normal abilities, let's put it that way.
"But with him? He's got an opportunity to get around it and get some yardage."
Hoke, interestingly, said flatly he's never seen Robinson's first carry against the Broncos.
There's plenty of tape on Robinson from last year — including successful strategies that slowed him toward season's end — but it's not entirely useful because of the scheme change.
Cubit said he has not shown his team tape of last year's Michigan offense, nor of San Diego State, where Hoke and offensive coordinator Al Borges coached last year.
"Al, he's going to move the football — how does he do it (is the question)," Cubit said. "We're going in there a little bit blind.
"You're going have some kind of spread-running game, but what exactly? You can't get tendencies because you don't know what they're running. And then there's the power game, so we have to practice against that.
"So, there's a lot of challenges involved in schemes. And then of course, you have that other problem with that No. 16 running the schemes."
How is Western Michigan game planning for Robinson?
Cubit said he will employ "spies" on defense who will track Robinson's every move, and he has emphasized to his players the importance of plugging the passing lanes.
"We got to have somebody that's going to run him down, or get him before we have to run him down," Cubit said.
Michigan beat Western Michigan 31-7 in that 2009 season opener. Three of the Broncos' current defensive starters played in the game: defensive tackle Drew Nowak, safety Doug Wiggins and linebacker Mitch Zajac.
The latter of the three seniors was on the field for Robinson's debut.
"All I remember is we knew he was fast. When he came in the game, we knew what to expect. And then, just like that, he was gone," Zajec said recently at MAC media day in Detroit.
"It's just so tough trying to get your arms around him. You kind of try to corral him, and that's all you can really hope for. I've never seen a guy so fast on a football field, or wherever."
For what it's worth, Cubit called this year's Western Michigan defense the fastest of his six-year tenure at the school.
Has he shown the unit Robinson's debut?
"No," he said matter-of-factly, "but I think it's still on Sportscenter."
Kyle Meinke covers Michigan football for AnnArbor.com. He can be reached at 734-623-2588, by email at kylemeinke@annarbor.com and followed on Twitter @kmeinke.