Posted on
Wed, Sep 15, 2010 : 4 p.m.
UMass football program hopes to follow the same path as James Madison - beat an FBS school
By Michael Rothstein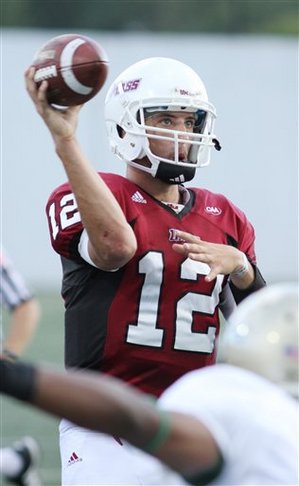 Associated Press
As the seconds ticked down in his hometown of Blacksburg, Va., University of Massachusetts linebacker Tyler Holmes' phone began to blow up.
He and the rest of the Minutemen finished beating Holy Cross, 31-7, last Saturday afternoon when word arrived about a potential upset in Virginia.
James Madison, a Football Championship Subdivision school that, like UMass is a Colonial Athletic Association member, was closing in on becoming the second lower-division school to beat a ranked Football Bowl Subdivision opponent, then-No. 13 Virginia Tech.
Despite the recent success of FCS (formerly Division I-AA) teams against FBS (I-A) opponents -- the lower division had six wins over the upper division in the first two weeks of the season -- seeing the Hokies go down, 21-16, to JMU was stunning.
"I was very surprised," Holmes said Tuesday. "In the locker room after the game, it was coming down to the end, so we kept hearing and getting updates. We finally put on the TV and, when I saw it, I just didn't believe it. Virginia Tech has a premier program.
"But, you know, that just tells you that any Saturday, anything can happen."
That's what Holmes and his teammates are banking on Saturday (noon, Big Ten Network) when UMass (2-0) visits Ann Arbor to play No. 20 Michigan (2-0), which has its own harrowing FCS experiences.
Then-No. 5 Michigan lost to Appalachian State, 34-32, in 2007 to become the first ranked FBS team to lose to a FCS school.
Part of the reason for lower-division schools knocking of FBS teams comes from more talent dispersion. For instance, the CAA had five players drafted in the 2010 NFL Draft, including former UMass offensive tackle Vlad Ducasse.
The Big East, in comparison, had 18 players drafted and the Big Ten had 34. So the talent isn't quite equal, but it is getting closer.
"There's players everywhere," Michigan football coach Rich Rodriguez said. "You think it's coach-speak and coaches saying 'Well, you've got to be aware.' There's players everywhere. It's not like you're playing 18- and 19-year-old kids against 14-year-olds.
"The good teams, the top 25, 30 teams are really, really good and really, really competitive. If you play an average or below-average FCS team, a Division I team is not going to have any problem. If you're playing a good one, you're going to have to play. We're playing a good one."
There's little question about that. The CAA, which changed conference names from the Atlantic 10 earlier this decade, has perennially been one of the strongest FCS leagues. UMass is No. 15 in the FCS coaches poll, the lowest of seven ranked CAA schools.
Plus, those same CAA schools typically play a power FBS school every year. Last year, UMass went to Kansas State in the season-opener and almost beat the Wildcats before falling, 21-17.
The CAA is 3-3 against the ACC in the past two years and the league has won 19 games against FBS opponents since 2000.
That experience, combined with seeing what James Madison and Appalachian State accomplished, are why the Minutemen have confidence entering Saturday.
"It's not that different at all," UMass sophomore quarterback Kyle Havens said. "Just a bigger stage.
"… I know it sounds different because we will be in front of a lot of people, but in reality it is just another football game."
Saturday's crowd at Michigan Stadium will be the largest to watch a UMass sporting event, likely more than twice the size of the previous record, when 53,190 watched No. 10-ranked Texas Tech beat the visiting Minutemen in 2008.
In last week's 31-7 win over Holy Cross, there were 16,352 fans at McGuirk Alumni Stadium. That was the 16th-largest crowd in UMass home football history.
What concerns UMass the most is identical to the main concern of every team Michigan will face this year -- sophomore quarterback Denard Robinson.
"That's the unanswered question," UMass coach Kevin Morris said. "Isn't it."
Michael Rothstein covers University of Michigan basketball for AnnArbor.com. He can be reached at (734) 623-2558, by e-mail at michaelrothstein@annarbor.com or follow along on Twitter @mikerothstein