Posted on
Sat, Sep 10, 2011 : 7 p.m.
Under the lights: Notre Dame at Michigan
By Jim Knight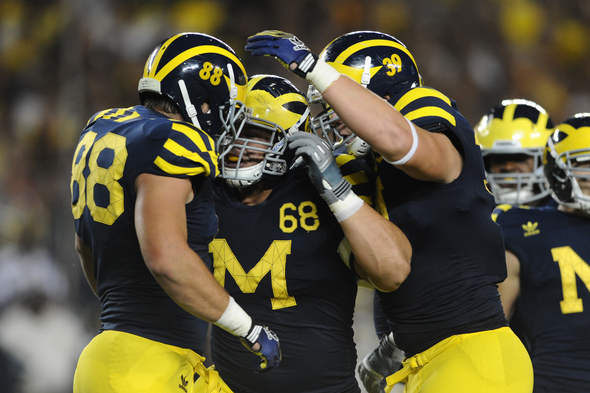 Melanie Maxwell | AnnArbor.com
FOURTH QUARTER
Michigan 35, Notre Dame 31: Roy Roundtree came down with a 16-yard jump-ball pass to give Michigan the lead with two seconds to play. The play was reviewed by officials to see if Roundtree got a foot inbounds. The drive: Michigan took the ball with 30 seconds to play. Denard Robinson found Jeremy Gallon with a 64-yard pass on second down and then hit Roundtree for the game winner.
Michigan players stormed the field as time ran out when Notre Dame couldn't handle the kickoff. Michigan fans didn't move, cheering wildly and singing "The Victors." They stuck around, singing along with stadium music as game highlights were shown on the scoreboards.
The Michigan marching band danced on the field to "Sweet Caroline," as fans in the stadium sang along. At 11:50 p.m., the stadium is mostly full.
Michigan is 2-0 under Brady Hoke heading into next week's game against Eastern Michigan. Notre Dame is 0-2.
Notre Dame 31, Michigan 28: Tommy Rees guided Notre Dame 61 yards in five plays and found Theo Riddick for a 29-yard touchdown pass as the Irish may have ended the comeback hopes for Michigan. Thirty seconds remain in the game.
Michigan 28, Notre Dame 24: Vincent Smith scampered into the end zone on a 21-yard pass from Denard Robinson as Michigan took its first lead of the night. Robinson rolled out right, looked left and found Smith, who was never touched by the Notre Dame defense. There's 1:12 left in the game.
Interception: Robert Blanton intercepted Denard Robinson's long pass in the corner of the end zone, ending a potential game-changing drive with 4:23 left in the game.
Notre Dame 24, Michigan 21: Denard Robinson lofted a 14-yard pass to the end zone to Jeremy Gallon as the Wolverines continued their comeback. A 40-yard, nine-play drive.
Notre Dame 24, Michigan 14: Denard Robinson picked up a fumble by Stephen Hopkins and raced 1 yard into the end zone. The four-play, 83-yard drive was all Robinson as he hit Junior Hemingway with a 77-yard pass and picked up 7 yards himself on a hard run.
THIRD QUARTER
Notre Dame 24, Michigan 7: TJ Jones caught a 15-yard pass over the middle from quarterback Tommy Rees and outran the Michigan defense to the corner of the end zone to cap an eight-play drive.
Attendance: Announced attendance is 114,803, a Michigan Stadium record.
Fumble recovery and an interception: Michigan's Will Campbell recovered a Cierre Wood fumble at the Michigan 29-yard line with 7:36 left in the quarter. Four plays later, Michigan quarterback Denard Robinson's pass was intercepted by Notre Dame's Zeke Motta.
SECOND QUARTER
Notre Dame 17, Michigan 7: David Ruffer kicked a 38-yard field goal with 1:40 left in the quarter. Notre Dame has 268 yards of total yardage, compared to 92 for Michigan.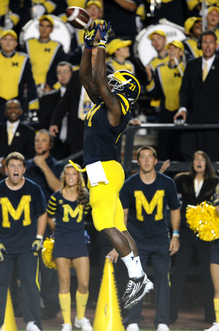 Melanie Maxwell | AnnArbor.com
Notre Dame 14, Michigan 7:
Wide receiver Junior Hemingway caught a 43-yard pass from Denard Robinson as Michigan scored two plays after Jordan Kovacs' interception. The play was reviewed by game officials before being declared a touchdown.
Interception: Michigan strong safety Jordan Kovacs created the loudest cheer so far when he intercepted Notre Dame quarterback Tommy Rees to give Michigan the ball on their own 45-yard line with 11:06 to play in the first half.
FIRST QUARTER
Notre Dame 14, Michigan 0: Cierre Wood scored on a 4-yard run as Notre Dame quieted (somewhat) the large night crowd at Michigan Stadium. Notre Dame went 83 yards on 10 plays.
Notre Dame 7, Michigan 0: Notre Dame, taking advantage of good field position on its opening drive, went 57 yards in seven plays. The Irish scored when quarterback Tommy Rees found Theo Riddick for a 7-yard touchdown pass.
PREGAME

Get ready for an attendance record, a national television audience, the sight of 100,000 pompoms and a night football game at Michigan Stadium.
And be ready for an interesting matchup of Notre Dame (0-1) at Michigan (1-0). Notre Dame is coming off a 23-20 upset loss to South Florida. Michigan played three-quarters of a game before accepting a weather-shortened 34-10 victory against Western Michigan. Fans cheered loudly when his punt return and Heisman Trophy-posing moment was shown.
At 7:12, the announcement, "Ladies and gentlemen, the game will start in one hour," was met with a cheer from fans, who have already filled about a quarter of the stadium.
We'll update the action throughout the 8 p.m. game in this post.
Injured: Michigan cornerback Troy Woolfolk has a large cast or covering on his right hand. Receiver Martavious Odoms continues to wear a protective forearm cast. Cam Gordon is out, too, with a back injury. Linebacker Marell Evans remains academically ineligible. Reports also say that linebacker Brandon Herron, who scored twice against Western Michigan, is injured.
Starting: Michael Shaw will start at running back for Michigan.
Honored: The College Football Hall of Fame honored former Michigan wide receiver and Heisman Trophy winner Desmond Howard at midfield before the game. Howard posed with his official Hall of Fame plaque and highlights of his career at Michigan were shown on the scoreboards.
Michigan didn't retire Howard's No. 21, but they've made the No. 21 locker in the Michigan football locker room special to honor him and he's been designated as a "Michigan football legend." Any player who wears No. 21 will also wear a patch honoring Howard.
Howard, wiping away tears, spoke to the crowd. "This is something I will cherish every day of my life."
In the meantime, check out:
At the game? Take a Twitpic and send it to us @annarborcom or email to community@annarbor.com
Follow updates from the AnnArbor.com staff during the Saturday game on Twitter by using the hashtag #umnd.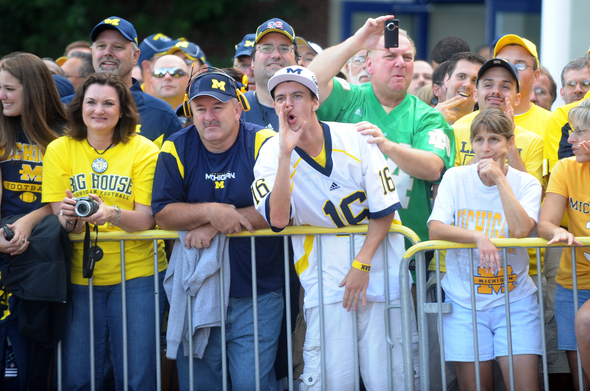 Melanie Maxwell | AnnArbor.com