Posted on
Sat, Dec 3, 2011 : 4:44 p.m.
Uneasy in Indy: Michigan football coach Brady Hoke would rather be on the field
By Kyle Meinke
INDIANAPOLIS — Brady Hoke was here. His team was not.
Hoke didn't like that.
The Michigan football team's head coach traveled on Friday to Indianapolis, site of the Big Ten championship game Saturday, to be honored for winning the league's Coach of the Year award. Then, just as quickly as he arrived, he was gone.
He was, after all, not coaching in the title game. Instead, it was rival Michigan State, which beat up the Wolverines earlier this year, and Wisconsin.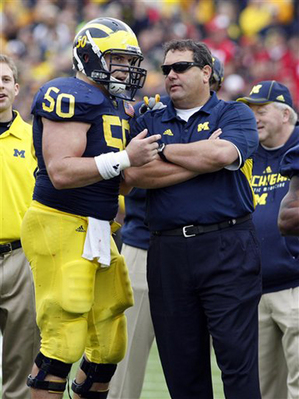 Associated Press
I asked Hoke how it felt to be here, on the eve of the first football championship game in the Big Ten's 115-year history — a festive atmosphere for the city and historic event for the conference — but have to watch his rival take the field instead.
Hoke paused before answering, choosing his words carefully. Finally, and simply: "I'll leave tonight."
Hoke has coaxed a bunch of players who knew mostly failure to become one of the nation's fastest-rising teams. Michigan is 10-2, went 6-2 in league play and ended a seven-year drought against its biggest rival, Ohio State.
But it also lost to its second-biggest rival, the Spartans. Who knew on that October day that the 28-14 loss would be the only thing separating the Wolverines from playing on this day?
They lost only once more the rest of the way, setting themselves up for a possible BCS bowl invitation, a fate they'll learn Sunday. A successful season by most measures — except Hoke's.
"This is Michigan," he exclaimed in August at the team's media day. "There aren't going to be any excuses. If we don't win the Big Ten championship, we've failed these kids as coaches."
To Hoke's credit, he's held himself to that standard, even when he could embrace the national praise he's received for Michigan's unexpected assent into national relevance.
In fact, he wouldn't even say whether he had a rooting interest in this game, even though a Michigan State victory would improve his team's chances of landing in the BCS. The Wolverines are 16th in the BCS, and need to jump two teams to be eligible for an at-large bid.
They would almost certainly pass Wisconsin (10-2) if it loses. They could still overtake Michigan State (10-2) if it loses, although that scenario is more uncertain.
Hoke just couldn't acknowledge he was pulling for the Spartans, though — just as MSU coach Mark Dantonio wouldn't pull for Michigan against Nebraska two weeks ago, when a Wolverines victory would seal his team's trip to Indy.
And so, sitting in a Westin Hotel lobby, just a block from where the Big Ten would crown its champion less than 30 hours later, Hoke lamented what could have been, and what became.
He failed.
He set two clear goals for his team: Beat Ohio (State), and win a Big Ten title. Being in Indianapolis, where there is more green and red roaming the streets than on the Christmas banners that fly from street lamps, was a visceral reminder of his failure.
Senior center David Molk, sitting to Hoke's right, himself looking sharp but feeling uneasy in a suit — "He's going to have to have someone make him a shirt," Hoke said, noting Molk's bulging neck — expressed the same distaste for Indianapolis this time of year.
"It's a failure," said Molk, in town to be honored as the Big Ten's Offensive Lineman of the Year. "It's a failure as a team, even though we were 10-2 and we had a great year. We beat Ohio.
"(But) we still didn't fulfill our goals."
If Hoke's first season is any indication, fulfillment of those goals isn't far off. But, on this weekend, Michigan State took the field in prime time, and Hoke and Molk scurried out of town under the cover of night, with a bitter taste for what could have been.
"I mean, you want to be here playing for the championship," Hoke said. "We made a lot of growth, did a lot of good things with the team.
"We're going to go play a heckuva bowl game and go win the bowl game, then we'll get into Team 133 and start that path."
Perhaps even one that passes through Indianapolis, a team in tow.
Kyle Meinke covers Michigan football for AnnArbor.com. He can be reached at 734-623-2588, by email at kylemeinke@annarbor.com and followed on Twitter @kmeinke.