Posted on
Wed, Sep 28, 2011 : 5:57 a.m.
Minnesota football beat writer breaks down how the Gophers could upset Michigan
By Kyle Meinke
The Minnesota football team is 1-3, lost to an FCS team last week and is coping with the health problems of its head coach, Jerry Kill.
None of those things bode well for the Golden Gophers heading into their game against Michigan Saturday at Michigan Stadium (noon, BTN).
What has to happen for Minnesota to pull an upset in the Big Ten Conference opener? We asked that question, and more, of Minnesota beat writer Phil Miller from the Minneapolis Star Tribune.
Q. Minnesota is coming off a loss against FCS-member North Dakota State and also fell to New Mexico State. What's plaguing the Gophers this year?

Phil Miller:
A little of everything, which is often the case for a rebuilding team.
MarQueis Gray
has the athleticism the Gophers expected from their new quarterback, but his inexperience -- he hasn't been a starting quarterback since 2007 -- shows far more than they hoped. He's throwing the ball like he's not sure he wants to, and the lack of confidence is only getting worse as the results continue to be mediocre. His offensive line has some good drives and some very bad, putting even more pressure on the QBs. None of their receivers has had a breakout game, and no tailback has approached 100 yards yet.
And most of all, the Gophers' lack of a pass rush is giving the defense little chance of stopping anyone. They have been picked apart by quarterbacks week after week -- the completion rate is 67 percent, and even that seems low -- mostly because they don't seem to know they're allowed to bother the QB. It gives the secondary little chance. They've blitzed, they've stunted, they've tried moving players around, even reassigned a tailback to the defense in hopes of generating a speed rush. But so far? One sack, and that's after having only nine, fewest in Division I, last year.
Q. Jerry Kill is in his first year as Minnesota's coach. What is his style like, are his growing health issues a concern and how have the players taken to him?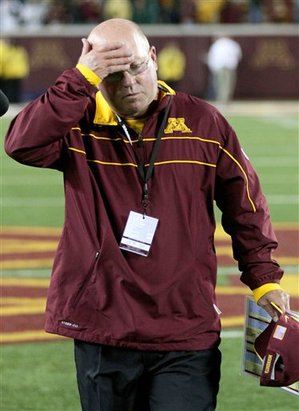 AP Photo
PM:
His style is no-nonsense, no-coachspeak, no-bull -- and after four years of
Tim Brewster
, the change could hardly be more noticeable. He was not a popular hire, coming from Northern Illinois after the athletic director promised to hire a big name -- even flew to San Diego State to interview some coach whose name slips my mind -- but Kill won over the state quickly with his honest style. And the players love his tough-love approach, really adopted him fast.
That's why the seizures that afflicted him in the sidelines Sept. 10 and have continued to recur are absolutely a growing concern. He has been hospitalized during the football season in six of the past 12 years, but this episode seems to be worse than in the past. Kill has never missed a game, though I'm guessing that this week will be the first time, because after another seizure at home on Sunday, he checked himself in to Mayo Clinic to try to take care of this for good. Not sure how much it will affect the team in the short term.
It's obviously a distraction, but Kill's staff has been with him forever -- eight coaches have worked under him for a decade or more -- so continuity shouldn't be a problem.
Q. Who wins in a foot race: Denard Robinson or Marqueis Gray?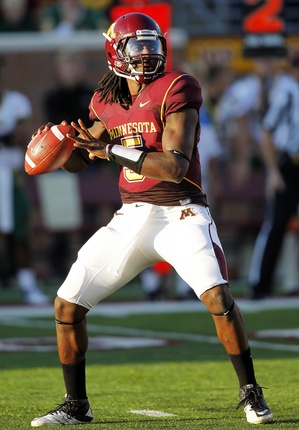 AP Photo
PM:
MarQueis Gray
weighs 245 pounds -- I don't think it would be much of a race. I've heard Gray compared to Shoelace (do you still call him that?) but he's much more similar to
Terrelle Pryor
-- fast and elusive, but big enough to take on the occasional linebacker, too. He may not have the sheer pull-away-from-a-cornerback speed that Robinson does, but he's also 6-foot-4, so theoretically, he should be able to move around and see over the defense to find a receiver.
Hasn't happened yet, though, and the coaching staff believes it's because Gray spent the last two seasons playing receiver while Adam Weber quarterbacked. Now that Weber is a Denver Bronco, Gray is having a hard time making his reads, then putting the ball where it needs to go. As Kill has said several times, you'd love to see what he could do if he had not gone three years without doing much throwing.
Freshman Max Shortell has been getting more snaps lately, first because Gray is cramp-prone, and also because he just looks more natural throwing the ball. The pair basically split time in the second half last week, and the coaches will not hesitate to make a switch if Gray can't complete his passes.
Q. What will be Michigan's biggest matchup disadvantage against Minnesota?
PM: Um ... punting?
Had to think about this one awhile. The Gophers do have some talent at receiver; there is reason to believe that with a more traditional passer, wideouts Da'Jon McKnight and Malcolm Moulton and tight end Eric Lair could put up some big numbers. Hasn't happened yet, and it's caused some frustration. But the best answer, I guess, is in the running game, where Gray and human bowling ball Donnell Kirkwood will face a rushing defense that looks, from a time zone away, like a generous bunch. Kirkwood has only played two games due to a hamstring injury, but he has energized a rushing attack that was bogging down unless Gray carried the ball. Kirkwod will stay between the tackles, and he's very low to the ground, so he'll plow his way to some yardage.
But no kidding, the Gophers' punter, Dan Orseske, has been pretty good too.
Q. Minnesota is expected to finish toward the bottom of the Big Ten, but can spring an upset of Michigan if ...
Gray does a decent imitation of Robinson. He gained 171 yards on the ground, a new school record, in the Gophers' lone victory. Sound familiar? The Gophers' are more likely to win a shootout than a defensive battle, because a pass rush that couldn't touch USC statue Matt Barkley isn't likely to surround Denard Robinson in the backfield very often. But Gray can gobble up yardage in big chunks when he gets rolling, so teams have begun stacking the box against him. If he forces them to do that, then figures out how to hit his receivers over the top, the Gophers theoretically can be a pretty explosive team.

PHIL MILLER'S PREDICTION
Michigan 38, Minnesota 28. -- It's difficult to imagine the Gophers having much more luck stopping Robinson than San Diego State did, so even if the offense shows signs of life, which is plausible, they're going to give up some big plays.

Read more from Phil Miller at StarTribune.com.
Kyle Meinke covers Michigan football for AnnArbor.com. He can be reached at 734-623-2588, by email at kylemeinke@annarbor.com and followed on Twitter @kmeinke.