Posted on
Wed, Dec 14, 2011 : 5:13 p.m.
Useless (but fun) trivia from Michigan football team's Sugar Bowl packet
By Kyle Meinke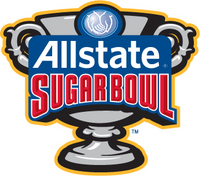 Useless trivia might be useless, but that doesn't make it pointless.
It's fun!
The Michigan football program issued its packet for the team's Sugar Bowl matchup against Virginia Tech (8:30 p.m. Jan. 3) on Wednesday, and there were a number of interesting tidbits.
Among them (with a few from Virginia Tech's packet for balance):
• This will be Michigan and Virginia Tech's first meeting.
Angela J. Cesere | AnnArbor.com
•
Michigan is 19-21 all-time in bowl games.
• Brady Hoke is the eighth head coach to direct a team to a BCS bowl in his first season with a team.
• Michigan is making its 35th January bowl appearance, including for the 13th time in 15 bowl trips.
• Michigan lost its only previous Sugar Bowl appearance, falling 9-7 to Auburn in 1984.
• Virginia Tech lost both of its Sugar Bowl games in the BCS era, falling 46-29 to Florida State in the 1999 championship game and 16-13 to Auburn in 2004. The Hokies have one Sugar Bowl win under Beamer, but it predated the BCS era. They beat Texas 28-10 in 1995.
• Michigan has not faced an ACC team in a bowl game since 1994, when it beat North Carolina State 42-7 in the Hall of Fame Bowl. It is 1-1 all-time in bowl games against the ACC, losing its only other matchup to North Carolina in the 1979 Gator Bowl.
• Michigan is 18-3 all-time the ACC.
• Michigan's last game against the ACC was a win against Virginia in 1995. Virginia Tech has played only once against a Big Ten team, routing Indiana in the 1993 Independence Bowl.
• Michigan is the only bowl team in the country to face 10 bowl-bound opponents during the regular season.
• Michigan's eight wins against bowl teams matches LSU and Oklahoma State for the most in the country.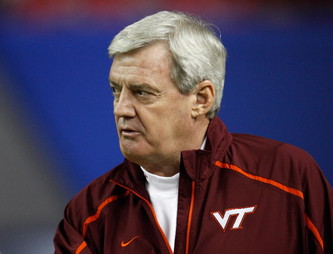 AP file photo
•
This is Michigan's fifth BCS appearance (Ohio State leads the country with nine). It went 1-3 in its previous trips, beating Alabama in the 2000 Orange Bowl and losing the other three times in the Rose Bowl.
• This is Virginia Tech's sixth BCS bid, after going 1-4 in its five appearances.
• Virginia Tech's Frank Beamer is the winningest active coach (251 wins), due to Penn State's firing of Joe Paterno this year. Mack Brown at Texas is second with 226.
• Overall, Virginia Tech is 8-10 in bowl games under Beamer. It hasn't missed a bowl game since 1992.
Kyle Meinke covers Michigan football for AnnArbor.com. He can be reached at 734-623-2588, by email at kylemeinke@annarbor.com and followed on Twitter @kmeinke.