Posted on
Wed, Dec 28, 2011 : 12:23 p.m.
Virginia Tech arrives in New Orleans without kicker Cody Journell; Frank Beamer defends team's Sugar Bowl bid
By Kyle Meinke
KENNER, La. -- Less than 15 minutes after de-planing from the team charter, Virginia Tech coach Frank Beamer faced a question he's sure to get all week.
Does his team belong here?
Beamer's answer: Of course.
He pointed to the Hokies' sustained success for more than a decade, and thanked the Sugar Bowl committee for its selection of his team for the game Tuesday against Michigan (8:30 p.m., ESPN).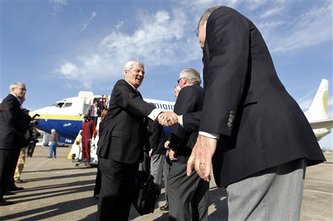 AP Photo
"Let me say this: We're proud of what we've accomplished at Virginia Tech," he said during a make-shift news conference at a private wing of New Orleans' Louis Armstrong International Airport. "We're the winningest program since 1995, we're the only team to win 10 games for seven straight years, and we're proud of what we've been able to (accomplish).
"I do feel like Virginia Tech is in a different place than it was 10 years ago or 15 years ago or 20 years ago. I think the name Virginia Tech is out there."
The longtime Hokies coach has taken the team to three previous Sugar Bowls, including two in the BCS era. They lost both, most recently 16-13 against Auburn in the 2004 season.
He won the third, a 28-10 victory against Texas in 1995.
Overall, the Hokies are 8-10 in bowl games under Beamer. He said he hasn't altered his team's bowl preparation, but is eager for better results in New Orleans.
"We want to show the Sugar Bowl's confidence for picking us as an at-large team is well-deserved," he said. "We appreciate that part of it, and we want to earn that part of it."
Beamer said everyone made the trip except suspended place-kicker Cody Journell, who is facing a felony charge of entering a house with the intent to commit a felony. He spent six days in jail before being released this morning.
Beamer said senior Tyler Weiss will handle extra-point tries and field goals of less than 22 yards against Michigan, and senior Justin Myer will attempt longer kicks.
Beamer said there are no injuries that will limit his team, although sophomore starting linebacker Tariq Edwards walked off the team charter with a boot on his left foot.
Virginia Tech is 11-2, but both of those losses came against the only team it faced that is still ranked, Clemson. And, both losses were significant, first 23-3 on Oct. 1 and again 38-10 in the ACC championship game.
"We played on a national stage against Clemson, and we didn't play well," Hokies receiver Danny Coale said. "That was disappointing to all of us, and it was pretty embarrassing.
"So, having an opportunity to play in the Sugar Bowl against Michigan, a storied program -- a program that Virginia Tech wants to be -- is an honor."
Kyle Meinke covers Michigan football for AnnArbor.com. He can be reached at 734-623-2588, by email at kylemeinke@annarbor.com and followed on Twitter @kmeinke.