Posted on
Tue, Dec 13, 2011 : 8:46 a.m.
Virginia Tech struggles to sell its share of Sugar Bowl tickets
By AnnArbor.com Staff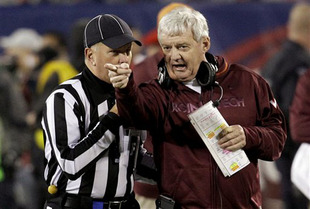 Associated Press
Hokie Nation isn't that fired up about the
Sugar Bowl
or New Orleans.
The Virginia Tech athletics department has sold 9,337 of its 17,500 ticket allotment to the Jan. 3 Sugar Bowl (8:30 p.m., ESPN) against the Michigan football team.
So now Virginia Tech is asking fans to purchase "proxy tickets." The proxy tickets will be distributed to military and charitable organizations. The homepage of Virginia Tech athletics includes a video plea from Hokies football coach Frank Beamer telling fans, "We need your help."
"Over the years, Virginia Tech has earned the reputation of being a football program that enjoys a strong following to bowl games," the school said on its website. "In order to maintain that recognition, the Athletics Department is asking Hokie fans that cannot make this year's Allstate Sugar Bowl to consider purchasing proxy tickets.
If Virginia Tech doesn't sell the remaining 8,163 tickets, which cost $120 or $140 each, it has to pay for them.
Michigan sold more than 14,000 of its 17,500 tickets in two days.
The Sugar Bowl's selection of No. 11 Virginia Tech (11-2) — and to an extent, Michigan (10-2) — has drawn fire because it passed over more deserving teams, including Boise State (11-1), which will play in the MAACO Las Vegas Bowl despite being ranked No. 7 in the BCS.
"We had to put together what we think makes the most sense for our bowl," Sugar Bowl CEO Paul Hoolahan said after the selections were announced. "There are reasons we do things that are way beyond the obvious.
"You can't please everyone. We feel like we've got a heck of a nice matchup."
The Hokies were blown out 38-10 by Clemson in the ACC championship game and didn't beat a ranked team this year. But, they've also traveled well to New Orleans in the past, including three times in the BCS era.
"You look at Michigan and Virginia Tech both bringing a lot of fans," ESPN analyst Kirk Herbstreit said after the bids were announced. "But is that what it's come down to?
"Kellen Moore and Boise State, Baylor and Robert Griffin, Kansas State and Bill Snyder is the coach of the year. But the BCS at-large selection is all about how teams come into cities and fill up hotel rooms."