Posted on
Tue, Aug 23, 2011 : 1:06 p.m.
Volunteers to assist with outside-stadium crowd control during Michigan-Notre Dame football game
By Nick Baumgardner
Area authorities will receive a helping hand on the streets Sept. 10 when the Michigan football team hosts Notre Dame for the first ever night game at Michigan Stadium.
Michigan's athletic department and division of student affairs are asking for 350 volunteers to take part in a "community ambassador" program designed to help assist the larger-than-typical crowd on game day, as well as aid local law enforcement with public safety issues.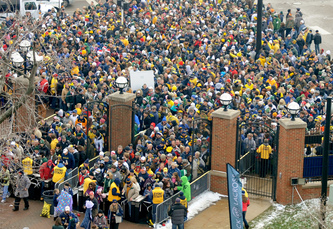 AnnArbor.com file photo
"The health and safety of the community is the one thing everybody is on the same page about," Michigan Alcohol Policy and Community Initiatives Program Administrator
Mary Jo Desprez
said Tuesday. "(The game itself) is such an exciting opportunity, but we also want to make sure that we're being good community neighbors with each other."
Volunteers participating in the program -- which, Desprez said, was used at last year's Super Bowl -- will assist fans outside the stadium with directions and parking issues throughout the day. In addition, all volunteers will be wearing bright orange shirts and will be required to have access to a cell phone, allowing them to contact proper authorities should any health or safety issues arise outside Michigan Stadium.
"If they see something that's a health or safety issue, they can make sure they're in contact and alerting the people that need to know," Desprez said. "The inside-stadium management is such a well-oiled machine -- and we're trying to take that idea and really (bring it outside the stadium) to the community."
Desprez added that her staff received more than 300 emails from prospective volunteers Monday, but that several of them assumed they'd be working inside the stadium during the game itself.
Despite the confusion, she said at least 40 volunteers have agreed to come on board.
Volunteers on game day will be placed in pairs for four-hour shifts running from noon to 1 a.m. All participants must be at least 18 years old and are required to participate in a two-hour training session prior to the day of the game.
"We're calling it a pilot program, to see how much assistance we can bring," Desprez said. "There's been lots of positive evaluations of it in other big cities (that have used the program), so we wanted to try it and this seemed like a great event to get our feet wet with it.
"A noon-time game brings different hours (for mass people traffic), this provides us with extra support on what would otherwise be a really long day."
To apply to be a community ambassador, email utl-ambassador@umich.edu.
Nick Baumgardner covers Michigan basketball for AnnArbor.com. He can be reached at 734-623-2514, by email at nickbaumgardner@annarbor.com and followed on Twitter @nickbaumgardner.