Posted on
Mon, Apr 16, 2012 : 11:29 a.m.
Walk-on Joey Burzynski flies up Michigan football team's depth chart
By Kyle Meinke
The Michigan football team practiced 14 times this spring. No fans. No reporters. No cameras, except their own.
So when the Wolverines finally unveiled Team 133 during their spring game Saturday, it was the public's first peek into whose stock rose and fell during camp. The big surprise?
Joey Burzynski started at left guard ahead of fifth-year senior Elliott Mealer, who had received considerable public praise from coaches throughout camp.
Don't feel bad if you've never head of Burzynski. He's a walk-on offensive lineman. You're not supposed to have heard of him.
But it appears you will.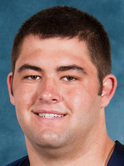 "When you're a walk-on and you're battling to get in that depth, you'll never get in that depth until you get somebody's attention," offensive coordinator
Al Borges
said. "He's had opportunities, and he's taken advantage of them."
Burzynski is a sophomore from Carlsbad, Calif. He stands 6-foot-1, 284 pounds, which is a little undersized for the position, and isn't blessed with superior athletic skills.
But toward the end of last season, he began to catch the coaches' attention. By the halfway point of spring camp, he was running with the first unit.
And it's not because of his brawn.
"Joe is not a bad athlete, but he's probably not as athletic as some of the other guys," Borges said. "That means he has to study the game and play with awareness. I think that is what he has done, as much as anything, to put himself in the position that he is in."
Burzynski had a little help, as star left tackle Taylor Lewan took the sophomore under his wing in the offseason.
Lewan recognized his understudy's physical limitations. But he also calls him a "genius."
"His major is something I can't pronounce," Lewan quipped.
It's biomedical engineering, for the record -- one of Michigan's most-difficult fields of study -- and Burzynski still managed to be named academic All-Big Ten last season.
Lewan said that cerebral quality makes him a quick learner, which has facilitated his rise up the depth chart.
"He doesn't make the same mistake twice -- he makes new mistakes, which is a good thing in football," Lewan said. "You don't want to get re-coached over and over on the same thing.
"Joey does what the coaches tell him to do, and he does it 100 percent, and it's showing. I mean, he's definitely improving."
Michigan has a recent tradition of walk-ons contributing. In fact, last year's 17th-ranked defense featured two of them as starters in safety Jordan Kovacs and defensive lineman Will Heininger. But they are the exceptions, not the rule.
Walk-ons typically need to stand out for an extended period of time to get the nod over a scholarship player -- and Burzynski appears to be doing that. They also need an opportunity -- and he might get that, too, as Michigan shuffles its offensive line.
Two players started at left guard last year, but Michael Schofield has moved to right tackle and Ricky Barnum to center. Burzynski seems to be ahead of Mealer to fill the void, but that battle will persist into fall camp.
By then, he'll also have to compete with Kyle Kalis, one of America's best high school offensive linemen.
But Burzynski is in the discussion -- perhaps at the head of it -- and that's further along than anyone anticipated.
"I think even Joey might have surprised himself," Lewan said. "He kind of came out of left field,"
A left guard, out of left field, at just the right time for a team sore on offensive line depth.
Kyle Meinke covers Michigan football for AnnArbor.com. He can be reached at 734-623-2588, by email at kylemeinke@annarbor.com and followed on Twitter @kmeinke.