Posted on
Sat, Sep 3, 2011 : 8:26 p.m.
Game called in 3rd quarter: Michigan football team wins, 34-10
By Jim Knight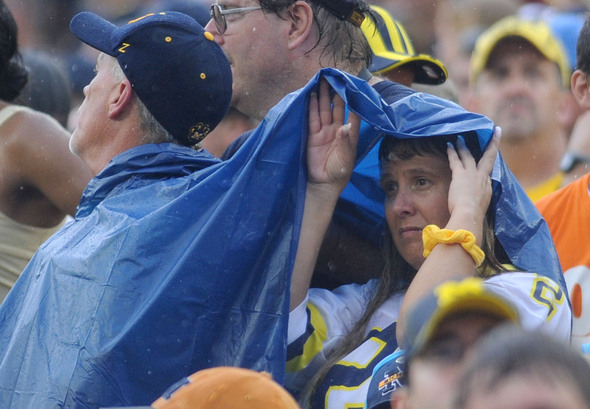 Angela J. Cesere | AnnArbor.com
Brady Hoke didn't need four quarters to finish his first game as the Michigan football coach as a winner.
The Western Michigan at Michigan football game was called Saturday after both teams agreed to end the game late in the third quarter because of an ongoing lightning delay.
The result: Hoke opens his Michigan head coaching career with a 34-10 victory that included big plays on defense, long runs by people other than quarterback Denard Robinson and a lot of second-half rain.
The result is official and all of the statistics stand, Michigan athletic director Dave Brandon said after the game. He said officials from both teams considered waiting out the storms, but radar showed it might have been a nearly two-hour delay.
It's the first time Michigan has a football game called because of lightning. The stadium was evacuated at 6:38 p.m., and the game was called shortly after 7 p.m.
The last - and only other - time Michigan had a home lightning delay was in 2006 during a home game against Central Michigan. That game was delayed for an hour late in the first quarter. Michigan went on to win, 41-17.
Moments from the game:
Third quarter
Lightning delay, Part II: At 6:19 p.m., officials halted the game and cleared the field for the second time Saturday because of nearby lightning. At 6:38, workers began evacuating fans from the stadium and the new scoreboards showed "PLEASE EXIT THE STANDS" and a large display of a weather radar.
Michigan 34, Western Michigan 10: Senior running back Michael Shaw ran 44 yards for a touchdown as Michigan scored on a three-play, 87-yard drive. The three plays: Fitzgerald Toussaint opened the drive with a 43-yard run, an incomplete pass and Shaw's run.
Michigan 27, Western Michigan 10: Jordan Kovacs' hard hit on Western quarterback Alex Carder caused a fumble that senior Brandon Herron picked up and returned 28 yards for his second touchdown of the day.
The game resumes: The first delay lasted 26 minutes.
Players return to field: Western Michigan and Michigan players returned to the field at 5:45 p.m., about 30 minutes after they left because of nearby lightning.
Lightning delay: The game was delayed with 13:59 to play in the third quarter because of lightning. NCAA rules dictate that if there is lightning within six miles of a game, the game must be delayed. Fans cheered during an extended cloud burst as the third quarter started. The teams left the field at 5:23 p.m. and are expected back on the field by 5:45 p.m. It's the first time a game has been delayed by weather at Michigan Stadium since the Central Michigan at Michigan game in 2006.
Halftime: A few stats of note midway through the game. It's a fairly even game, statistically, with Western ahead of Michigan in net yards, 233 to 183. Both teams have six first downs. Michigan quarterback Denard Robinson is 8-of-9 passing for 61 yards and has rushed six times for 40 yards. The rest of Michigan's backfield, led by Fitzgerald Toussaint, has accounted for 46 yards on 13 carries. Western quarterback Alex Carder is 17-of-24 passing for 135 yards and one interception.
Michigan 20, Western Michigan 10: John Potter kicked a 36-yard field goal with 43 seconds left in the first half.
Michigan 20, Western Michigan 7: Fitzgerald Toussaint scored his second touchdown of the day on a 2-yard run. Michigan went 74 yards in nine plays. Johnnie Simon blocked Brendan Gibbons' extra point attempt.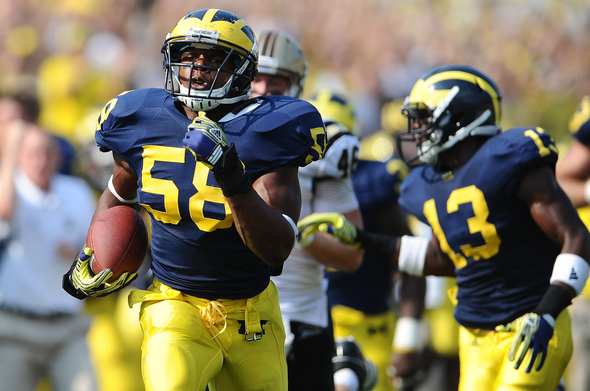 Melanie Maxwell | AnnArbor.com
Michigan 14, Western Michigan 7: Brandon Herron returned an interception 94 yards after Jake Ryan tipped an Alex Carter pass. It's the longest interception return for a touchdown in modern Michigan history (since 1948).
Michigan 7, Western Michigan 7: Fitzgerald Toussant scored on a 1-yard run at the 14:16 mark of the second quarter. Michigan went 76 yards in 16 plays. Eight players ran or caught passes on the drive. Denard Robinson ran four times for 26 yards and was 5-of-5 passing for 33 yards. Toussaint had six carries for 13 yards.
First quarter
Western 7, Michigan 0: Antoin Scriven scored on a 1-yard dive as the Broncos took scored easily on their opening drive, which lasted more than 7 minutes. Western covered 74 yards in 15 plays. Western quarterback Alex Carder was 8-of-8 passing for 56 yards.
The season starts: The Michigan football season is under way, and the Michigan defense earned the first cheers of the year when Troy Woolfolk made the first tackle of the game.
Pregame: Not much went right for the Michigan football team on Aug. 30, 2008, when Rich Rodriguez stood on the sidelines for his first game as the Wolverines' coach.
Angela J. Cesere | AnnArbor.com
Utah scored 16 second-quarter points and held on for a 25-23 victory on a sunny, hot day. Michigan went on to a 3-9 season and Rodriguez was fired after three seasons.
Your turn, Brady Hoke.
Hoke and Michigan take on Western Michigan at 3:30 p.m. (ABC), and we'll provide updates on game action here.
Live chat: Join Rich Rezler and Nick Baumgardner on our live chat. The conversation starts at 3 p.m.
No problem: Gates at Michigan Stadium opened at 1:30 p.m., two hours before the start of the game, to modest lines of fans. Michigan officials warned fans earlier in the week that new security measures could cause delays entering the stadium.
Hot enough for you? It was 92 degrees with a heat index of 97 degrees at 2 p.m. as Western Michigan players warmed up on the field.
Not in uniform: Sophomore running back Stephen Hopkins, junior offensive lineman Ricky Barnum, sophomore linebacker Cam Gordon and senior linebacker Marell Evans are not on the Michigan dress list today. Gordon has a bad back and it's not a surprise that he's not playing. Hoke will address the status of the other players after the game, a Michigan spokesman said.