Posted on
Thu, Sep 1, 2011 : 5:58 a.m.
Western Michigan's Alex Carder is the best college QB in the state, says Kalamazoo Gazette reporter
By Kyle Meinke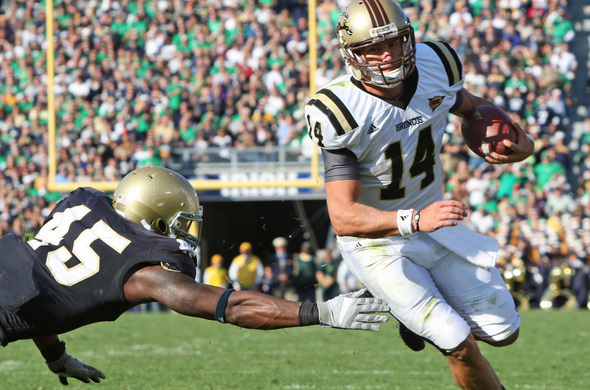 Kalamazoo Gazette
Who's the best college quarterback in the state? Michigan's Denard Robinson is as good a bet as any, but Michigan State's Kirk Cousins could play at the next level after this year.
According to the Kalamazoo Gazette's Graham Couch, it's neither.
He's taking Western Michigan's Alex Carder, whom Michigan will see when it kicks off its 2011 season Saturday (3:30 p.m., ABC).
To get a better feel for what to expect from Carder and the Broncos, AnnArbor.com posed a few questions to Couch, who has covered the team for six seasons and knows it better than just about anyone.
He has some interesting thoughts:
Q. Western Michigan has a lot of talent back this season, particularly at skill positions. I know it can be tough to say before a game's been played, but how good do you think this Broncos team can be?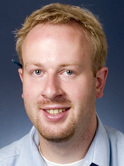 Graham Couch:
If the offensive line holds up, this could be the best WMU team of the Bill Cubit era, the 9-3 squad in 2008 included. That's a bit of an "if" considering two unproven juco transfers are starting at guard up front and a brutal schedule — WMU faces six bowl teams from a year ago, all on the road, including division rivals Northern Illinois and Toledo. But there's no question there is considerable talent at several positions. I think Alex Carder is the best college quarterback in the state. Denard Robinson is a great athlete, but I'd bet you if Carder were in that program, they'd find a different role (flanker, perhaps) for Robinson. MSU's Kirk Cousins isn't even close.
Jordan White would be an All-Big Ten wideout. He doesn't look fast when you consider his build, but he's an NFL guy. And the Broncos finally have a running back with a chance to be a special player, at least by Mid-American Conference standards, in Tevin Drake.
Defensively, 10 of the starters played a ton last year in what was a pretty good defense at the end of the season. The defensive line, to me, is what separates this WMU team from others. The D-line is usually the biggest difference between mid-major and BCS programs. And, I'd still take Michigan's D-line over WMU's every day. That said, this should be a really strong unit in the Mid-American Conference and one that's not entirely pushed around against Michigan and Illinois.
If I sound overly bullish on the Broncos, I've seen a lot of WMU football over the last six seasons. I've seen bad teams, like in 2009, and good ones, like in '08. This is definitely in the 2008 range, but with a better D-line, which should make a world of difference. Of course, August can be deceiving.
Q. Michigan's Denard Robinson is one of the best running quarterback in NCAA history, but is switching to the pro-style offense. What kind of problems does that pose for Western Michigan, and what do you expect the Broncos will do to try to contain him?
LIVE CHAT TODAY
Come back to AnnArbor.com at noon today to join Kyle Meinke for a live chat. He'll discuss the latest Wolverines' news and preview Saturday's game against Western Michigan. Graham Couch, who covers the Broncos for the Kalamazoo Gazette, will stop by and answer some questions, too.
GC:
I think the more pro-style Michigan plays, the better it is for WMU. If Robinson is passing, the Broncos are thrilled. There's been a lot of spin about Robinson's passing ability. I still think he's Juice Williams with wheels. I'm not sure if you blitz eight and make him pass, that he'll hit the open guy or know which is the open guy. WMU's defenders, I think, will try not to over-pursue or leave their feet when charging him. Mostly, WMU wants him to throw, so forcing him to run makes little sense.
Yet, when it comes down to it, Robinson is a freakish athlete with amazing football speed and vision (as a runner). He's going to make some plays. WMU has to wrap up and not let one big run get inside its heads. Because it's going to happen.
Q. Do you see a matchup disadvantage for Michigan somewhere on the field?
GC: If there is one — one that matters, at least — it'll be WMU's passing game against the U-M secondary. The Wolverines were really young and not very good there last year. I'm guessing they'll be better in the back end. But the Broncos can pass with anyone. Carder and White are as good a QB-wideout combo as U-M will see in the Big Ten. If WMU's No. 2 wideout, Chleb Ravenell, plays to his potential only shown to this point in practice, the Broncos could win this matchup. Ravenell is really the only WMU receiver other than White that has the talent to scare Big Ten defenses.
Q. Jordan White is a sixth-year wideout who set the Western Michigan record for receiving yards in a season last year. What does he do so well, and does he have the kind of ability that could exploit Michigan's secondary?
GC: He's deceptively fast and strong and gets out of his cuts very quickly. NFL scouts gave him a draftable grade last year. If he stays healthy, he'll play in the NFL. When Greg Jennings (2005) and Jamarko Simmons (2008) were seniors at WMU, it didn't matter who they faced or that every defense knew the ball was coming their way. They were that good. That's the next step for White. Can he produce when defenses are paying him a ton of attention? He caught 94 passes for a school-record 1,378 yards and 10 touchdowns last year. But he had a formidable sidekick in Juan Nunez and teams hadn't seen much of White in previous seasons. But, to answer the question, yes, he can give just about any secondary trouble.
Q. Western Michigan has beaten BCS programs such as Iowa, Virginia and Illinois in recent years. Michigan should worry about a repeat if ...
GC: WMU is close or ahead after the first 20 minutes. In all of those wins you mentioned, the Broncos started quickly. That's what makes winning these openers so difficult for mid-majors -- they're always on the road, the BCS school is fired up, no matter the foe, because it's the opener (and they have a new coach in this case), and one thing goes badly early and it snowballs. Against Nebraska in the 2008 opener -- a similar situation (new coach, college football mecca, decent BCS opponent) -- WMU played the Cornhuskers fairly even for three quarters. But the Broncos lost the first 15 minutes, 17-0. Game over. If it's close early in the second quarter, WMU's confidence will rise, Michigan will begin to doubt it can pull away and then, this is a WMU team with enough talent to pull an upset. But it would be a significant upset, no question.
Find more from Graham Couch on MLive.com. Kyle Meinke covers Michigan football for AnnArbor.com. He can be reached at 734-623-2588, by email at kylemeinke@annarbor.com and followed on Twitter @kmeinke.