Posted on
Mon, Jan 2, 2012 : 10:26 p.m.
What can Michigan learn from Clemson? Stop either David Wilson or Logan Thomas
By Rich Rezler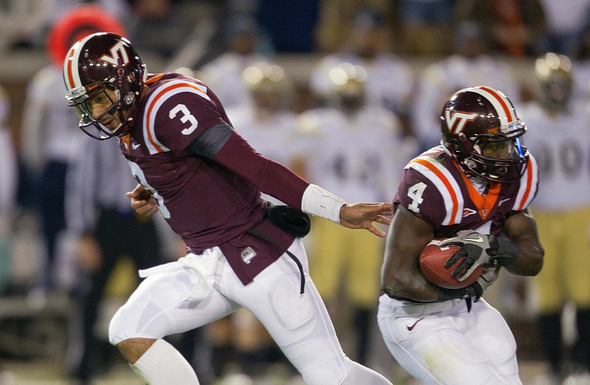 AP Photo
NEW ORLEANS — Virginia Tech fans are wondering if David Wilson will go. Michigan is working on a plan to stop him.
The Hokies' junior running back is contemplating a jump to the NFL after the Sugar Bowl. His father is on record saying the time is right, though Wilson himself has been non-committal on his future this week in New Orleans.
Michigan defenders aren't as interested in his future as they are stopping him in the Superdome on Tuesday (8:30 p.m., ESPN).
"He's just so smart. He knows when to bounce it out, he knows when to cut it up. He gains all the yards that some running backs would miss out on because they think they can get more by making a move in the hole," Michigan defensive lineman Ryan Van Bergen said.
"He's one of those running backs I think coaches are happy to have because of the way he picks and chooses when he's going to get up field and when he's going to bounce."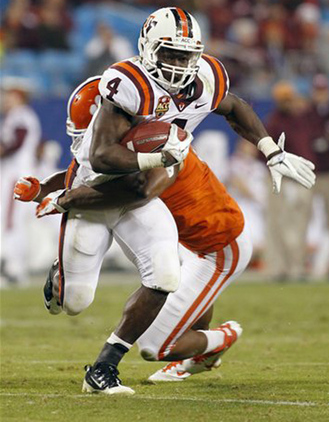 Associated Press
The 5-foot-10, 201-pound Atlantic Coast Conference Player of the Year is the nation's sixth-leading rusher (1,627 yards) and is 29 yards shy of the Virginia Tech (11-2) single-season school rushing record.
That record would have fallen in the ACC title game if Wilson would have come close to his 125.2-yard average. Instead, he was limited to 32 yards and the then-No. 5-ranked Hokies lost 38-10 to Clemson, perhaps providing a defensive blueprint for the Michigan defense.
"I really don't know what they did, but whatever they did - they did a good job at it," Wilson said of Clemson's defense. "It seemed like there was an extra defender everywhere I went."
The Wolverines (10-2) have allowed big games against the better tailbacks they have faced this season, including a 26-carry, 167-yard performance by Michigan State's Edwin Baker. Notre Dame's Cierre Woods (25-134), Iowa's Marcus Coker (29-132) and San Diego State's Ronnie Hillman (21-109) also eclipsed the 100-yard mark.
Michigan is 2-2 in those games, with losses to MSU and Iowa.
Wilson says he thinks he sees the opportunity for big yards against the Wolverines.
"They play close up to the line of scrimmage, so once I get past the first level there will be lots of space for me to work with, because a lot of times their safety is on the line also," Wilson said. "If you do find that crease that my offensive line will create, then there will be a lot of space at the next level."
While Clemson proved that Wilson can be stopped in the ACC title game, the Tigers also showed earlier in the season that Virginia Tech cannot rely on its star tailback alone. The Hokies also need production out of sophomore quarterback Logan Thomas.
Wilson was about the only member of the Virginia Tech offense that didn't struggle in a 23-3 regular-season loss to Clemson, gaining 123 yards on 20 carries. Thomas sustained an injury to his left, non-throwing shoulder in that game and ran for just 8 yards and threw for 125.
Thomas, who stands at 6-foot-6 and 254 pounds, has completed 59.2 percent of his passes for 2,799 yards and 19 touchdowns this season and rushed for 416 yards and a school-record 10 more scores.
"Their quarterback is bigger than some of our defensive linemen. This guy, he's an athlete," Michigan defensive coordinator Greg Mattison.
Asked to compare Virginia Tech to Big Ten opponents, Mattison said the Hokies will use Thomas to "show you some of Nebraska with some of their zone read option, and their option that they like to run with the big quarterback, and then they come right back with Wilson and they run the football like some of the best players in the Big Ten run it."
Michigan and Virginia Tech are tied for seventh nationally in scoring defense, allowing an identical 17.2 points per game. But Thomas isn't so sure the Sugar Bowl will be a defensive slugfest.
"It's always exciting taking the field with David [Wilson]," Thomas said. "Add another guy like Denard (Robinson), and he is a very dynamic player, I think it should be a lot fireworks going off on Tuesday night and I'm excited for it."
Rich Rezler is a sports producer for AnnArbor.com. Contact him at richrezler@annarbor.com or 734-623-2553.