Posted on
Tue, Jul 24, 2012 : 6:30 a.m.
What the Fitz Toussaint and Frank Clark suspensions mean for the Michigan football team
By Kyle Meinke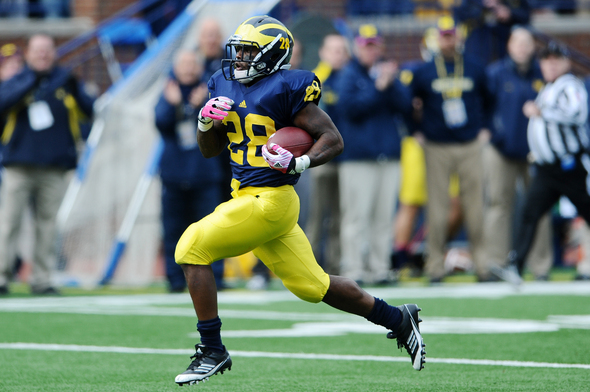 Melanie Maxwell | AnnArbor.com
Every college football team gets nicked up by the law now and then, and Michigan is no different.
But those nicks have started to pile up this offseason -- and over the weekend, the Wolverines absorbed a significant blow when starting tailback Fitz Toussaint was arrested on a charge of operating a vehicle while intoxicated.
That's a serious offense, and he was indefinitely suspended from the team. It's not like damaging a parking gate, which receiver Jerald Robinson allegedly did in February, or sliding across the roof of a car while drunk, as defensive lineman Will Campbell did in April.
Robinson and Campbell each faced destruction of property charges, which surely landed them in coach Brady Hoke's dog house. But their football-related penalties likely will end there.
Not Toussaint.
The gravity of that crime called for him to be suspended, and Hoke wasted no time doing it. The coach hasn't yet disciplined a player for a first-time drunken-driving charge at Michigan, but general precedent suggests it would be surprising to see Toussaint play in Michigan's season opener against Alabama.
The Crimson Tide, by the way, not only won the national championship last year, but did so fielding the nation's best defense -- and the nation's best defense against the run.
In fact, they allowed just 72.2 rushing yards per game, 10 fewer than No. 2 LSU. They haven't been outside the top 10 in rush defense since 2007.
That was expected to provide an intriguing strength-on-strength matchup in Dallas, after Michigan's highly effective rushing attack produced two 1,000-yard rushers last year for just the second time in school history.
Dual-threat quarterback Denard Robinson returns for the Wolverines, but now Toussaint's status for the nation's most-anticipated opener is uncertain -- a blow for a team already favored by oddsmakers to lose by double-digits.
Instead, Michigan could end up turning to senior Vincent Smith, who was serviceable last year as Toussaint's backup, but his strengths are in pass-protection and pass-catching, not rushing.
More likely, the Wolverines would call on Thomas Rawls if Toussaint's a no-go. The budding sophomore has consistently drawn the praise of coaches since arriving on campus last summer and had a break-out performance at the spring game earlier this year.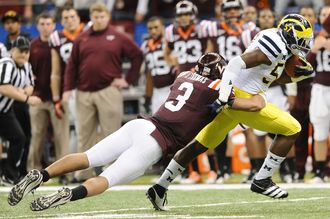 Melanie Maxwell | AnnArbor.com
Yet, despite his immense upside, Rawls has logged only 13 career carries. Going up against the nation's reigning No. 1 rush defense, with new starting offensive linemen at three spots, isn't exactly how coaches envisioned breaking him in.
Both options are a dip from what the Wolverines would get from Toussaint -- and Michigan can't afford it against Alabama.
What happened last year when Toussaint didn't play? When he was hurt against Notre Dame, Michigan's tailbacks combined for 10 yards. When he rushed just two times against Michigan State, the tailbacks combined for 44 yards.
In all the other games, Michigan tailbacks averaged 146.0 yards per game, and Toussaint averaged 94.0 himself. He finished strong, too, eclipsing 100 yards in four of the final six games.
But it appears increasingly likely he won't have a shot to extend that run against Alabama.
Meantime, Michigan could also be without sophomore defensive end Frank Clark, who is suspended after being charged in June with second-degree home invasion. He is accused of stealing a MacBook Air laptop from a campus dorm.
Clark isn't a star like Toussaint, but he is considered a serious contender for the starting job at weak-side defensive end. And considering Michigan's anemic depth up front, he likely would play a lot even if he loses the job to Brennen Beyer.
Again, it's unclear whether Toussaint or Clark will miss game time -- although both likely will if convicted.
Factor in the loss of Darryl Stonum, a record-setting kick returner and projected starting receiver who was dismissed for driving on a suspended license (after two drunken driving arrests), and it's possible Michigan will be without two starters and a key reserve/starter against the defending national champs.
And then there are the minor legal blips for other starters such as defensive tackle Campbell (MIP, destruction of property) and receiver Robinson (destruction of property).
That brings the total to four projected starters, plus Clark, who have had legal run-ins this offseason -- a troubling string of off-the-field incidents that could come to hurt Michigan on it.
Kyle Meinke covers Michigan football for AnnArbor.com. He can be reached at 734-623-2588, by email at kylemeinke@annarbor.com and followed on Twitter @kmeinke.