Posted on
Tue, Nov 23, 2010 : 2:59 p.m.
What's new at Ohio State? Special uniforms for Michigan game, a quiet Terrelle Pryor and discarded blue clothes
By AnnArbor.com Staff
COLUMBUS, Ohio (AP) - Ohio State will sport new Nike uniforms for Saturday's game at home (noon, ABC) against rival Michigan.
There's a small U.S. flag on the right sleeve, plus other marks and logos which honor the 1942 Buckeyes team of coach Paul Brown that went 9-1 and won the national championship.
Coach Jim Tressel is a fan of the tribute uniform.
"We're looking forward to the fact that we're honoring that 1942 team, which one could argue that that's when a great part of our tradition began in Ohio State football," he said on Monday. "Not to mention the fact that what those men did once the season was over, they went and served in the ultimate way, and we even lost a couple members of that team in the war.
"So you put all those things together, I don't know if you could make the Ohio State-Michigan game any more special. But I think when you mention that football team and what they mean to our program and what they meant to our country, it just adds a little bit more."
No Pryor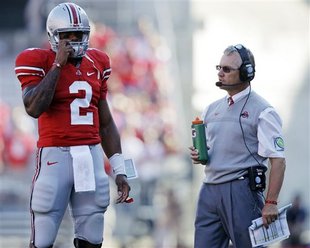 Associated Press
QB
Terrelle Pryor
was not made available to talk about the upcoming game during Ohio State's media day on Monday.
After the Iowa victory last Saturday night, Pryor, or someone using his Twitter account, sent disparaging messages about former Ohio State QB and current ESPN college football analyst Kirk Herbstreit, and also angrily wrote that all of the "haters" out there weren't good enough to even wear his shoes.
There was no comment from Ohio State about the tweets.
Lose the blue Now in its fifth year, the "Lose the Blue" clothing drive, headed by the Ohio State's athletic and licensing departments, has collected more than 18,000 pounds of clothing for Goodwill Columbus. Last year, the initiative gathered more than 4,000 pounds.
This year, fans can donate gently used items of blue clothing at the Ohio State team shop or at several other merchandise outlets throughout the city. With a donation of a blue item combined with a minimum purchase of $10, fans will receive a free "Beat Blue" Rah Rag.
Fans can bring clothing to the three men's and women's home basketball games this week, also.
Injury update Nothing to report out of Ohio State. Tressel said that a few players, including Pryor, had bruises and bumps but were expected to be full go for the Michigan game.
He did say that he didn't expect freshman safety Christian Bryant, still recovering from a foot infection, to play. Bryant had sent a message on his Twitter account last week that he planned on playing against Michigan.