Posted on
Wed, Nov 16, 2011 : 3:39 p.m.
Hey, Michigan QB Denard Robinson, are you faster than Nebraska QB Taylor Martinez? 'See it for yourself'
By Kyle Meinke
Melanie Maxwell | AnnArbor.com
Michigan football quarterback Denard Robinson and Nebraska quarterback Taylor Martinez are two of the most electrifying running quarterbacks in the country.
They also happen to have similar games.
Robinson is fifth in the conference in rushing, and Martinez is seventh. Robinson is second in total offense, and Martinez is third. Robinson is sixth in passing yards per game, and Martinez is seventh. Robinson is seventh in passer efficiency, and Martinez is eighth.
But, most of all, they're both burners. Robinson and Martinez are two of the quickest players in the Big Ten, despite playing quarterback.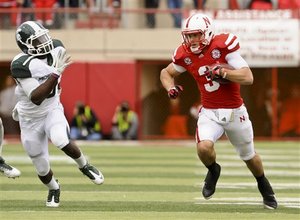 Associated Press
With the No. 20 Wolverines (8-2, 4-2) and No. 17 Cornhuskers (8-2, 4-2) set to square off at noon Saturday on ESPN, it elicits the question: Who's faster?
"You can see it for yourself on Saturday," Robinson said Wednesday with a wide smile.
The only frame of reference is their high school 40-yard dash times. Rivals reports Robinson's time as 4.38 seconds — that's world-class speed — and Martinez's time as 4.47 seconds.
Of course, those 40-yard times aren't exactly precise, nor current.
There is one certainty, though: Both will play a key role Saturday in the game.
Robinson accounts for 62.1 percent of Michigan's spread-West Coast hybrid offense, and Martinez accounts for 60.8 percent of Nebraska's option offense.
Robinson said he has not been hindered this week by the bruised wrist that knocked him out of last week's game against Illinois. He said he was hurt when he took a helmet to the wrist in the second half.
He expects to be "110 percent" against Nebraska.
Take our poll: Four of Big Ten's top seven rushers will be in the Nebraska-Michigan game. Which one picks up the most yards?
ESPN's "Sports Science" on Taylor Martinez's speed


Denard Robinson's touchdown run against Notre Dame in 2010


Other notes from the Wednesday news conference:

Injury roundup

Coach Brady Hoke said starting left guard Ricky Barnum will be available to play against Nebraska, but isn't sure if he actually will play. The junior has suffered injuries to both ankles.
Hoke also said cornerback Troy Woolfolk (leg) is fine and practicing.
THURSDAY LIVE CHAT
Come back to AnnArbor.com at noon Thursday for a live chat with Kyle Meinke. He'll recap the Wolverines' win at Illinois, discuss news that emerged this week and preview the game against Nebraska on Saturday.
Practices remain intense
Hoke said the team hasn't tapered back the physicality of its practices, despite being in the second-to-last week of the regular season.
"It's always that fine line," he said. "We're learning how to be a football team on a daily basis. And that competition in the one-on-ones is vital to us because of the competition aspect of it."

No Big House for Michigan

The team will not practice at Michigan Stadium this week, despite returning home for two games after being on a two-game road swing.
"The kickers will, but we don't go up there as a team until gameday," Hoke said. "That's a special place for us and gameday's important and being in that stadium. But we're fortunate enough to have pretty good (practice) facilities."

Best D-line in the country?

Senior defensive tackle Ryan Van Bergen said earlier this week he thought Michigan had the best defensive line in the country.
Hoke's response: "We have two games left to show that."
"Swag, confidence? I think you've got to have confidence," Hoke added. "But I know one thing: If you're going to say it and talk the talk, you'd better walk the walk."

Receivers running crisper routes

Hoke said he's been impressed by how the receivers have continued to improve their route running, despite getting few opportunities to catch balls because of the emergence of the running game in recent weeks.
"They run better routes," Hoke said. "Part of that is they are also recognizing the levels back there in the secondary, if it's two high, one high. That's all part of route running and conversions of routes.
"I think they've done a good job of blocking, and I don't know how many drops they've had, but you're always going to have some. For the most part, they've done a good job."
Kyle Meinke covers Michigan football for AnnArbor.com. He can be reached at 734-623-2588, by email at kylemeinke@annarbor.com and followed on Twitter @kmeinke.