Posted on
Thu, Dec 15, 2011 : 2:42 p.m.
Why is the Michigan football team Sugar Bowl-bound? Greg Mattison's take isn't what you would expect
By Kyle Meinke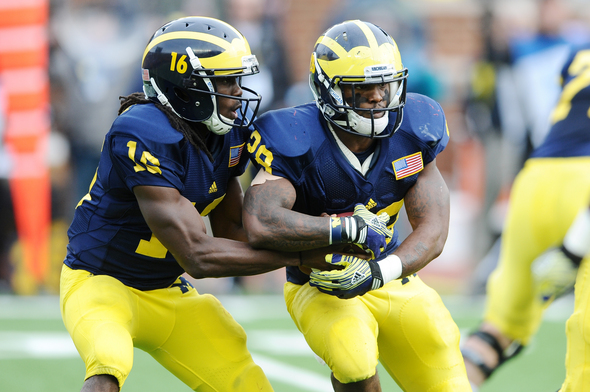 Melanie Maxwell | AnnArbor.com
Greg Mattison is one of the best in the country at what he does.
So is Denard Robinson.
And the Michigan football team's defensive coordinator and quarterback get to face each other every day in practice. So, naturally, a friendly rivalry has developed.
"I got on him today," Mattison said of their trash-talking after one fall camp practice. "He didn't play every play of yesterday's practice, and I yelled at him during stretch today, 'Boy, you must be as fresh as a daisy,' and he gave me something back.
"I love him."
That love hasn't changed, now that the defense has turned into one of the country's best and has received a bulk of the credit for carrying the Wolverines to a 10-2 season and Sugar Bowl bid. They'll face Virginia Tech on Jan. 3 in New Orleans (8:30 p.m., ESPN).
In fact, while the buzz around the team continues to be its remarkable resurgence on defense — it's allowing 18 fewer points per game this year and jumped 100 spots in the national rankings — Mattison is deflecting the credit onto Robinson.
"Denard is ... we probably wouldn't be in this bowl game (without him)," Mattison said this week.
Robinson started every game this year despite incurring several injuries. He finished 133-for-237 passing for 2,056 yards, 18 touchdowns and 14 interceptions. He also rushed for 1,163 yards.
He was named the team's MVP this week, in a vote by his teammates, and led the Big Ten in total offense.
Robinson's numbers are down as compared to last season, when he operated in the spread-option attack of former coach Rich Rodriguez, but the Wolverines' offense actually became more prolific as a unit. They averaged 34.2 points per game this year, up from 32.8 last year.
Michigan coach Brady Hoke said Robinson's diminished are not a result of decreased performance, but of diversifying the offense. For example, sophomore tailback Fitz Toussaint was able to get more touches, and turned in a breakout year.
He finished with 1,011 yards, giving Michigan two 1,000-yard rushers in the same season for the first time since 1975.
"Denard is, Denard is ... I don't know what the word would be. He's unbelievable," Mattison said. "He's done such a fabulous job this year of just being a winner. It's almost like everybody here is spoiled because if Denard doesn't break a 70-yarder, then Denard's not doing well.
"But, just add it up afterward. There's a reason why the running backs are gaining so many yards. Obviously, everybody is focused on Denard.
"The things that I said about him the first day I got here after spring practice, they're even better. This guy is something special."
Kyle Meinke covers Michigan football for AnnArbor.com. He can be reached at 734-623-2588, by email at kylemeinke@annarbor.com and followed on Twitter @kmeinke.