Posted on
Tue, Nov 23, 2010 : 11:08 a.m.
Michigan football team's seniors don't want 'winless against Ohio State' to be part of their legacy
By Jeff Arnold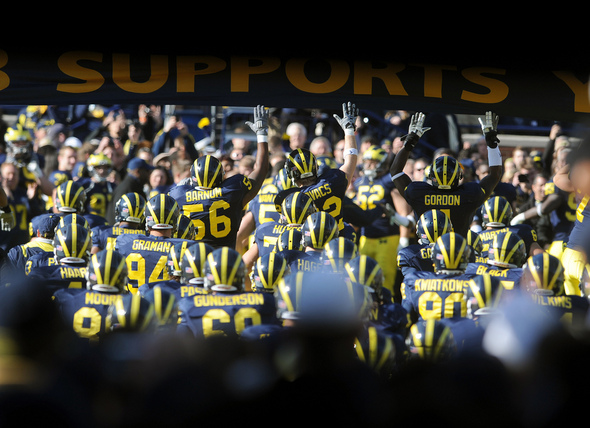 Lon Horwedel | AnnArbor.com
Jon Jansen experienced just seven Big Ten losses during his four-year Michigan football career before he went on to an 11-year career in the NFL.
The former All-Big Ten right tackle has pretty much forgotten five of the seven Big Ten losses. The other two - a 28-25 loss to Michigan State his freshman year and a 31-16 disappointment to Ohio State in 1998 - linger in his mind.
Games that matter most usually do.
So Jansen can't fathom what the current group of 21 Michigan seniors are experiencing heading into Saturday's regular-season finale at No. 8 Ohio State (noon, ABC). The Wolverines (7-4 overall, 3-4 Big Ten) have lost six consecutive games against the Buckeyes (10-1, 6-1).
"Everybody wants to know how you did against the big teams," Jansen said Monday. "That's probably the first question I get.
"So (the losing streak to Ohio State) has to be weighing heavy on them. Every year, they get asked, 'What's it going to be like to get your first win against Ohio State?' Well, they don't know yet."
It's a question, that left unanswered, could define the legacies of Michigan's seniors. Although the class before them experienced just one victory against the Buckeyes - a 35-21 triumph in the 100th meeting between Michigan and Ohio State - there were bowl games and other victories to remember.
This class has endured a coaching change, three straight losses to Michigan State and two straight years without a postseason bowl experience. Although the Wolverines will return to a bowl game this year, there's still the issue of Ohio State.
"There's been a couple classes that have gone through here without getting the chance to beat them," said offensive lineman Stephen Schilling, one of eight fifth-year seniors for Michigan. "It's big - it's the big rivalry at the end of the year. These last few years have been a different Michigan, I guess, than previous years.
"So getting this win our last year would be huge for the ending of this year."
After winning four of the last five games with the Buckeyes in the 1990s, Michigan has two wins (2000, 2003) this decade. Jim Tressel is 8-1 against the Wolverines and the Wolverines enter the game Saturday as an 18-point underdog.
"(Another loss) would be disappointing," said former offensive tackle Jim Brandstadder, who was 2-1 against both the Spartans and Buckeyes during his career in the late 1960s. "I think they are going to do everything they possibly can to at least get one win against Ohio State.
"That means something. The rivalry isn't what it is if it didn't mean something to the players. And not beating Ohio State, I'm sure, sticks in their craw, and it's something they want to fix."
Said Jansen: "I would hate for someone to go through their whole careers saying they didn't beat a certain team. They're going to be up for this game - and for more reasons than it's Ohio State. It's part of their legacy."
The game means a lot to Michigan's freshman, sophomores and juniors, too. A win would give the Wolverines their eighth win of the season after winning five last year and would represent Michigan's first signature win under Rodriguez.
"You never want to leave this place without beating Ohio State and there's been some guys that have had to do that," junior defensive lineman Ryan Van Bergen said. "Guys I have talked to say they have this emptiness, and that's not something I want to experience.
"When you come to Michigan, you better know that if you don't perform well against Ohio State, you're going to be looked down upon. I think a lot of guys look forward to that game because it could be a savior for you. If you've had some down plays or had a down year, if you come out and have your best game against Ohio State, a lot can be forgiven."
Jeff Arnold covers sports for AnnArbor.com and can be reached at (734) 623-2554 or by e-mail at jeffarnold@annarbor.com. Follow him on Twitter @jeffreyparnold.