Posted on
Tue, Nov 16, 2010 : 4:16 p.m.
Wisconsin bringing dominant offensive line to Ann Arbor
By AnnArbor.com Staff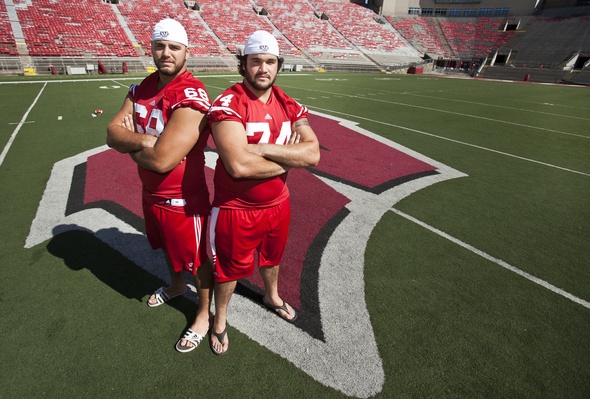 AP file photo
By Colin Fly | AP Sports Writer
MADISON, Wis. — Wisconsin running back John Clay often is called in as a peacemaker when the sniping gets too intense between left tackle Gabe Carimi and left guard John Moffitt.
Carimi and Moffitt, both seniors, have played together so long for the seventh-ranked Badgers that they've got bickering down to a fine science.
"They have their little spurts," Clay said. "I come over and hug both of them and say, 'I need you guys' and then they stop it. It's all good after that."
Actually, it's been so long that Carimi says he can read Moffitt's mind. Moffitt calls it mental warfare.
"Me and Gabe fight a lot. John always tries to come in and calm us down. It's always on good terms," Moffitt said. "It's just sabotage now. Indirect passive-aggressive behaviors.
"But I'm really going to miss playing with Gabe after this season because he really is a great guy and a great friend of mine and a good guy to play next to."
It's also the reason they're always in sync come Saturday. When No. 6-ranked Wisconsin (9-1, 5-1 Big Ten) plays at Michigan (7-3, 3-3) on Saturday (noon, ESPN), starting running back John Clay is not expected to play.
But behind the Badgers' mammoth offensive line, backups James White and Montee Bell average 6.8 and 5.6 yards per carry, respectively.
White, a freshman, has 735 yards and 11 rushing touchdowns behind a line that has also given up only 11 sacks while paving the way for 228.2 yards rushing each week.
The Badgers became the first team in 11 years to score more than 30 points against Ohio State and Iowa in the same season, with six rushing touchdowns.
When Wisconsin needs a crucial yard, the Badgers usually look left.
The star of the unit is Carimi, who will make his 47th start on the offensive line and took over for first-round pick Joe Thomas. He'll start his 30th straight game against the Wolverines.
Carimi was already projected as one of the top offensive tackles in the draft, but his status shot up when he quieted two of the Big Ten's premier pass rushers in Ohio State's Cameron Heyward and Iowa's Adrian Clayborn.
"Ever since I've been around Gabe Carimi, he's a guy that is very focused on success," coach Bret Bielema said. "He is kind of a perfectionist. You always worried, I think early on in Gabe's career, that he was going to be too hard on himself."
Carimi was considered a top prep prospect out of Wisconsin, while Moffitt's path has been decidedly different. He wasn't highly regarded by recruiting services when the Badgers plucked him from Guilford, Conn. Out of 17 offensive linemen on the roster, Moffitt is one of two that isn't from the Midwest.
Since coming to Madison, he's made 39 starts at left guard or center.
"If you really think about that stuff, that's all just outside speculation. Even now, if you do your job last week, you're good, but there's so many great players out there," Moffitt said. "How can you really evaluate high schoolers, and not trying to disrespect that, but it's about playing football hard. Especially the O-line, there's no science to it. I think if you work hard and you play the game hard, you'll have success."
That's why Moffitt won't get caught up in mock drafts, either. He's likely a mid-to-late round pick, but his stock keeps improving. Just look at his game in the win over the then-No. 1 Buckeyes.
Moffitt's key block sprung Clay for a 14-yard touchdown run, and when the Badgers needed yards in big spots, they ran the same play to the left side time and time again.
"It wasn't by luck that when the game was on the line ... we went four times to our left behind Carimi and Moffitt," Bielema said afterward.
The left-leaning approach is something that'll be tough for the Wolverines to prepare for. Wisconsin prides itself in simplifying the playbook and daring the opposition to take away its strengths — running directly at opponents and using a mix of play-action pass.