Posted on
Sat, Nov 20, 2010 : 6:23 p.m.
Loss to Wisconsin shows Michigan football team not ready to compete against physical Big Ten teams
By Pete Bigelow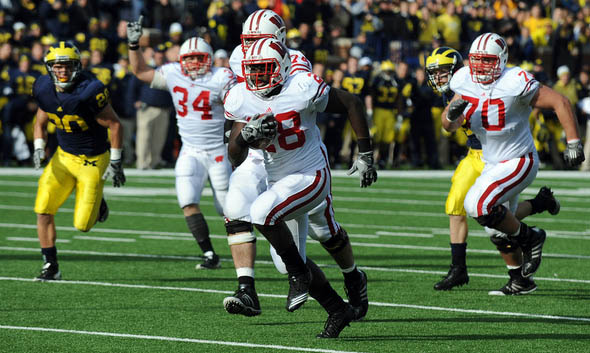 Lon Horwedel | AnnArbor.com
The stinging indictment didn't come from a rowdy fan or someone looking to create the drama despised by those in the Michigan football program.
It came from Rich Rodriguez himself.
With athletic director Dave Brandon listening to his every word during the post-game press conference following Michigan's 48-28 loss to No. 5 Wisconsin, Rodriguez rattled off a list of shortcomings.
"We certainly didn't play well, we didn't tackle well, didn't catch the ball well," he said. "We didn't execute on either side of the ball at times."
Yep, that about summed it up.
Wisconsin overpowered the Wolverines. It was that simple. Michigan knew the Badgers would run the football often. Focused their game plan on stopping the run, as a matter of fact.
Badgers offensive coordinator Paul Chryst didn't disappoint, rushing 28 times in a row at one point.
"Paul makes those decisions, and I got on and said, 'Hey, they can't stop your run game,'" Wisconsin coach Bret Bielema said. "Point blank. There wasn't anything they could do to slow that down."
The Wolverines knew what was coming, yet Wisconsin rushed for 357 yards Saturday in front of 112,276 watching the Wolverines at home for the final time of the 2010 season.
James White carried 23 times for 181 yards and two touchdowns, while Montee Ball had 29 carries for 173 yards and four touchdowns.
"It's real frustrating," linebacker Kenny Demens said. "Kind of pre-snap, okay, I have to do this, but then they go for 10 yards, and you're like 'How did that happen?' It's frustrating, it really is."
The Badgers combined for 558 total offensive yards - in addition to their rushing at will, they passed the ball pretty well too. Scott Tolzien completed 14 of 15 passes for 201 yards.
It was the fifth time this season the Michigan defense had allowed more than 500 yards in a game, a performance that clinched two dubious spots in the record books.
On the season, the Wolverines (7-4 overall, 3-4 Big Ten) have allowed 4,897 yards, beating the previous all-time mark set last year of 4,720. On the season, they have allowed 369 points, the most in program history, topping the previous mark of 347 set in 2008.
The marks overshadowed another important milestone achieved Saturday - Denard Robinson set the NCAA's all-time record for rushing yards by a quarterback in a single season.
Robinson carried 22 times for 121 yards and two touchdowns, and finished the day with 1,538 rushing yards on the season. He broke Air Force quarterback Beau Morgan's previous record of 1,494 set in 1996.
Rodriguez was as frustrated by the defense as anyone afterward.
"I know everyone says, 'Ah, he's making excuses.' It's not. It's reality," he said. "I've never coached and had five true freshmen playing at one time in Division I. Are you kidding me? Think about that. …
"You guys are pretty smart. Go find another Division I school that has five or six true freshmen playing significant time on defense. It's a perfect storm."
Indeed, the rash of injuries, defections and academics casualties that started last spring has been a well-documented talking point, and the losses continued Saturday.
Defensive tackle Mike Martin and defensive end Craig Roh, two of Michigan's premium defenders, missed most of the second half. Their status is unknown for next week's regular-season finale against Ohio State in Columbus.
But the Wolverines, who had won two consecutive Big Ten games entering Saturday's game, don't need another marquee conference opponent to figure out the obvious.
They've improved from one win to three in conference play, but they're still not ready to compete against the upper echelon of the Big Ten. Even at home. Perhaps especially at home.
Wisconsin, Illinois, Iowa and Michigan State have punished the Wolverines defense in the Big House this season. Combined, those four opponents have averaged 264 rushing yards per game and 509.5 total offensive yards per game.
Playing at Michigan Stadium used to be a distinct advantage for the Wolverines. That aura is gone, something not lost on Wisconsin, which had not won in Ann Arbor since 1994.
"This is one of the most storied places in college football," Bielema said. "But none of those teams in the past were going to play today."
Stinging indictments all around.
Pete Bigelow covers the Michigan football team for AnnArbor.com. He can be reached at (734) 623-2551, via email at petebigelow@annarbor.com and followed on Twitter @PeterCBigelow.