Posted on
Thu, Nov 18, 2010 : 5 a.m.
Challenge for Michigan football team: Wisconsin's offense may be familiar, but it's difficult to stop
By Pete Bigelow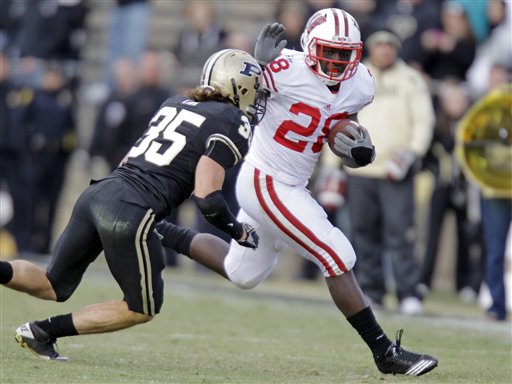 Associated Press
Michigan entered the 1981 football season ranked first in the country and poised for a national-championship run.
In an immediate letdown, Wisconsin's physical rushing attack gashed the Wolverines' defense for 197 rushing yards and ended their title hopes. Physically punished, Michigan lost its opener, 21-14.
Nearly 30 years later, not much has changed.
Most of the Big Ten has gravitated toward the spread offense, but Wisconsin's remains similar to the one that overpowered the Wolverines that day.
The Badgers play perhaps the purest form of power football left in the conference. Oversized running backs, big tight ends and mammoth offensive linemen bulldoze opponents. It's not that simple, although sometimes it seems that way.
"They run three yards and a cloud of dust, and three yards and a cloud of dust, and then the next play goes for 40 or 50 yards," said Jerry Hanlon, a longtime Michigan assistant coach under Bo Schembechler who remembered the 1981 bruising all too well.
"Then add to that their play-action passing, which is something you have to guard against because you're so enamored with stopping the run," he said. "It's very difficult to defend."
That's the dilemma Michigan will face Saturday (noon, ESPN) against No. 5 Wisconsin in a matchup of size versus speed.
The Badgers enter Michigan Stadium with the conference's second-best rushing attack, averaging 228.2 yards each game, while the Wolverines defense ranks eighth in stopping it.
Though they have Big Ten Offensive Player of the Year candidate John Clay in the backfield, the key to that yards-per-game statistic may be size on the offensive line.
At 6-foot-4, 315 pounds, guard Kevin Zeitler is the runt of the Wisconsin offensive line. Starting tackles Gabe Carimi and Ricky Wagner stand 6-7 and 6-6, respectively.
Michigan's chances of standing up to that group may hinge on Mike Martin's creaky ankles. Martin missed last Saturday's game against Purdue, but Rich Rodriguez said he expects Martin to play against Wisconsin, at least in a limited capacity.
Rodriguez will need Martin, the defensive line's stalwart, to anchor Michigan's defense.
"We can't let them move the line of scrimmage down the field," Michigan coach Rich Rodriguez said.
Indiana found out what happens last week when Wisconsin wins that battle. The Badgers enjoyed their best offensive performance in 95 years. The Badgers rushed for 338 yards in an 83-20 victory.
The performance came without Clay, a potential Big Ten Offensive Player of the Year, sidelined by an MCL injury. His backups, James White and Montee Ball, ran for 144 and 167 yards, respectively, and combined for five touchdowns. The secret?
"We still have the same linemen in there," Carimi told The Associated Press after the game.
White admitted in a way, the running backs were essentially interchangeable parts behind the line.
"They were really big," he said of the holes. "You could drive a truck through them. When the holes are that big, all us running backs have to do is just run through them.
Thing is, it wasn't even the Badgers' best rushing performance of the season. That came in a win over Austin Peay, in which Wisconsin rolled for 346 yards.
Negating the Badgers' size is only one part of stopping them - in fact, focusing on that alone ignores the complexity of their blocking schemes and play-action passes.
"They pull and get those big guys out there on the perimeter," Indiana coach Bill Lynch said. "They get out and stretch the play and create more gaps that, from a defensive standpoint, it's more gaps you really have to have a hat on.
"So often, it's a defensive back and it's a mismatch, because the defensive back has to find the runner through all those big guys."
It wasn't just lowly Indiana that fell victim to Wisconsin's bruising attack this season. On Oct. 16, the Badgers jumped out to a 21-0 lead against No. 1 Ohio State and held on for a 31-18 win.
The 31 points represented the most Ohio State's defense, ranked tops in the Big Ten, has allowed all season. The 184 rushing yards Wisconsin registered were the most against the Buckeyes this season.
"They're a physical, power football team for sure, but I think Paul Chryst and his staff have as much ingenuity and test you in as many different ways as any offense that we face," Ohio State coach Jim Tressel said.
"It's not like they line up and say, 'OK, here we come,' and we know exactly what they're doing. That's not the case. I don't know that I'd call them a throwback. I would call them very, very creative."
Lynch and Rodriguez agreed the Badgers run more blocking schemes than any other team in the conference, and they pull more linemen than anyone else, as many as two or three at a time.
Linebackers face the most pressure in defending it. They need to react faster than usual, and that's doubly difficult when facing a scheme they face perhaps only once a season.
If they over-pursue the running back, the Badgers are especially punishing.
"You start over-playing, and then they're faking and throwing the ball behind you," Hanlon said. "It's not just line up and knock you off the ball. They have a method to their madness."
Pete Bigelow covers Michigan football for AnnArbor.com. He can be reached at (734) 623-2556, via e-mail at petebigelow@annarbor.com and followed on Twitter @PeterCBigelow.