Posted on
Sat, Sep 24, 2011 : 6:28 p.m.
With Troy Woolfolk on the sidelines, freshman Blake Countess shines in Michigan win
By Nick Baumgardner
Technically, Saturday wasn't Michigan freshman cornerback Blake Countess' first college football experience.
But it was, without question, his coming out party.
After Michigan senior cornerback Troy Woolfolk re-injured his left ankle in the second quarter, the Wolverines turned to the seldom-used freshman to fill the gap. He didn't disappoint, either, tying for the team-lead in tackles with seven and giving little ground in pass coverage during a 28-7 win against San Diego State.
"Blake's a young guy, a talented young guy," Michigan coach Brady Hoke said. "He's done a good job and he has great pride in his performance. He gets himself ready to play."
Entering Saturday, Countess had appeared in two games, registering one tackle in total. But the lack of production meant little in the eyes of his teammates, who said that there was no drop in confidence when Countess entered the game and Woolfolk exited.
"As a true freshman, sometimes guys get those wide eyes when they come onto the field," senior defensive lineman
Ryan Van Bergen
said. "But he reminds me of a guy like
Donovan Warren
when he first came in. He's very focused, he has a swagger about him and he's very confident.
"The more reps he gets, the more I think he'll play. I think the coaches are slowly getting more comfortable with him."
Van Bergen went on to add that Countess' ability to step in with little notice and make an impact is an approach that the entire defense is working to adapt as the season goes on.
"We had some guys go down, and he stepped up," he said. "That's an expectation on this team, it doesn't matter who you are.
"That position is expected to be played a certain way, and Blake proved that today."
As far as Woolfolk is concerned, Hoke said that the senior corner (who is also playing with a broken bone in his right hand), injured the same ankle that he sprained during the season-opener against Western Michigan.
Woolfolk remained on the sidelines throughout the game following the injury, testing the ankle periodically with agility drills on the sidelines but never actually re-entering.
Hoke said that Woolfolk is day-to-day, but didn't seem overly concerned about the severity of the injury.
"If I know Troy he'll come out (Sunday) and do everything that we'll (ask him) to do," he said.
Melanie Maxwell | AnnArbor.com
Robinson ties personal best on the ground, struggles through the air
Michigan junior quarterback Denard Robinson tied a career-high with three rushing touchdowns in the first half Saturday.
On the day, Robinson finished with 200 yards on 21 carries, bringing his season total to 552 rushing yards with five scores.
As it has been for most of the season, Robinson's passing was a different story. He finished 8-of-17 passing for 93 yards and a pair of interceptions. On the season, Robinson is 35-of-72 for 624 yards, six touchdowns and six interceptions.
"(There were) some throws that I forced," Robinson said. "I should have taken my time and do (better at) what coach taught me. That's all it was."
Robinson's first interception came when he lobbed a ball into double coverage before San Diego State's Larry Parker came down with it. The second was a ball that was tipped into the air, and eventually intercepted by Nat Berhe.
"I thought he did a good job managing the offense," Hoke said. "That's not an easy defense (to throw against). (Former TCU and current NFL quarterback) Andy Dalton had plenty of problems with it a year ago. And it's not an easy defense to try and figure things out.
"Throwing the ball, one (interception) might have sailed on him a little bit, but I'm not sure on the route, at this point, if it was ran (where it needed to be). And then (the other interception) I think he tried to find a hole in there and just probably made a bad decision."
Rocky Long pays Hoke a compliment

Hoke and San Diego State coach Rocky Long shared a hug at midfield following the game, a moment that the Michigan coach called "personal" and declined to talk about.
Long didn't get into any specifics either, but did pay his old boss a major compliment following the game.
"Brady and I are good friends (and) I just wished him good luck the rest of the way," Long said. "Brady will win a national championship here. I don't know how soon it will be, but he'll win a national championship."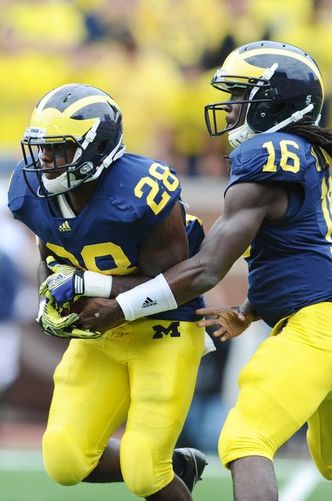 Melanie Maxwell | AnnArbor.com
Toussaint starts in front of Smith
On Friday, Hoke said in a video published by the university that junior running back Vincent Smith would earn the start at running back in front of sophomore Fitz Toussaint. Smith was also announced as the starter on the Michigan Stadium scoreboards before the game.
That wasn't the case, however. Toussaint made his third start of the season and finished the day with 67 yards on 13 carries. Smith gained 47 yards on nine carries and scored a touchdown. Each back finished with an average of 5.2 yards per carry. Smith also added a team-high three catches for 44 yards.
The only other running back to earn a carry was sophomore Stephen Hopkins, who had one carry for eight yards. That one carry, though, resulted in a fumble. Hopkins now has fumbled in each of his last two carries on the season.
Senior running back Michael Shaw did not get a carry Saturday, one week after getting just one attempt for three yards in a win over Eastern Michigan.
Freshman Justice Hayes was not on the dress list Saturday. No reason was given.

Turnovers galore

Michigan committed four turnovers Saturday, two interceptions by Robinson and fumbles credited to Smith and Hopkins.
The Wolverine defense made sure those four missteps didn't matter much, as they created three turnovers of their own. Still, Hoke said that the offensive mistakes are a concern.
"We can't turn the ball over four times," Hoke said. "That's disappointing. We ended up a minus one because we caused three turnovers. But we turn it over four times. You can't win anything (doing that).
"You can't win your Pop Warner league doing that. We were very fortunate. ... We tried to give it away. That's a problem."

Second-quarter gamble pays off

With Michigan leading 14-0 late in the second quarter, Hoke faced an interesting decision when a Robinson-to-Junior Hemingway pass ended 3 yards shy of a first down at the Wolverine 39-yard line.
Hoke initially sent out his punt team, but then called a timeout and changed his mind. On the following play, Robinson picked up the first down with an 8-yard quarterback keeper. Four plays later, he scored on a 1-yard touchdown run to put Michigan up 21-0 with just 31 seconds to play before the halftime.
"I thought our defense was playing pretty good, to be honest with you," Hoke said of his reasoning to go for the first down rather than punt. "I think it gives your kids some confidence knowing you have confidence in them."

Gibbons miss 'just one bad kick'

Hoke didn't take too much stock in the missed 40-yard field goal by sophomore kicker Brendan Gibbons. Last week, Gibbons made a 21-yard field goal, his only other attempt this season.
"I think it was just one bad kick," he said. "From how he planted, not that I'm (former NFL kicker) Garo Yepremian and know that much about kicking, but he just didn't plant well and kind of pushed it."

Odds and ends

With 293 yards of total offense, Robinson passed both Todd Collins and Jim Harbaugh on the school's all-time total yardage list. With 5,987 yards, Robinson now trails former quarterback Elvis Grbac (6,221) for fifth-place all-time. ... Michigan junior guard Ricky Barnum limped off the field during a drive midway through the second quarter and was immediately replaced by sophomore Michael Schofield. Barnum didn't stay out long, though, re-entering the game on the very same drive. ... Hoke complimented freshman punter Matt Wile, saying it was "great to see" him have a solid outing. Wile punted four times for 196 yards, and had a net average of 43.5 yards per kick. ... Injured linebackers Cam Gordon (back) and Brandon Herron (leg) did not see action despite Hoke saying earlier in the week that the duo would be available. Gordon was initially listed on the team's dress list, but did not actually suit up. He has yet to play in a game this season. Herron did dress, but did not play for the third straight week.
Nick Baumgardner covers Michigan sports for AnnArbor.com. He can be reached at 734-623-2514, by email at nickbaumgardner@annarbor.com and followed on Twitter @nickbaumgardner.