Posted on
Sat, Oct 29, 2011 : 6:32 p.m.
Wolverines play 'Michigan defense' in win against Purdue football team
By Pete Cunningham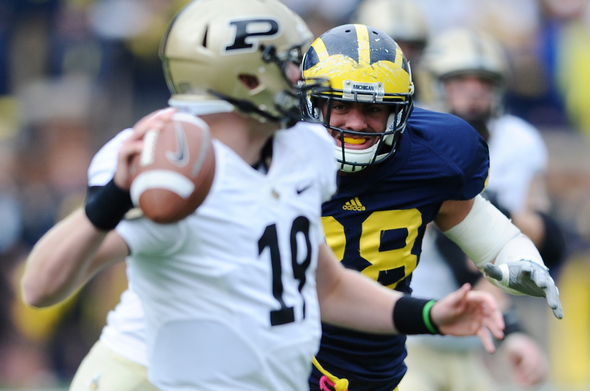 Melanie Maxwell | AnnArbor.com
The Michigan football team's defense didn't start or finish the way it wanted to in a 36-14 win against Purdue on Saturday. But in between, the unit played close to perfect.
They played the "Michigan defense," a phrase players preach as the standard.
But what exactly does playing Michigan defense mean?
"It's about playing with a mentality that no one can run on you, no on can run the ball. And you have to have that as a defensive line and a defense as a whole," said defensive lineman Mike Martin, who had seven tackles and two sacks on the day, both season highs.
By Martin's definition, the unit certainly played to that standard, holding Purdue 36 yards rushing. It was the play of the line that stood out most to Purdue coach Danny Hope.
"They're real big, and they're real strong, and they do a great job of penetrating the line of scrimmage," Hope said. "I thought that they manufactured some movement, some games with their defensive front that we didn't do a very good job of handling up front."
The day didn't start well for the Wolverines' defense. Purdue drove 67 yards to take a 7-0 lead on its first possession. Purdue receiver Gary Bush weaved through Michigan's defensive secondary with relative ease on a 48-yard touchdown pass.
The absence of injured strong safety Jordan Kovacs was glaring on the play and it appeared Purdue might be able to exploit Kovacs' normal area of responsibility all day.
But the Boilermakers never really had a chance to do as much with Michigan's defensive line applying constant pressure to Purdue's rotating quarterbacks.
"This defense is great with responding to adversity. Whether it's sudden change, or we get scored on," Martin said. "We never want that to happen, but we did a great job of coming to the sideline and re-gathering."
And it would be after an adverse situation that Martin would make the game's defining play.
One play after Devin Gardner threw an interception in the Purdue red zone, Martin turned the negative into a positive, blowing up the line of scrimmage and sacking Caleb TerBush for a safety early in the second quarter.
It was Michigan's first safety since 2003 and fittingly gave Michigan a lead it would never relinquish.
Everyone will remember Martin's sack, but he credited Ryan Van Bergen as the brains behind the operation.
"(Van Bergen) did a pretty good job of figuring out where they were going to slide the protection, and when it came down to it, we were aggressive off the ball and good things happen," Martin said.
Craig Roh said the safety served as motivation.
"That guy is a physical beast and a very dominating player. When you see him (make plays), you're like, 'I can do that.' He's right next to me, and I know he's going to beast his guy, so I've got to beast my guy," Roh said.
Roh even went as far as to say they played Michigan defense, the rest of the way.
But what exactly is that?
"Dominating everything, in every aspect of life. ... That's a rough definition."
Pete Cunningham covers sports for AnnArbor.com. He can be reached at petercunnigham@annarbor.com or by phone at 734-623-2561. Follow him on Twitter @petcunningham.