Posted on
Sat, Sep 8, 2012 : 6:23 p.m.
Your chance to grade Michigan's performance against Air Force
By Pete Cunningham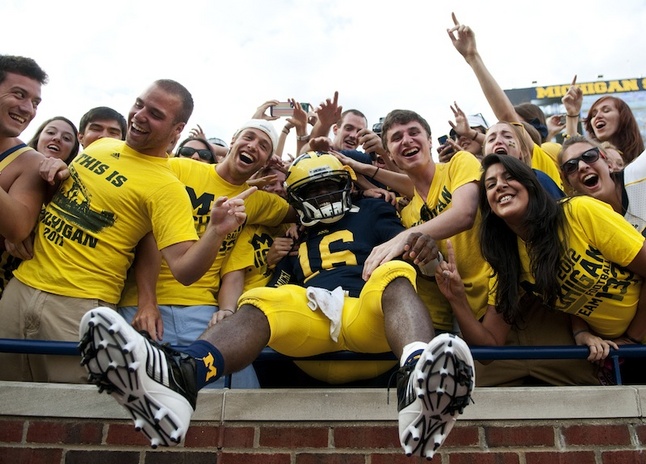 It wasn't as easy as Michigan fans probably would have liked, but Michigan got its first win of the season on Saturday with a 31-25 victory over Air Force.
MLive.com Michigan football writer Kyle Meinke graded several Michigan players' individual performances against the Falcons, and while the report card was much more flattering than it was against Alabama, there's obviously still much room for improvement.
Now it's your turn to grade the Wolverines' performance on offense, defense, special teams, coaching and overall.
Offense
Denard Robinson confirmed what many have suspected for quite some time: He's really fast, and really good. Robinson threw for 208 yards and a pair of touchdowns and ran for 218 and two more scores. The Devins, Funchess and Gardner, combined for nine catches, but Fitz Toussaint failed to rush for more than ten yards in his return from suspension.
Defense
Oh, that triple option. Air Force had 417 yards of offense, but it wasn't all on the ground as the Falcons passed for 127 yards to complement its ground attack. Air Force ate up yardage in chunks all day, but in the red zone Michigan was able to tighten up coming up with several stops while backed up deep in its own territory.
Special Teams
How 'bout that Dennis Norfleet? The true freshman kick returner once again had plenty of practice returning kicks with Air Force scoring so often. Norfleet showed he's more than just a speedster, bouncing off of tackles for extra yardage on many returns. The punters, kickers and punt returners weren't showcased very often.
Coaching
Clock management was an issue at the end of the first half, and the defense didn't seem exactly prepared for the triple option and Michigan, a 21.5 point favorite, had to fight and claw for a six-point win. But it's always easier to point out the negative than the positive when it comes to coaching. Here's some balance: A win, is a win, is a win.
Overall
Put them all together and what do you get?
Pete Cunningham covers sports for AnnArbor.com.