Posted on
Sat, Oct 27, 2012 : 5:29 a.m.
Your mega guide to No. 20 Michigan vs. Nebraska
By Pete Cunningham
Melanie Maxwell | AnnArbor.com
GAME STORY:
Denard Robinson injured as Michigan falls at Nebraska, 23-9
GRADE THE WOLVERINES: Your chance to rate Michigan's performance on our interactive polls
INSTANT ANALYSIS: Kyle Meinke grades the Wolverines
LIVE COVERAGE:
Follow the game action as it happens from Nick Baumgardner's live blog which will begin shortly before kickoff on the AnnArbor.com
Michigan football homepage
. Also, be sure to follow Kyle Meinke (
@kmeinke
) and Nick Baumgardner (
@nickbaumgardner
) on Twitter.
WHO: No. 20 Michigan (5-2, 3-0 Big Ten) at Nebraska (5-2, 2-1 Big Ten).
WHERE: Lincoln, Neb.
WHEN: 8 p.m.
ODDS: Nebraska is favored by 1.5 points, according to sportsbook.com.
SERIES RECORD: Michigan leads (4-2-1).
LAST MEETING: Saturday, Nov. 19, 2011. Michigan beat Nebraska 45-17.
WEATHER: Partly cloudy. Winds blowing from the Southeast at 5-10 m.p.h. Game-time temperature: Around 45.
BROADCAST INFORMATION: TV: ESPN2; Radio: Michigan Sports Network (local affiliates).
AnnArbor.com coverage: The actual Big Ten Conference rivalry between Nebraska and Michigan is just in its second year, but the shared national championship between the schools makes it feel like much longer. The two teams and fan bases will always be linked by their simultaneous perfect records and being the parents of the BCS with dual custody of the 1997 national championship. The teams will meet as conference foes for the second time on Saturday, both looking to take control of the Legends Division. Here is everything you need to know about the matchup:
5 keys to victory: Michigan must stop an offense built like its own (with prediction)
For Michigan to stop Nebraska's offense, it must essentially stop itself. Not literally stop itself, just the next closest thing. The offenses of Nebraska and Michigan are very similar, so, in a way, the Wolverines have studied Nebraska's offense as much as any opponent they've faced. But does that mean they'll be able to stop it?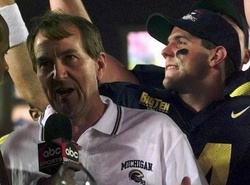 5 memories from Michigan and Nebraska's famed co-national title season of 1997
Michigan and Nebraska fans have at least one thing in common: they both think their teams was the best in the land in 1997. They're not exactly wrong. The co-national championship season is one of great debate between the Wolverine and Cornhusker faithful. What's not debatable are the great moments the teams had to each maintain their perfect records that season.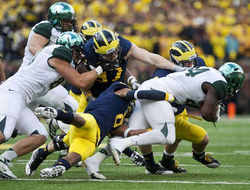 Michigan's surging defense to butt heads with Nebraska's league-best offense
It will be strength against strength on Saturday when Michigan's up-and-coming defense and Nebraska's league leading offense butt heads. Who will have he edge? Only time will tell.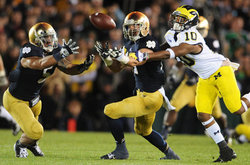 Wolverines Issue of the Week: Has Michigan finally solved its road-game blues?
Michigan looked good in a win over Michigan State last week, but remember Notre Dame? How about the Alabama game. The latter two were away from Michigan Stadium where Michigan at times looks to be a completely different team. So how will the Wolverines fare in the "Sea of Red"?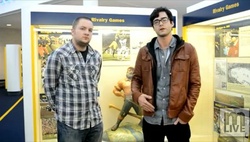 Video: MLive's Kyle Meinke and Nick Baumgardner preview Michigan-Nebraska
Michigan football writers Nick Baumgardner and Kyle Meinke have written just about all there is to write about the Michigan vs. Nebraska matchup, so they're changing it up a bit. Baumgardner and Meinke step in front of the camera to talk about the game and how they see it going for the Wolverines.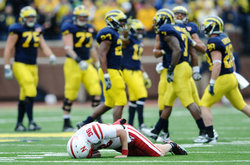 Michigan 'Ask Kyle' questions answered: What's changed since the Wolverines' beat down of Nebraska?
The Wolverines didn't just beat the Cornhuskers last year, they absolutely destroyed them. It was a complete and utter domination in practically all aspects of the game. So why should this year be any different? Kyle Meinke answers questions such as this and so much more in his weekly mailbag.
Michigan TE Devin Funchess dealing with increased defensive pressure after fast start
Michigan freshman tight end Devin Funchess got out to a hot start to the season and it seemed like there might be no stopping this kid. After the early success, Funchess is finding defenses are treating him a little differently.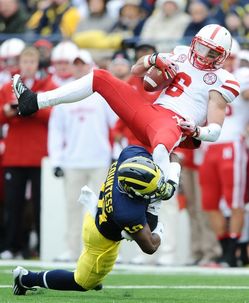 Nebraska writer: Cornhuskers' receivers vs Michigan's defensive backs is key matchup
Michigan's defense has been a major strength this year and the secondary has had a lot to do with that. But Nebraska's wide receivers aren't exactly slouches. The Corner-wide receiver matchups will many times be strength against strength and Brian Christopherson, Nebraska beat writer for the Lincoln Journal Star, thinks who wins the battle might end up with the upper-hand in the game as well.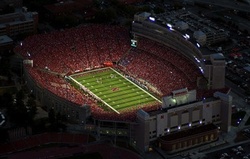 Michigan ready to experience Nebraska's famed 'Sea of Red'
The Michigan vs. Nebraska rivalry is young, and as a result no one on Michigan's team has actually ever played at Nebraska. Actually, no Michigan team has been to Nebraska since Fielding H. Yost was roaming the sidelines, and the Wolverines are excited to experience the "Sea of Red."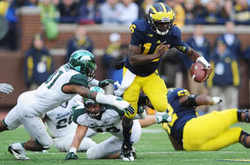 Denard Robinson embraces Michigan's conservative game plan against Michigan State
Denard Robinson's numbers weren't pretty against Michigan State, but the Wolverines prevailed, so it was plenty for him. Will he continue to feel the same way if the play-calling remains that way? He insists a conservative game plan to win is far more important than a flashy one without optimal results.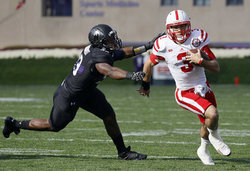 Nebraska, by the numbers: Cornhuskers boast Big Ten's best offense
Nebraska has the Big Ten's best offense, but what exactly does that mean? Some years in the Big Ten that can be like being the prettiest girl in the smallest town in the world. This year, it means 512.4 yards per game and 41.6 points per game, both league bests. Check out a few other gaudy numbers associated with the league's best offense that will even make a city boy, or an SEC fan, do a double-take.

This and that:
WHO YA GOT?
Associated Press Preview:
WHAT'S AT STAKE
The winner gains the inside track to the Legends Division championship. With a win, division leader Michigan would hold a two-game lead over Nebraska. A Michigan loss would leave the Wolverines no worse than tied for first. The Huskers, with a win, would move into a first-place tie and own the tiebreaker over the Wolverines. A Nebraska loss would leave the Huskers needing to win out and having the Wolverines lose three of their last four.
KEY MATCHUP
Michigan defense against Nebraska offense. The Wolverines are allowing 9.8 points the past five games and given up three touchdowns. They haven't given up a rushing TD since Sept. 22 against Notre Dame. Nebraska has the Big Ten's best offense when it's not turning over the ball. The Huskers struggled against Michigan's varying defensive-line looks in last year's 45-17 loss in Ann Arbor.
PLAYERS TO WATCH
MICHIGAN: RB Fitzgerald Toussaint. Nebraska will sell out to keep Denard Robinson under control. That's the smart play, given that Robinson accounts for two-thirds of his team's offense. But when the Huskers have faced dual-threat QBs, they've struggled to keep the tailback in check. Toussaint, averaging 47 yards a game, ran for a career-high 138 and two TDs against the Huskers last year.

NEBRASKA: QB Taylor Martinez. The third-year starter was brilliant in the fourth quarter last year, throwing two TD passes in the last six minutes to erase a 12-point deficit against Northwestern. Martinez was equally good leading the Huskers' comeback from 17 points down against Wisconsin. But Michigan defensive coordinator Greg Mattison surely will have something special planned.
FACTS & FIGURES
Nebraska will celebrate the 50th anniversary of its NCAA-record sellout streak. This will be the Huskers' 323rd in a row. ... Michigan, with its win over Michigan State last week, became the first program in NCAA history to reach 900 victories. ... The Wolverines have lost four of their past seven games away from Michigan Stadium. ... Michigan is 15-0 under Brady Hoke when scoring 20 or more points. ... Nebraska's 13 lost fumbles are most in the nation. ... The Huskers has rushed for 200-plus yards in their first seven games for the first time since 2000. ... Nebraska is 36-5 in night games in Lincoln since 1986.
Around the Big Ten...and Ypsilanti