Posted on
Sat, Sep 22, 2012 : 5:59 a.m.
Your mega guide to Michigan vs. Notre Dame
By Pete Cunningham
Melanie Maxwell | AnnArbor.com
GAME STORY:
Check out
Nick Baumgardner's live updating game story
from Michigan's 13-6 loss to Notre Dame.
GRADE THE WOLVERINES: Your chance to grade the Wolverines' offensive, defensive, special teams, coaching and overall performances in our interactive polls
KYLE MEINKE'S GRADES: Denard Robinson's 5 turnovers doom Michigan against Notre Dame
WHO: No. 18 Michigan at No. 11 Notre Dame.
WHERE: South Bend, Ind.
WHEN: 7:39 p.m.
ODDS: Notre Dame is favored by six points according to sportsbook.com.
SERIES RECORD: Michigan (23-15-1).
LAST MEETING: September 10, 2011, Michigan won 35-31 at Michigan.
WEATHER: Mostly cloudy. Winds blowing from the North at 10-20 m.p.h. Game-time temperature: Around 55.
BROADCAST INFORMATION: TV: NBC; Radio: Michigan Sports Network (local affiliates).
AnnArbor.com coverage: Michigan heads to Notre Dame Stadium on Saturday to take on Notre Dame for the second night game between the teams in as many years. The game took on an extra bit of national relevance when Notre Dame upset Michigan State 20-3 in East Lansing last weekend and put both teams inside the Top 20 in the national rankings. Just incase you haven't been keeping up with all of the story lines heading into the game, here's everything you need to know in one easy to read package: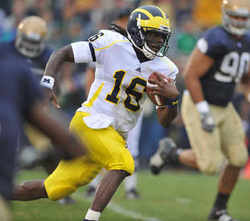 5 keys to victory: Michigan needs cure for road woes (with prediction)
Michigan's defense has not created turnovers like crazy the way it did during the 2011 season, nor has it stopped teams on third down with as much regularity. Correcting these issues and making holes for Denard Robinson to run through will be essential to the Wolverines' success on Saturday.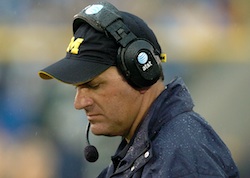 A historical look at how ex-Michigan football head coaches fared in their first trip to Notre Dame
Saturday will be Michigan coach Brady Hoke's first trip to South Bend as the coach of the Wolverines. Nick Baumgardner takes us on a trip down memory lane and reveals that Notre Dame Stadium has not been kind to first time visitors from Ann Arbor, and not all of them were named Rich Rodriguez.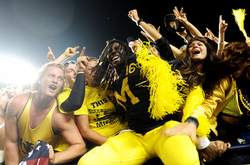 Denard Robinson, after torching Notre Dame twice, says this year's challenge is tougher
In 2010, Denard Robinson accounted for a school-record 502 yards of total offense in a 28-24 comeback win over Notre Dame. Last year, Robinson led a 17-point fourth quarter comeback under the lights. But he's not thinking about those games. Robinson is focused on the next one.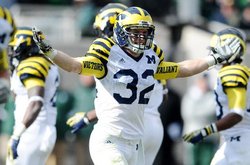 Michigan's Jordan Kovacs began his career against Notre Dame, still sees the game as extra special
Saturday will not be senior safety Jordan Kovacs' first trip to South Bend. Kovacs started his playing career against Notre Dame, which is why the rivalry holds a special place in the heart of the former walk-on.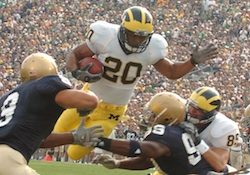 Wolverines Issue of the Week: Michigan hasn't beaten a ranked road opponent in 6 years
How long has it been since the Michigan football team has beaten a ranked opponent on the road? Mike Hart and Chad Henne were in town the last time it happened. Bowl games at neutral sites don't count, meaning Michigan hasn't gone into enemy territory and beaten a ranked opponent in six years.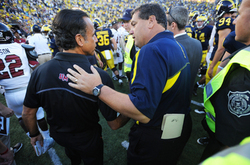 Michigan benefits from already seeing version of Notre Dame's spread offense
Believe it or not, there may have actually been something to gain besides padding the stats for Michigan in its slaughter of UMass last Saturday. UMass coach Charley Molnar was Notre Dame coach Brian Kelly's offensive coordinator the past two years, and runs an offense similar to the one the Irish still use.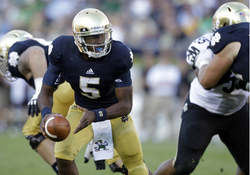 Denard Robinson a fan of Notre Dame quarterback Everett Golson, says Michigan will have its hand full
Denard Robinson won't play a snap against Notre Dame quarterback Everett Golson on Saturday. But that doesn't necessarily mean he won't be watching. Robinson first saw Golson play in the Notre Dame spring game and said he could tell then that Golson would be the starter.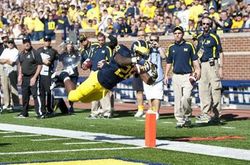 Michigan's Fitz Toussaint wishes he would have played through injury against Notre Dame last year
Michigan's win against Notre Dame under lights was one for the ages, but it's not a good memory for running back Fitz Toussaint. Toussaint had to watch from the sidelines because of a shoulder injury, an injury he wishes he would have played through.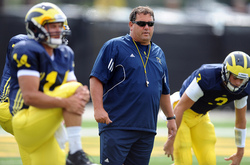 Brady Hoke impressed with Notre Dame's front seven, and overall team speed
Brady Hoke praised Notre Dame's improved defense Tuesday, saying the Fighting Irish front seven has been a bear early this season. Hoke was also critical about his team's inability to get its running backs going, which may prove a dangerous combination.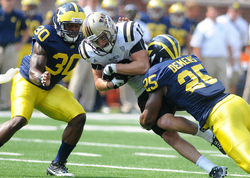 Michigan freshmen LBs Joe Bolden and James Ross III will continue to see heavy playing time
Coming into the season, there were plenty of questions about who would fill the holes left in the Michigan football team's front seven left by graduating seniors. It seemed, however, Kenny Demens' spot in the lineup was all but secure. That no longer seems the case with the emergence of freshmen Joe Bolden and James Ross III.
Injury roundup: Michigan to get back Desmond Morgan, but without others for Notre Dame
There was some good news on Michigan's injury report this week as it seems Desmond Morgan will be back after sitting out against UMass with a head injury. The news isn't as good for tight end Brandon Moore, while a few others' statuses are still up in the air.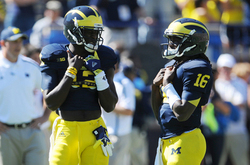 Michigan football fans: A 50-point win is fine, but Notre Dame presents trouble
Michigan fans like the fact that the Wolverines won by 50 last Saturday, but aren't putting too much stock in it. Despite a dominant performance over the Minutemen of UMass, the Wolverine faithful were still critical of and weary with Notre Dame on the horizon.
Michigan's Brady Hoke enjoys Notre Dame series, but won't be heartbroken if it ends
Brady Hoke has said before that he enjoys rivalry games and the Michigan versus Notre Dame series. But with Notre Dame signing a huge deal with the ACC last week, the series could be in jeopardy. Hoke won't lose sleep over it.

This and that:
WHO YA GOT?

Associated Press preview capsule
WHAT'S AT STAKE:
The Fighting Irish are looking to show they are again a contender on the national stage, trying to improve to 4-0 for the first time since Tyrone Willingham's first year as coach in 2002. After an embarrassing 41-14 loss to top-ranked Alabama in the opener, the Wolverines are looking to bounce back and regain respect for Big Ten teams that have stumbled at the start of the season.
KEY MATCHUP:
Michigan QB Denard Robinson against an inexperienced Notre Dame secondary. Robinson has made the Irish defense look inept the past two seasons, totaling 944 yards in total offense. Two years ago he set a school-record with 502 yards total offense. Last season, he led a fourth-quarter comeback victory for the Wolverines in Ann Arbor. The Notre Dame defense has given up 30 points in the first three games, but has a young secondary and will be without its most experienced player. S Jamoris Slaughter sustained a season-ending injury against Michigan State.
PLAYERS TO WATCH:
Michigan: WR Roy Roundtree. Last season Junior Hemingway, wearing Desmond Howard's No. 21 "Michigan Football Legend" jersey caught three passes for 165 yards and a TD against the Irish. This year it will be Roundtree, who last season caught the game-winning 16-yard TD pass against the Irish.
Notre Dame: LB Mani Te'o. After playing what he thought was a sub-par game against Purdue, Te'o played an emotional game following the deaths of his girlfriend and grandmother, making 12 tackles against Michigan State, with a fumble recovery and two pass breakups.
FACTS & FIGURES:
Michigan has beaten Notre Dame three straight for the first time 1908, winning all three with touchdowns in the final 27 seconds. ... The game will be just the second night game at Notre Dame Stadium in 22 years. The Irish are 6-2 all-time in night games at Notre Dame Stadium. ... The Leprechaun Legion, a Notre Dame spirit student group, planned to pass out 7,500 white leis to students at the Friday night pep rally as a show of support for Te'o. ... Robinson is a touchdown throw away from becoming only the eighth player in NCAA history to pass for 40 touchdowns and run for 40. ... Michigan (.736) and Notre Dame (.732) are the winningest FBS schools.
Around the Big Ten
Pete Cunningham covers sports for AnnArbor.com. Contact him at petercunningham@annarbor.com. Follow on Twitter @petcunningham.