Posted on
Sat, Sep 15, 2012 : 5:59 a.m.
Your mega guide to Michigan vs. UMass
By Pete Cunningham
GAME STORY: Michigan football team scores in bunches, clobbers Massachusetts, 63-13
GRADES: Kyle Meinke grades the Wolverines' individual performances against UMass.
YOUR CHANCE TO GRADE THE WOLVERINES: How do you think Michigan did on offense, defense, special teams, coaching and overall?
LIVE COVERAGE: Check out our live updating game story on the Michigan football home page beginning at 2:30 p.m., and follow beat writers Kyle Meinke (@kmeinke) and Nick Baumgardner (@nickbaumgardner) on Twitter for live updates during the game.
WHO: Massachusetts at No. 17 Michigan.
WHERE: Ann Arbor.
WHEN: 3:30 p.m.
ODDS: Michigan is favored by 45.5 according to sportsbook.com.
SERIES RECORD: Michigan leads 1-0.
LAST MEETING: September 18, 2010, Michigan won 42-37 at Michigan.
WEATHER: Mostly sunny. Winds blowing from the Southwest at 5-10 m.p.h. Game-time temperature: Around 70.
BROADCAST INFORMATION: TV: Big Ten Network; Radio: Michigan Sports Network (local affiliates).
MASSACHUSETTS: Roster | Schedule
AnnArbor.com coverage: Yes, it's "just UMass" that the Wolverines face this week, but last week was "just Air Force" and that was no walk in the park. Not to mention the fact that the last time "just UMass" came to town in 2010 -- then as a Football Championship Series (formerly Div. I-AA) team -- the Minutemen nearly pulled the upset as Michigan escaped with a 42-37 win. Just incase you haven't been keeping up with all of the story lines heading into the game, here's everything you need to know in one easy to read package: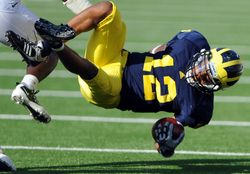 5 Michigan keys: A look at who has the most to gain against UMass (with prediction)
Michigan has several players -- Roy Roundtree, Fitz Toussaint, Will Campbell, etc. -- thought to be essential to the team's success, who have yet to get on track this season. UMass is a "get on track" kind of team. Who needs to get going most this week?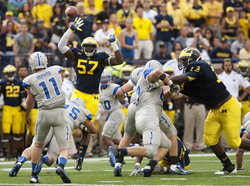 Frank Clark's status with Michigan won't change after felony plea, Brady Hoke says
On Tuesday, Michigan defensive lineman Frank Clark pled guilty to a felony charge of second-degree home invasion. On Wednesday, Brady Hoke said that will not have an effect on his status on Saturdays. According to Hoke, Clark has paid the price required of him by the team to earn that right.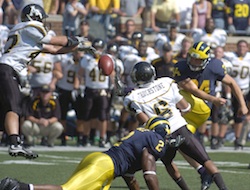 Gigantic spreads: 5 memorable Michigan games where the Wolverines were massive favorites
Michigan is a 45.5 point favorite against the Minutemen on Saturday, which is believed to be the largest spread in team history. Michigan has not been kind to Vegas in the past, though, often failing to cover when the line is massive. Here's a look at five of the most memorable games where the Wolverines were massive favorites, including a certain 33-point spread they famously lost to a certain FCS opponent.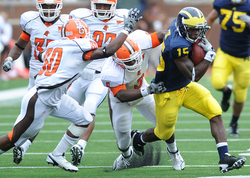 UMass beat writer: Not even former Michigan RB Michael Cox will save Minutemen
UMass has a secret weapon in its backfield. He's a source with inside knowledge of the Michigan program: running back Michael Cox. Remember him? Exactly. MassLive.com beat writer Harry Plumer explains that the former Michigan running back is one of many not so impressive elements of the the UMass offense.
MLive.com's Kyle Meinke and Nick Baumgardner preview Massachusetts
They've written about the game all week, now it's time for Michigan football reporters -- and friends -- Kyle Meinke and Nick Baumgardner to step in front of the camera and breakdown Michigan versus UMass. Both see it as an opportunity for self improvement.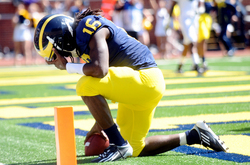 Al Borges: Denard Robinson's passing instincts 'baller' in Year 2 of scheme
Is Denard Robinson a quarterback who runs? Is he a running back who throws? Al Borges knows one thing: He's a "baller." Borges may not exactly know what being a baller means, but from what he understands, it seems to describe Robinson perfectly.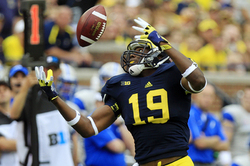 Michigan players react to freshman Devin Funchess' historic breakout performance at tight end
Devin Funchess was the first tight end since 1997 to record more than 100 yards receiving in a single game against Air Force. His teammates were not surprised. They've seen it from the freshman all throughout camp.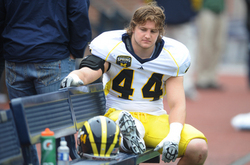 Michigan starters Desmond Morgan (head), Stephen Hopkins (hamstring) battling injuries for UMass game
After a relatively healthy 2011 season, the injury bug has hit the Wolverines hard in the early goings this fall. Brady Hoke announced on Friday that Desmond Morgan's head and Stephen Hopkins' hamstring could effect how much or if the two play on Saturday.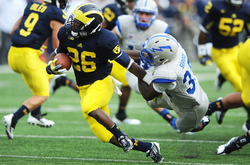 Michigan not expected to play any more freshmen, barring catastrophe
Michigan has played 12 true freshmen so far this season, already more than the coaching staff would like to see. While, fans may love it when a new face fresh off of the recruiting trail steps out on the field, the next time it happens believe that it is not part of the plan.
This and that:
WHO YA GOT?
Associated Press preview capsule
WHAT'S AT STAKE:
The Wolverines have a lot of improving to do, especially establishing a running game without Denard Robinson and stopping the run. UMass, in its first year at the highest level of college football, can give its program a signature win by stunning college football's winningest program. Though mostly the Minutemen would just like to stay close.
KEY MATCHUP:
Michigan RB Fitzgerald Toussaint against UMass LB Perry McIntyre. Toussaint ran for 7 yards on eight carries in his season debut against Air Force after being suspended for the opener. The Wolverines are determined to get him going and it will be up to the McIntyre-led linebackers to slow him down.
PLAYERS TO WATCH:
Michigan: WR Roy Roundtree. He has caught three passes for 17 yards in what was expected to be a breakout season for the player wearing Desmond Howard's Michigan Legends No. 21 jersey.
UMass: RB Mike Cox. He is playing against his former teammates as a graduate transfer. Cox had a career-high 15 carries for 36 yards in last week's 45-6 loss to Indiana. He had 39 career carries for 201 yards and two TDs for Michigan.
FACTS & FIGURES:
Two years ago at the Big House, UMass sent an onside kick out of bounds after pulling within five points and Michigan held on for 42-37 win. ... Wolverines coach Brady Hoke cleared DE Frank Clark to play less than a week after he pleaded guilty to a felony after taking a laptop from a dorm room. ... The Minutemen are led by first-time head coach in Charley Molnar, who was Brian Kelly's offensive coordinator at Notre Dame and Cincinnati. ... Michigan plays at No. 22 Notre Dame in prime-time next week. ... UMass is playing in the Mid-American Conference.
Around the Big Ten
Pete Cunningham covers sports for AnnArbor.com. Contact him at petercunningham@annarbor.com. Follow on Twitter @petcunningham.