Posted on
Sun, Apr 10, 2011 : 10:29 p.m.
Your Michigan football primer heading into this week's spring game
By Pete Bigelow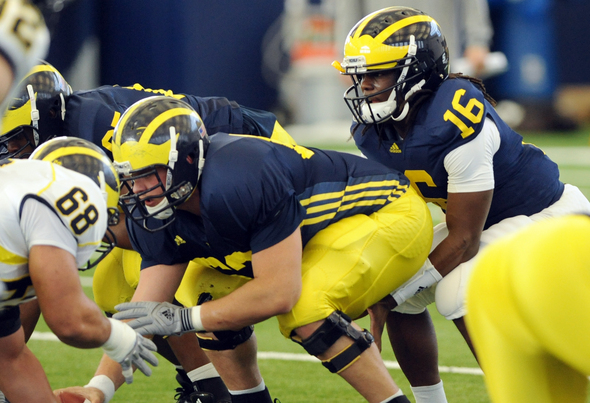 Melanie Maxwell | AnnArbor.com
The hockey team played for its first national championship since 1998. Michael Phelps swam at Canham Natatorium. Lion Kim became the first Michigan golfer to play in the Masters while still in school.
It was a marquee weekend for Michigan's non-revenue sports.
This week, order returns for the Wolverines. The Michigan football team completes its final slate of spring practices, culminating with the spring football game Saturday (Noon, Michigan Stadium).
Gates open at 9 a.m. for a pre-game show that kicks off with an alumni game at 10 a.m. When the actual game starts at noon, here's your sneak preview of five things to keep an eye on:
The obvious
The question has dominated the offseason. How does Denard Robinson fit into the pro-style offense run by Brady Hoke?
Saturday provides the first glimpse at an answer. Every big play No. 16 makes will be heralded as a sure sign of symmetry; every mistake scrutinized more often than the Zapruder film.
Revolution this is not - Robinson played under center in high school, and Michigan will meld the shotgun into its playbook to accommodate Robinson's strengths.
If you want to gauge how Robinson is adjusting, watch his footwork. That's the advice of offensive coordinator Al Borges, who said, "The footwork issues - that's the biggest change - and he has grasped the concept well."
Relief role
Borges was incredulous Tuesday when he noted Robinson missed time in 10 of 13 games last season because of an assortment of bruises and bumps, mainly on his knee, shoulder and head. By comparison, Ryan Lindley, Borges' QB at San Diego State, didn't miss any time at all.

Robison will be less-disposed to injury in the new offense, receiving fewer runs by design. But he'll still need a reliable backup now that Tate Forcier has transferred to Miami.
Sophomore Devin Gardner steps into that role. He impressed in limited action last year, namely a 7-for-10 passing performance in Michigan's biggest rout of the season against Bowling Green.
"Devin can work in the pocket because of his profile," Borges said about the 6-foor-4, 210-pound Inkster native.
Now that he's longer vying for backup snaps with Forcier, Gardner has a chance to show he's not only the quarterback of Michigan's future, but an able backup in the present.

The forgotten
Michigan's fullbacks and tight ends should have been featured on milk cartons the past three years - they've been largely missing from the offensive game plan.
That's not the case anymore. Saturday presents the first opportunity to see how they'll been woven back into the offense and who is capitalizing on newfound opportunities.
At fullback, Borges has raved about the spring of John McColgan (remember him?) and Stephen Hopkins, last year's promising freshman, who could find himself in a hybrid role that includes fullback duties.
At tight end, Kevin Koger (14 catches for 199 yards in 2010) figures to receive the biggest influx in featured playing time. But in an offense that will feature multiple tight ends, Brandon Moore and Steve Watson could also play key roles.
(Not to mention true freshman Chris Barnett, but he won't arrive until the summer).

The sleepers
Coaches have praised vagabond Cam Gordon for his work at linebacker this spring. Ditto for LB Mike Jones, who they've said has made dramatic improvement and DE Jibreel Black, who seems poised to flourish as a pass-rusher this season.
Want one or two names that haven't been mentioned yet?
Marvin Robinson is a hard-hitting safety with an on-field nasty streak. He should be ready for more playing time as a sophomore, especially with DT Mike Martin's "if you can't be physical, you can't play football" mantra.
Another second-year player: Defensive tackle Richard Ash. Last year's coaching staff was so high on the 6-foot-3, 320-pound Florida native that they managed to redshirt him when seven other true freshmen were forced into defensive action.
He could provide a physical presence on a defensive line that was undersized last season.
The Enigmas
Defensive tackle Will Campbell could also provide that presence along the defensive line. At 6-foot-5, 333 pounds, he's got all the raw tools. With a return to his original position this spring after a flirtation with the offensive line, could this be the time he finally delivers on his potential?
Will slot receivers Jeremy Gallon, Martavious Odoms, Terrence Robinson and Drew Dileo really have a home in this offense? Coaches have said they'll use three, four, hey, maybe even five-receiver sets more often than in the past. Let's see how it works on the field.
"Problematic" would be a polite way to describe Michigan's kicking struggles last year. Brendan Gibbons and Seth Broekhuizen combined to go 4-for-14 on field-goal attempts. The holdovers have this spring to impress the new coaching staff before highly touted freshman Matt Wile arrives later this summer. Can one of them show signs of improvement?

Pete Bigelow covers Michigan football for AnnArbor.com. He can be reached at (734) 623-2556, via email at petebigelow@annarbor.com and followed on Twitter @PeterCBigelow.