Posted on
Sat, Sep 18, 2010 : 11:08 a.m.
UMass Minuteman Marching Band presses on following death of their long-time director
By Jeff Arnold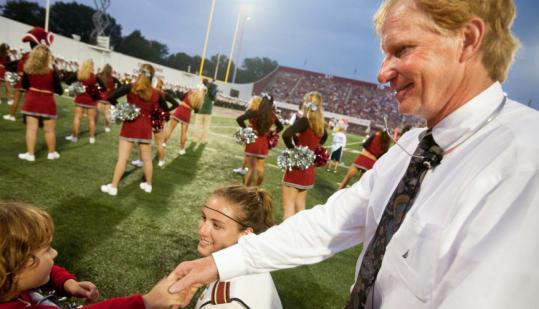 University of Massachusetts photo
As the members of the University of Massachusetts marching band struggled to sift through a sudden tragedy early Friday morning, they knew they had to keep playing.
George Parks wouldn't have it any other way.
Over 33 years, Parks built the UMass band, known as The Power and Class of New England, from a tiny group of musicians, into a nationally-recognized Saturday afternoon tradition. On Thursday, the band had stopped in Ohio, trading a weeknight performance at a high school football game for a night's lodging in the gymnasium.
But after the 57-year-old band director died suddenly after an apparent heart attack, band members voted to continue on to Ann Arbor to perform at Saturday's Michigan-UMass game at Michigan Stadium.
"That was probably the easiest decision to make," UMass senior band manager Caity Bogdan said Saturday morning as the band assembled on the stadium sidelines. "We had to make sure everyone would support a decision like that and that the college would be behind us if we wanted to keep going. But what I was hearing from the students all night was, 'We have to keep doing this.'"
Traveling to a major college football venue like Michigan Stadium was a dream for Parks. Throughout his career, he arranged performances at high schools as a way to off-set travel costs. Friday night, the band stayed in nearby Howell, performing for the first time since Parks' death.
Over the years, Parks became an institution at the school. He became the main reason musicians chose UMass over other programs, providing a level of care that parents of the 400 marching band members respected.
Parents said Parks had an amazing memory, committing the names of his students to memory in the days after meeting them for the first time. They said he kept photos of each of his instrumentalists in his phone and would scroll through them as a way of putting faces with names.
"He was like a father to those kids," said Dave White, whose daughter, Sarah, is a senior tuba player in the band. "They worshipped the ground he walked on."
White said he spoke to his daughter for over an hour Thursday night when she called to break the news of Parks' death to her parents. In the background, White could hear fellow band members crying as they came to grips with the loss of their beloved director.
Being together, Bogdan said, helped.
"The reason we've been able to pull together and make this happen is because of the family George made this into," she said. "If this would have happened on a regular Thursday, we wouldn't have been able to deal with it nearly as well. This way, we had four days of solid time with our family to deal with it and grieve."
Within a day of Parks' death, a tribute page to Parks had been set up on Facebook, allowing friends and former students to share memories of the director who was considered the ultimate showman.
As the band took the field Saturday morning, a moment of silence was observed, paying homage to the long-time director of bands. The band received a standing ovation, playing with the same passion they always did as a tribute to Parks, who was inducted into the Drum Corps of America Hall of Fame in 2006.
Prior to the band's performance, a photo of Parks was displayed on the Michigan Stadium scoreboard.
"It's extremely difficult and the kids are very emotional but they decided they had to give the best show possible for George Parks," said Ed Weigel, whose son Andrew is a tuba player with the band. "He was everything for the band and this is what he wanted."
At halftime, the Marching Minutemen produced an electric, Madonna-themed show closing with, "Like a Prayer." The performance was dedicated to Parks' memory and the band wore black armbands for Saturday's game as a tribute to Parks.
Associate band director Thom Hannum worked with Parks for 30 years. He said prior to Saturday's game that going back to Massachusetts was never really an option as the trip to Ann Arbor "fulfills Mr. Parks' hopes for them that they could experience this type of experience."
Bogdan said she had trouble expressing how big of an impact Parks had on the marching band with only a few words. As one of the students who considered Parks a mentor and friend, she said Parks leaves a proud legacy behind. "I think that's what's been so fascinating to me is that so many of us felt like he was the soul of the organization," Bogdan said. "Even though he's not here, it's still going. And that's what's so amazing. He built something that was going to keep going even when it's past him."
Jeff Arnold covers sports for AnnArbor.com and can be reached at (734) 623-2554 or by e-mail at jeffarnold@annarbor.com. Follow him on Twitter @jeffreyparnold.