Posted on
Thu, Nov 24, 2011 : 5:58 a.m.
Unbeaten Packers vs. revived Lions creates hearty Thanksgiving fare
By AnnArbor.com Staff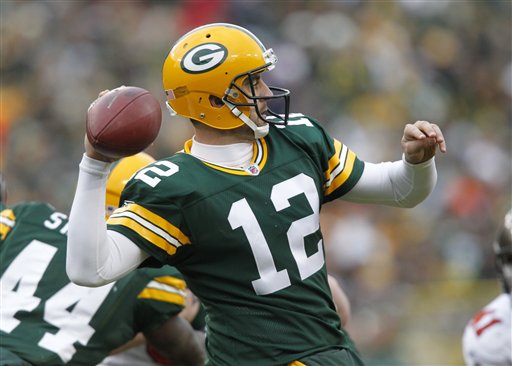 Associated Press
Here's a simple question that will determine how the Detroit Lions do today against the Green Bay Packers: Can anybody stop Aaron Rodgers?
Rodgers, the MVP of the Super Bowl, is off to the best start of his career — among the best starts any quarterback has had — and the Packers are 10-0 entering Ford Field for the annual Thanksgiving game (12:30 p.m., Fox) with the Lions (7-3).
Check out the numbers: Rodgers is 238-for-329 passing for 3,168 yards and 31 touchdowns. And just four interceptions. The Packers are averaging 35.5 points a game.
More from MLive.com:
Efficiency is a hallmark of Rodgers' game. Since 2008, he's thrown just one interception in the red zone. It came on the 6-yard in last year's NFC championship game against Chicago. His 34 interceptions in 1,940 pass attempts gives him a career interception percentage of 1.86 - a full quarter percent ahead of the next-best figure in history. To put that in perspective, a quarter percent separates second place and the ninth place on the list.
From the Detroit Free Press:
(Rodgers) is on pace to join Dan Marino and Drew Brees as the only quarterbacks in NFL history to throw for more than 5,000 yards.
MORE DETROIT LIONS
Associated Press notes on the game:
GREEN BAY (10-0) At DETROIT (7-3)
OPENING LINE: Packers by 6.5
RECORD VS. SPREAD: Green Bay 7-3; Detroit 6-3-1
SERIES RECORD: Packers lead 91-65-7
LAST MEETING: Lions beat Packers 7-3, Dec. 12, 2010.
LAST WEEK: Packers beat Buccaneers 35-26; Lions beat Panthers 49-35
PACKERS OFFENSE: OVERALL (4), RUSH (21), PASS (3)
PACKERS DEFENSE: OVERALL (30), RUSH (12), PASS (31)
LIONS OFFENSE: OVERALL (11), RUSH (22), PASS (8)
LIONS DEFENSE: OVERALL (9), RUSH (27), PASS (5)
Streaks, stats and notes: Detroit beat Green Bay last year at Ford Field after knocking Aaron Rodgers out of the game with a concussion, starting a nine-game winning streak that ended after a 5-0 start this season. ... In their 72nd Thanksgiving game, the Lions are playing the Packers for the 20th time. ... Detroit has lost a franchise-record seven straight in its annual showcase — by an average of almost 23 points a game. ... The defending Super Bowl champion Packers have won a franchise-record 16 straight games, including the postseason, since losing to New England on Dec. 19, 2010. ... Rodgers is the first NFL player to have a 100-plus QB rating in 10 straight games in a season. ... Lions QB Matthew Stafford matched a career high with five TD passes in last week's comeback win over Carolina and is the only player in the Super Bowl era to throw that many TD passes twice in his first 23 games. ... Packers CB Charles Woodson, who led Michigan to the 1997 national championship and won the Heisman Trophy, has seven INTs in nine games against Detroit. ... The Lions are the NFL's first team to win three games in a season after trailing by at least 17 points.