Posted on
Tue, Aug 31, 2010 : 10:07 a.m.
'Uni Watch' likes Eastern Michigan's new football uniforms, not-so-much for Michigan State
By AnnArbor.com Staff
It's back-to-school time, when students and their parents are out picking up a few extra outfits.
That's true for college football players, too. Over at ESPN.com's popular "Uni Watch" blog, Paul Lukas has uniform updates on nearly half of the 120 Football Bowl Subdivision schools.
Locally, Uni Watch digs Eastern Michigan's new uniforms but gives Michigan State's a thumbs down.
On EMU: "Poor Eastern Michigan went 0-12 last year. Will a new uniform help? Eh, probably not, but at least it's a visual improvement, and the players are no doubt pleased that their names will be on this set." The EMU uniforms include a bigger 'E' on the helmet and a darker shade of green. Of note: Eastern opens its season Sept. 4 against Army, which Uni Watch says made the best offseason improvements to its duds.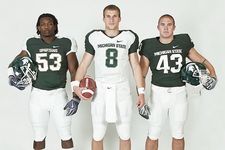 On MSU:
"The contrasting shoulder yokes: lame. The new typeface: disastrous. The bronze trim: gorgeous, but it just doesn't feel like Michigan State, y'know? Also, the helmet stripe has changed, and not for the better. Meanwhile, can anyone explain why the Spartans (or any team for that matter) need two different sets of white pants?