Posted on
Thu, Nov 29, 2012 : 7:04 p.m.
University of Michigan announces partnership with Special Olympics
By Pete Cunningham
The University of Michigan athletic department will partner with the Special Olympics of Michigan in a department-wide community service initiative, the University announced on Thursday.
The first major fundraising event in the partnership will be a "Polar Plunge" at Michigan Stadium on February 23, 2013 in which participants jump into a freezing cold tub of water to raise funds to support Special Olympics competitions.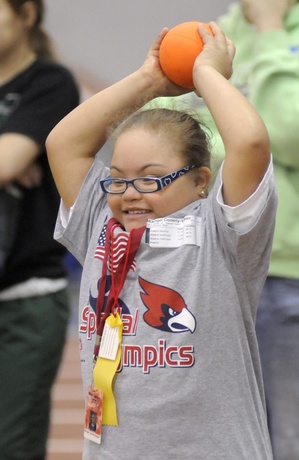 MLive Media Group file photo
"Service to our community is something our team members feel passionate about, and this partnership with the Special Olympics will allow us to help aspiring athletes," said Michigan athletic director
Dave Brandon
in a
press release
. "We plan to make the Polar Plunge a 'wow' experience for everyone involved in taking the plunge. We look forward to teaming with the Special Olympics."
The polar plunge at Michigan Stadium will be one of 28 throughout the state to raise funds for athletes to compete in the Special Olympics at the local, regional, state, national and international level.
Michigan athletic department staff members will also volunteer at a district basketball tournament and the "Spring Games" at Saline High School, a bowling tournament at Colonial Lanes in Ann Arbor, a golf tournament at Pine View Golf Course in Ypsilanti and a softball tournament at Canton Softball Complex.
According to the release, the University plans to announce additional events in the area next week.
The Special Olympics serves more than four million athletes in 229 accredited programs in 170 countries worldwide. Since 1968, Special Olympics has grown to become the world's largest movement dedicated to promoting respect, acceptance, inclusion and human dignity for people with intellectual disabilities through sport.
In the state of Michigan there are more than 20,000 athletes, with more than 700 living in Washtenaw County. There are 12 state-level competitions and more than 450 local and regional competitions in Michigan.