Posted on
Sat, Apr 2, 2011 : 11:42 p.m.
Michigan women's gymnastics team wins NCAA regional at Crisler Arena
By Josh Coudret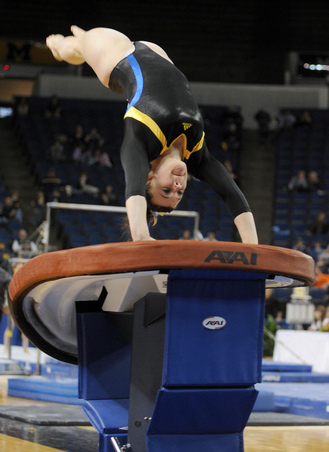 Angela J. Cesere | AnnArbor.com
When freshman Shelby Gies fell from the balance beam in the first routine for the Michigan women's gymnastics team Saturday, coach Bev Plocki and some members of the team were nervous.
Since five of six routine scores count toward the team total, the next five gymnasts had little room for error in an NCAA regional at Crisler Arena.
Gies' teammates combined for a score of 48.975, enough for first place after the first event. And over the final three events, the second-seeded Wolverines continued to put up high scores and won the regional title with 197.075 points -- tying their highest score of the season.
"We have been getting better and better, we've been very consistent in practice and we just performed the way we've been practicing," Plocki said. "I was proud, because in the first event, our rookie had a fall, and it takes a lot of determination and grit for the next five to get up and hit. From there on it was smooth sailing."
Michigan senior Kylee Botterman won an all-around regional title for the second year in a row and was named Northeast Regional Gymnast of the Year after the meet.
"That was pretty cool," she said. "That was just like an extra little cherry on top."
Botterman's combined score of 39.500 was enough to edge Kent State's Christina Lenny by .15 points. Botterman was also the floor exercise champion with a score of 9.925, her second-best score of the season.
"I have to thank my team for that one," Botterman said. "Everyone was cheering me on and pumping me up. I like to have fun, and when I'm having fun and I'm relaxed, I do better.
"It was special because it is our last time (at Crisler). We're seniors going out in style. It was really fun to get that 197 for the first time this year and to have it done in Crisler in front of our fans."
Botterman said she was excited about her personal accomplishments, but was more excited to help her team move on to the NCAA Championships April 15-17 at the Wolstein Center in Cleveland.
Plocki said it was nice to see Botterman have her best season her senior year.
"I'm so proud of Kylee," Plocki said. "As a senior, she's had an unbelievable season. She was the Big Ten gymnast of the year, she was the regional gymnast of the year, she's been the No. 1 all-around for most of the season. She's had an absolutely incredible senior year, so I'm really thrilled for her."
Angela J. Cesere | AnnArbor.com
Botterman wasn't the only senior who performed well in her last competition at Crisler. Jordan Sexton and Trish Wilson tied for first place on the parallel bars with scores of 9.900.
"It means everything," said Wilson, who has battled through six knee surgeries during her career. "It's been a long road. We have one more meet left, so it's not over, but it's very exciting and it's a great payoff.
"I thought my performance was one of the better ones this year."
Because of her injuries, Wilson only competes in the bars, which was the last event of the day for the Wolverines. She waited patiently during the other events, cheering on her teammates.
"I think the team and I were all very relaxed going into the bars," Wilson said. "It was noticeable, too, when we all scored well. We had so much energy, and we were excited at the end of the meet."
Sexton said her confidence on the bars is better than ever.
"Basically, I just try to carry over what I do in practice," she said. "I'm feeling pretty comfortable with my bars right now, and I have my teammates cheering me on every step of the way."
Michigan freshman Joanna Sampson's 9.9000 score on the vault won her first regional championship. Following her on the vault were teammates Natalie Beilstein and Botterman, who tied for second place, and Katie Zurales, who tied for fourth with two other gymnasts.
The only event not won by a Wolverine was the balance beam, which Ohio State's Rebecca Best won with a score of 9.900.
"Our confidence builds with every meet," said Sexton about going into nationals, hinting that the best is yet to come for the Wolverines.
Kent State was the No. 6-seeded team in the tournament, but edged Ohio State by one-tenth of a point to clinch second place and advance with Michigan to the NCAA Championships.
Stanford, the top seed and No. 4-ranked team nationally, tied for fourth place with the Minnesota.
The Cardinal was 13-4 against top-25 teams entering the regional, including three wins over reigning NCAA champion UCLA. One of Stanford's wins was against Michigan at Crisler Arena on Feb. 13.
Qualifiers from other regionals around the country include UCLA, Georgia, Oklahoma, Utah, Oregon State and Nebraska.
MEN'S GYMNASTICS
Michigan junior Syque Caesar (parallel bars) and senior Ian Makowske (high bar) won titles at the Big Ten individual event finals Saturday in Champaign, Ill. (More details)
Josh Coudret covers sports for AnnArbor.com. Contact him at joshcoudret@annarbor.com.