Posted on
Wed, Aug 29, 2012 : 5:45 a.m.
Veteran Eastern Michigan football team opens season Thursday at Ball State
By Rich Rezler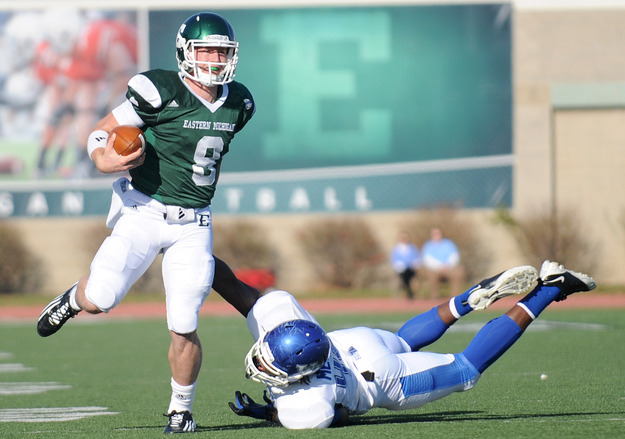 Angela J. Cesere | AnnArbor.com
Almost everything about the Eastern Michigan football team's season opener is atypical: A night game. On a Thursday. Against a Mid-American Conference rival.
Of all the things EMU coach Ron English spends his time worrying about at the start of his fourth season, putting his veteran squad in unusual situations is low on the list.
According to the depth chart released by the school earlier this week, the Eagles will start 14 seniors when they travel to Ball State for a 7 p.m. kickoff on Thursday.
Both teams finished 6-6 last season and are looking for a quick trip to the top of the MAC West standings.
"A lot of young players don't always really know what's going on. They're just trying to tie their shoes up, get lined up, look at the right key and all that stuff," English said Monday on the MAC coaches teleconference. "A veteran player is more aware of situations, more aware of the ebb and flow of the game and all those type of things."
Eastern Michigan's long list of seniors includes seven players that have started at least 18 games in their careers in Ypsilanti - center Andrew Sorgatz (35), quarterback Alex Gillett (27), cornerback Marcell Rose (27), tight end Garrett Hoskins (19), defensive end Andy Mulumba (19), left tackle Korey Neal (18) and left guard Corey Watman (18).
Linebacker Justin Cudworth and cornerback Marlon Pollard are transfers who started all of last season for the Eagles.
"When you look at this league, typically if you have 12 or more senior starters, you're going to have a really good year. That's part of the formula," said Ball State coach Pete Lembo. "So Coach English has built this thing, he's retained players and he has some really good players in the lineup right now."
Senior running back Dominique Sherrer returns after averaging 95.3 yards per game in an injury-shortened six-game season. Junior Javonti Greene (726 yards) and sophomores Ryan Brumfield and Bronson Hill back him up.
"We're a lot deeper there and more experienced," English said of his backfield. "And we're going to have some young guys that are going to be in the mix and do some good things for us, I think."
Ball State will attempt to slow down an Eagles' running game that averaged 218.3 yards last season without starting defensive end Jonathan Newsome, who was suspended for two games after being charged with marijuana possession.
With Gillett as a fourth-year starter, Lembo said he is expecting to see a more diverse offense from the Eagles on Thursday than the 2011 group that finished 14th in the nation in rushing yards but 13th in the 13-team MAC in passing yards.
"You know he's going to have some poise out there. You know he's going to have a frame of reference where he's seen some things in his career here in the Mid-American Conference," English said of Gillett. "That does give you a sense of security a little bit. He can manage the clock, manage the team, been in situations.
"I fully expect him to be able to manage the offense on the field because he has that kind of experience."
If the recent meetings with Ball State are an indication, that experience could be valuable.
Last season, EMU's Kody Fulkerson kicked a 20-yard field goal to put the Eagles ahead 31-30 with 1:18 remaining. The Cardinals responded with a game-winning drive that ended with a 44-yard field goal by Steven Schott with 9 seconds left.
It was the third straight game between the teams decided by three points or less. EMU won 41-38 in overtime in 2010 and Ball State claimed a 29-27 victory in 2009.
The loss to Ball State was part of the Eagles' 1-3 record in November 2011, with the three defeats all decided by six points or fewer.
Those games were a significant part of English's offseason motivation.
"There are a lot of situations to teach from those games, opportunities to teach from those games," he said. "That's how we approach it. We really used it as a teaching tool and this year, hopefully, our team is ready and mature enough to finish and close out some of those games and get where we want to go."
Rich Rezler covers sports for AnnArbor.com.