Posted on
Sun, Jan 16, 2011 : 5:18 p.m.
Western Michigan dominates short-handed Eastern Michigan basketball, 65-48
By AnnArbor.com Staff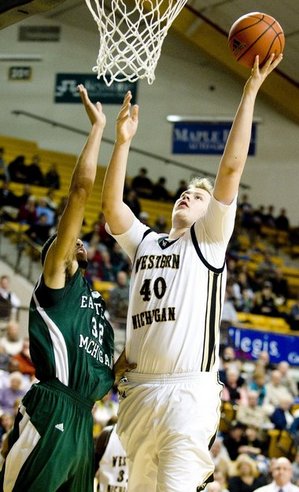 Kalamazoo Gazette
Western Michigan took advantage of a Brandon Bowdry-less Eastern Michigan basketball team, controlling the paint in a 65-48 win in Kalamazoo on Sunday.
The absence of the 6-foot-6 forward, suspended for one game earlier this week, allowed the Broncos to pull down 23 offensive rebounds and outrebound the Eagles 46-30 overall.
Bowdry is the Mid-American Conference's leading rebounder and its second-leading scorer.
On Friday, Eastern Michigan coach Charles E. Ramsey issued a statement that Bowdry had been suspended for one game for "conduct detrimental to our team."
"We expect Brandon to learn from this experience and turn it into a positive one when he returns to the lineup," Ramsey said in the statement.
Perhaps nobody benefited more from the suspension than Western Michigan freshman center Matt Stainbrook, who scored a career-high 17 points and was a focus of the Broncos' offense .
Western used a 26-3 run that encompassed the heart of the second half for their largest margin of victory against a Division I opponent this season.
The Broncos (9-7, 2-1 MAC) have won eight of their last 11 games after a 1-4 start.
Minus Bowdry, most of the Eagles' offense came from sharpshooter Derek Thomas, who hit 5 of 8 3-pointers on his way to 17 points.
Eastern (4-12, 1-2) led 19-14 with 7:56 left in the first half, but the Eagles went cold for the rest of the half and Western took a 27-21 lead into halftime.
Broncos sophomore forward Nate Hutcheson also recorded a career-high in points with 16 to go along with seven rebounds.
The Kalamazoo Gazette contributed to this report.