Posted on
Tue, Oct 9, 2012 : 2:37 p.m.
Western Michigan hockey team has CCHA banner 'Taken' from arena; Captain seeking justice
By Pete Cunningham
It took the Western Michigan hockey team 25 years to win a CCHA Tournament championship banner.
The Broncos only got to keep it for a couple of months.
The 2012 championship banner, which Western won after beating Michigan in the finals at Joe Louis Arena last year, was reportedly stolen from outside of Lawson Arena in Kalamazoo on Monday.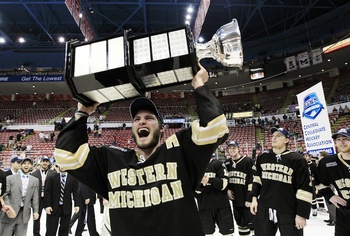 Associated Press
In the eyes of team captain
Luke Witkowski
, it was "Taken."
Upon learning of the theft Witkowski posted Liam Neeson's famous monologue from the movie Taken on Twitter, with a few minor edits. Witkowski tweeted:
"For the person who stole the CCHA banner outside of Lawson Arena: I don't know who you are. I don't know what you want. If you are looking..for ransom, I can tell you I don't have money. But what I do have are a very particular set of skills; skills I have acquired over a very..long career. Skills that make me a nightmare for people like you. If you let our banner go now, that'll be the end of it. I will not look..for you, I will not pursue you. But if you don't, I will look for you, I will find you, and I will bag you."
Of course Neeson went on a murderous rampage for his daughter's kidnappers in Taken, while Witkowski vows to simply "bag" whoever took the banner. What exactly "bag" means is up for debate, but in a sport known for rowdy fan sections and intense intra-state rivalries, there are some prime suspects on campuses across the state. So the question is, who took the banner?
Update: Western Michigan's 2012 CCHA Tournament Championship banner was returned to the team early Tuesday evening. According to WMU assistant director of media relations Adam Bodnar, a student handed the banner over to campus police claiming to have found it.
Pete Cunningham covers sports for AnnArbor.com. Contact him at petercunningham@annarbor.com. Follow him on Twitter @petcunningham.