Posted on
Fri, Nov 4, 2011 : 10:26 p.m.
Western Michigan outlasts Michigan hockey team, 3-2
By AnnArbor.com Staff
Western Michigan right wing Dane Walters scored with less than a minute remaining as the Broncos beat Michigan, 3-2, Friday at Yost Ice Arena in a matchup of top-10-ranked teams.
No. 3 Michigan outshot No. 6 Western, 36-25, but Western goalie Nick Pisellini had 34 saves, 14 coming in the third period.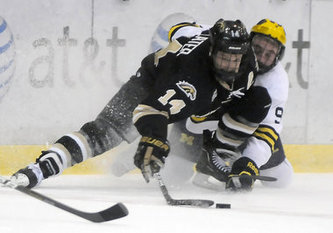 Brett Beier | Kalamazoo Gazette
Walters, lying on his stomach in front of the Michigan goal, pushed the puck past senior goalie
Shawn Hunwick
with 57 seconds remaining in regulation to earn the Broncos (6-0-3, 4-0-1 CCHA) their first win in Ann Arbor since 2008.
"I think we found a way to win," Western Michigan coach Andy Murray said. "We kept looking at the clock. We called that timeout with six minutes to go and I said, 'Let's get our breath and let's recognize we're tied, 2-2, at Yost Arena and how many previous Western Michigan teams would like to be in this situation with a chance to win at Yost. All you have to do is win a six-minute hockey game.'
"I thought we dominated the last six minutes."
The Broncos were outshot 29-17 in the final two periods, but pasted Hunwick with shots in the final few minutes and looked revitalized after the timeout.
"We shouldn't run out of steam. This is Friday night and this is at home," Michigan coach Red Berenson told MGoBlue.com. "There is no excuse for that. Our players tried hard, but I can't tell you we played well. We were outworked and we were out-this and out-that in the third period."
Michigan (6-2-1, 2-2-1-1) fell behind 2-0 and rallied when sophomore defenseman Kevin Clare scored his first collegiate goal at the 12:17 mark of the second period. Sophomore defenseman Mac Bennett followed with Michigan's second goal three minutes later, his first of the season. Greg Pateryn had an assist on both goals.
Michigan had its three-game unbeaten streak snapped. The Wolverines face Western again Saturday at 7:35 p.m. (Comcast)
"In this league, it feels good to win any night," Walters said. "It's pretty special. We're just going to hydrate up and come out and try to get the win."
The Kalamazoo Gazette contributed to this story.