Whitmore Lake pond hockey tournament gets final go ahead
Posted on Tue, Feb 5, 2013 : 5:45 p.m.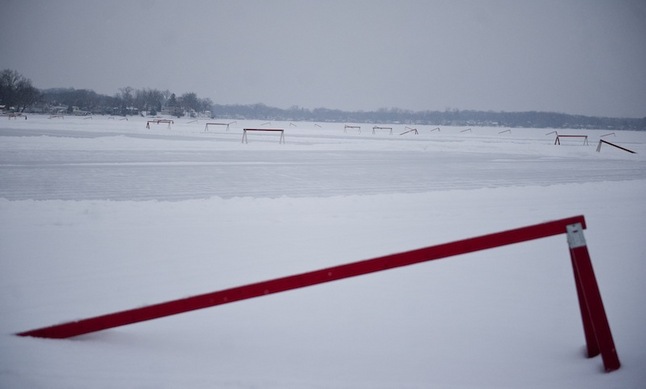 Daniel Brenner | AnnArbor.com

The up and down weather in the area caused the Michigan Pond Hockey Classic to be rescheduled two weeks ago and put this weekend's event at Whitmore Lake in jeopardy as well.

But organizers received the final go-ahead from the Department of Natural Resources Monday night and the tournament is officially a go.

Officials measured the ice thickness on Monday night and gave the final thumbs up for the three-day spectacular which will run February 8-10.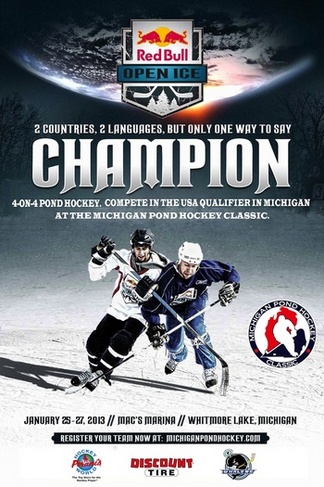 In addition to a the three-day 4-on-4 tournament, which organizers are expecting 120-140 teams to participate in,
there are events
such as concerts, a polar plunge for charity, food and beer tents, a rink dedicated to family skating and much more.
John Ciaramitaro, one of the owners of the Whitmore Lake Tavern, said it's like the winter version of the Fourth of July celebration.
"This town fills up full of people, families, hockey players. It's a gas. It's a total gas," Ciarmitaro said. "It's a great time." "This annual event is a favorite for hockey players across Michigan as well players throughout the Midwest and Canada. We had to cancel last year's event due to the inclement weather and no ice, as you can image we are itching to get back on the ice this year and celebrate the game of hockey," said tournament director Ed Gentile in a press release.
Red Bull is sponsoring this year's event for the first time, with the top division winner earning an all-expenses paid trip to Finland to compete at the Red Bull Open Ice Championships.
Schedule of events
Friday, February 8, 2013
4:00 p.m. Volunteer & Player Check-In Begins
Skills Competition Registration Opens (limited to 20 per event)
6:45 p.m. Opening Ceremonies National Anthem Performed by Paulina Jayne
7:00 p.m. to 9:50 p.m. Games Begin
7:00 p.m. to 9:50 p.m. Family Open Skate
7:00 p.m. Food/Beer Tent Opens
8:00 p.m. to 11:00 p.m. Raffle Sales
8:30 p.m. Live Music in Beer Tent: Kemical Punkch Performs
12:30 a.m. Food/Beer Tent Closes
Saturday, February 9, 2013
9:00 a.m. Registration & Check-in begins
Perani's Hockey World Skills Competition Registration. (limited to 20 per event)
9:30 a.m. to 1:00 p.m. Morning Games
9:30 a.m. to 8:10 p.m. Family Open Skate Rink
12:00 p.m. Beer Tent Opens
1:00 p.m. - 2:00 p.m. Whitmore Lake Kiwanis Chilly Dip Registration Location: Main St. Whitmore Lake
2:00 p.m. - 4:00 p.m. Perani's Hockey World Skills Competition.
3:00 p.m. Whitmore Lake Kiwanis Chilly Dip Location: Main St. Whitmore Lake
5:00 p.m. - 8:10 p.m. Afternoon/Evening Games
7:30 p.m. Live Music in Beer Tent with Kemical Punkch
8:00 p.m. to 11:00 p.m. Raffle Sales and Prizes
12:30 a.m. Food/Beer Tent Closes
Sunday, February 10, 2013
10:00 a.m. to 1:30 p.m. Morning Games
1:00 p.m. to 4:20 p.m. Division Championship Games
5:00 p.m. Closing Ceremonies / Trophy Presentations