Posted on
Thu, Oct 11, 2012 : 5:57 a.m.
Who will be Michigan hockey's breakout freshman this year? Jacob Trouba a good bet
By Kyle Austin
Last year it was Alex Guptill, who led Michigan hockey with 16 goals and 33 points in his freshman campaign.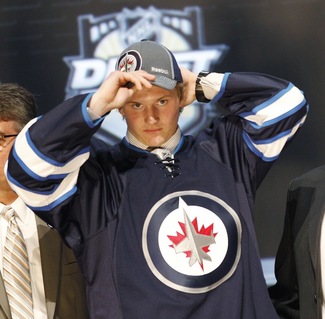 Associated Press
The year before it was Jon Merrill, who became the first Wolverines defenseman in five years to put up a 20-point season, doing it as a freshman.
In 2009-10, Chris Brown had 28 points as a freshman.
Every year, it seems like a freshman steps onto the ice and has a breakout season for Michigan hockey.
So the preseason question isn't if a freshman can contribute immediately. It's who has the best chance to do it.
Coach Red Berenson, asked last week, considered it for a second.
"That's a good question," Berenson said. "I don't know."
But the next sentence out of his mouth contained no doubt.
"The only one I'm sure of is Trouba. Trouba's ready," Berenson said.
Trouba is Jacob Trouba, the 6-foot-2, 195-pound defenseman whose coach and teammates agree has the tools to step into the Wolverines lineup and contribute immediately.
Michigan fans will get their first look at him in regular season action on Thursday when the Wolverines host Rochester Institute of Technology in their season-opener at Yost Ice Arena. He notched three assists in the Wolverines' Tuesday exhibition win over the University of Windsor.
The ninth overall pick of the Winnipeg Jets in the June NHL draft, Trouba is the jewel of the Wolverines' incoming class.
Through preseason practice, he hasn't disappointed.
"He's a great hockey player," defenseman Mac Bennett said. "He has a really high hockey IQ. I think you're going to see him destroy guys kind of like Greg Pateryn did."
The first aspect most cite when talking about Trouba is his physicality. Bennett said there have been a few times in practice "when he literally could have killed his teammates."
But Berenson said there's more to his game than just hitting.
"He's got that in him, he's got the instincts to hit, he's got the physicality, he's got the mindset," Berenson said. "He's an all-around defenseman, he's not just a physical defenseman. He can move the puck, he can jump up with it."
Trouba, for his part, is more concerned with internal expectations than external ones.
"I don't really think the draft matters too much, but there's expectations I put on myself," Trouba said. "I don't really care what other people kind of think or what other people expect of me."
While defensive pairings have been mixed and matched during the preseason, Trouba said earlier this week he had spent the last week paired with Merrill.
Berenson indicated that the team's breakout freshman from two years ago could be paired with its talented incoming freshman when the season starts, but that will have to change after Merrill suffered a cracked vertebrae in Tuesday's exhibition.
"I think it's good for Trouba to play with a kid like Merrill and it's good for Jonny to play with a kid like Trouba," Berenson said. "I think they can be a real good pair right from the get-go."
Of the other six freshman, the Wolverines could also use some early contributions from goaltender Jared Rutledge. After an early season eye ailment kept him out of practice for two weeks, Rutledge is expected to see the lions' share of time in net this season.
Rutledge played a period in Tuesday's exhibition, and is likely to see the start when the Wolverines open the season Thursday. Fellow freshman Steve Racine also played Tuesday and is in the mix to see time in net this year.
Among the forwards, Cristoval "Boo" Nieves, who was picked 59th overall by the New York Rangers in this year's NHL Draft, is the name that comes up most often among discussions of breakout freshmen. But Berenson cautioned last week that his development could take time.
"He's going to be a great college player at some point," Berenson said. "It may not be this week or this year. He'll be a player that takes a little longer."
Kyle Austin covers sports for AnnArbor.com. He can be reached at kyleaustin@annarbor.com or 734-623-2535. Follow him on Twitter @KAustin_AA.