Posted on
Sat, Sep 22, 2012 : 5:34 a.m.
Winter Classic at Michigan Stadium could be canceled in November if NHL lockout continues
By Kyle Austin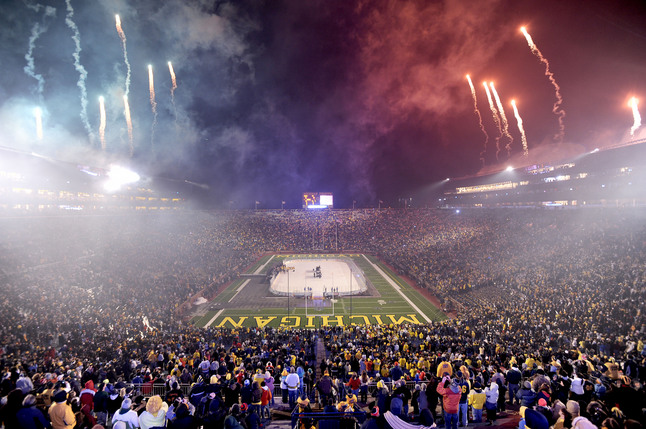 AnnArbor.com file photo
The NHL Winter Classic, scheduled for New Year's Day at Michigan Stadium, could be canceled earlier than expected if the league's lockout continues.
According to a report in the Toronto Star, NHL Commissioner Gary Bettman would cancel the event in November if the league and the NHL Players Association hasn't come to an agreement on a new collective bargaining agreement.
The report, which cites multiple anonymous sources, said Bettman doesn't want the game, which would feature the Detroit Red Wings and Toronto Maple Leafs, to become leverage for the players.
The NHL and NHLPA declined comment to The Star. Red Wings Senior Vice President Jimmy Devellano told the paper it's "at least a month too early" to start worrying about cancellation.
The NHL lockout officially began at midnight Sunday, and the players and owners currently have no negotiating sessions planned.
The agreement between the NHL and the University of Michigan states that the game can be canceled up until Jan. 1. The league would have to pay Michigan $100,000 of the $3 million stadium rental fee if that were to happen.
A University of Michigan representative late last week said that there had been "no recent discussions between the league and school about the labor situation.
Kyle Austin covers sports for AnnArbor.com.