Posted on
Wed, Dec 2, 2009 : 10:01 a.m.
Big Ten-ACC matchup key for both Boston College, Michigan basketball team
By Michael Rothstein
The Boston College and Michigan basketball teams both went 1-2 in their respective exempt tournaments in the Virgin Islands and Disney World. So tonight's Big Ten/ACC Challenge game at Crisler Arena (7:30 p.m., ESPN2) is important.
It could end up deciding what each team is doing in March.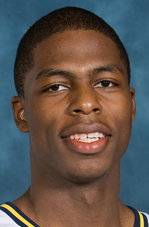 It could end up making an impact in March.
"Probably so for March but we're just thinking one game at a time," Michigan senior forward DeShawn Sims said. "With that mindset, we're rallying our team to being able to just focus on this game.
"In the tournament, it's hard not to look ahead because the guys who are playing are after you, waiting in the tunnel and tournaments are good and they can be bad sometimes. This game is very important, just for us to establish some momentum, that's about it."
Still, a 3-2 November isn't what Michigan envisioned when it started the season as the No. 15 team in the country according to the Associated Press media poll.
But as Sims said in Florida and players from both Michigan and Boston College echoed Tuesday, there is a lot of season left. But picking up a win Wednesday will help.
"It's a long season and this is just the beginning," Boston College junior forward Joe Trapani said. "But we just need to go in with the same mindset that we go into every single game, which is to win a ballgame.
"I don't think there is any added pressure because we know what we have to do."
Exempt tournament buzz From the sounds of it, don't expect Michigan to travel too far for an exempt basketball tournament next season.
Although Michigan coach John Beilein wouldn't say where Michigan is going next year, having to play on the road in the Big Ten/ACC Challenge in 2010 almost assures it.
"You'd like to stay in the same time zone and you'd like to make it fairly close," Beilein said. "Also, with our academic calendar you're talking about missing a whole week of classes in the first semester at a tough time so it's hard to do that.
"We've really only missed Wednesday, only missed one day of classes so far. We missed part of Monday, too, so if you go to one of the tournaments on the west coach and then a Tuesday game so you're flying somewhere, that's hard at this time of year."
Among the schools Michigan could play next year in the Challenge due to the home one year, away one year schedule the Challenge has usually used, the Wolverines could potentially play Wake Forest, Maryland, Virginia Tech, Boston College, Duke or Florida State.
Another Raji If you follow college football and Boston College, the last name Raji should look familiar. B.J. Raji was a dominant force for BC last season before going to the NFL this year. Well, Boston College basketball has a Raji, too, junior forward Corey Raji.
The Washington Township, N.J. native has started the past four games for Boston College and has averaged 14.3 points and 6 rebounds as a glue guy for the Eagles.
"He's not a guy that you run a lot of plays for but he's not a guy that complains," Boston College coach Al Skinner said. "He just comes in and does what you need him to do. He's a team player.
"He does a good job, executes the defense and finds some opportunities for himself."
This and that Michigan took Monday off after returning from Florida on a commercial flight Monday morning. The Wolverines met both in the morning and in the afternoon Tuesday. … Beilein said he doesn't plan on making changes to the starting lineup but might make tweaks to minutes players will receive in the rotation. … Beilein also said he thought "way too much is made of who wins the most games" in the Big Ten/ACC Challenge, but the Big Ten has never won the yearly event.
Michael Rothstein covers University of Michigan basketball for AnnArbor.com. He can be reached at (734) 623-2558, by e-mail at michaelrothstein@annarbor.com or follow along on Twitter @mikerothstein.