Posted on
Thu, Oct 21, 2010 : 5:59 a.m.
With lengthy football losing streak over, Eastern Michigan keeps focus on future improvement
By Jeff Arnold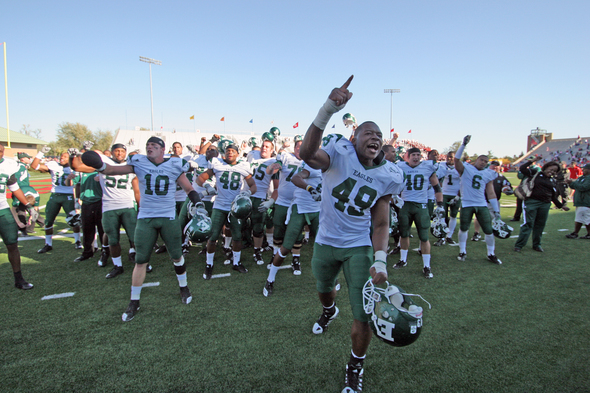 Susan Martin spent Saturday working at Eastern Michigan's University House. She tracked the school's road football game at Ball State on her computer.
Like the team's fans, Martin - the university's president - had endured 18 consecutive losses, the nation's second-longest losing streak. Martin had remained confident that Eastern's football program, which hadn't posted a winning mark in 15 years, could turn things around.
Martin and other university officials were vocal in their support for Eastern Michigan coach Ron English, who hadn't collected his first victory during the first year and a half of his tenure. Although English said often that he was focused on building the right kind of program rather than the number of consecutive games his team lost, Martin knew full well where things stood.
"You don't want to have the worst losing record in the country," Martin said Wednesday.
Twice this season, the Eagles were close to victory. Army scored in the final minute to deny an opening-night victory. Miami used a fourth-quarter touchdown to notch a seven-point victory the next week.
Against Ball State on Saturday, Eastern used the biggest comeback in school history to force overtime. Then quarterback Alex Gillett's 12-yard touchdown pass to tight end Ben Thayer gave the Eagles a 41-38 overtime win, snapping the 18-game losing streak.
"It was such an emotional moment," Martin said.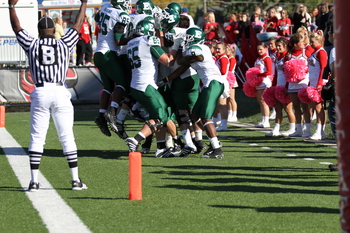 The victory has bigger ramifications than simply drawing Eastern back to .500 in the Mid-American Conference.
Heading into Saturday night's road test at Virginia - the 1,000th game in school history - the moment provided relief for school officials.
At a time when funding for public higher education is limited, football remains a big-budget item at $1.38 million per year, more than double what Eastern budgeted four years ago. But throw in the fact that the school's last winning season came in 1995 and the last overall win came in the final game of the 2008 season, maintaining a case for continued financial support isn't always easy.
When Eastern's Board of Regents voted to fire former coach Jeff Genyk at the end of the 2008 season, board members realized if a coach were to have a shot at turning the football program around, they would have to invest in the plan.
Regents approving hiring English, who had previously spent time as a defensive coordinator at Louisville and Michigan. They approved a five-year contract - with a starting salary of $290,000 -$110,000 more than Genyk was making.
Regents then approved spending $3.9 million on an indoor practice facility. Regent James Stapleton said Tuesday the football program is good for university business.
"We could have stayed mired in mediocrity if that's what we wanted to be," Stapleton said. "We all knew there were going to be growing pains. But we were totally comfortable that this was going to take some time, but it was going to benefit itself at the end."
Stapleton believes English will build on wins like Saturday's to help make the Eagles competitive in the Mid-American Conference. Once that happens, Stapleton believes a better football program will lead to stronger enrollment at Eastern.
Athletic programs, Stapleton said, makes Eastern more of a "full-service destination," offering students a safe environment full of weekend entertainment options like football games.
While some question funding football at Eastern Michigan, Martin said university officials are mindful of the tough economic times.
She points to the indoor bubble facility that was $17 million cheaper than a more traditional practice building and that will generate enough money from community rentals to pay the building's operating costs. Rather than replacing the Rynearson Stadium scoreboard with a pricier model used in other stadiums, the university opted to spend $500,000, keeping spending on the school's athletic programs in check.
"We have not been lavish or extravagant in investing in athletics," Martin said. "There hasn't been a pressure about us over-investing in athletics because I don't think we have.
Martin also believes football is good for the university's long-term well being. With the school's student-athletes exhibiting higher graduation rates of other students, maintaining a football program at its current level means more quality students at a university where student credit hours are up by more than 4 percent this year.
"This mission (of investing in football) is not to make us MAC champs," Stapleton said. "This is an overall mission about bettering Eastern Michigan University and positioning it for the future."
The future is English's priority, too.
After asking 25 players to leave his program in the off-season, the second-year coach continues to pare his roster.
English said this week that many of the players who have left were too accustomed to losing. Many had accepted the way things had been done before English arrived while others, English said, didn't respect the game the way they should.
Some came to English and asked to leave the program. Others were dismissed. But one way or another, English was determined to shape his program into one that in time would be competitive.
"This is the hardest job I've ever had," English said. "Any job you take, you're going to fight the culture change. That's why the job's open, because something is wrong with the culture.
"But this is going to take time, because we have a lot of pieces that need to be put into place."
English said he's still working on weeding out the players who aren't a good fit. He equates the process to cancer, saying that once the disease is inside, it needs to be cut out.
English has an ally in Eastern Michigan athletic director Derrick Gragg. Twice during his football career at Vanderbilt, Gragg was won on a team that finished 1-10. From the start of English's time in Ypsilanti, Gragg has stressed the importance of time and patience.
"There is a sense of urgency here and we all want to win, but it's so hard to get student-athletes to go back out there," Gragg said Wednesday. "So a win - and particularly a MAC win - gives the student-athletes some confidence and helps them to be able to embrace the process."
"But for now, they see they can win, and so it's good to have that burden lifted off of them."
Jeff Arnold covers sports for AnnArbor.com and can be reached at (734) 623-2554 or by e-mail at jeffarnold@annarbor.com. Follow him on Twitter @jeffreyparnold.