Posted on
Thu, May 10, 2012 : 5:27 p.m.
With NCAA tournament on the horizon, Michigan softball team first seeks 5th straight Big Ten title
By Matt Durr
With four consecutive Big Ten championships under its belt, the University of Michigan softball team is no stranger to raising banners and the pressure that comes along with being the class of the conference.
With Purdue arriving in Ann Arbor Friday for a three-game series, the Wolverines can clinch a fifth straight championship by winning two of the those games. But if they stumble, second-place Iowa can catch them.
With an important weekend ahead, the players and coaches are working hard on not focusing too much on the task at hand.
"This is something that we can't go in there and approach it thinking about how important this weekend is," said senior infielder Amanda Chidester. "The coaching staff has been doing a great job of taking the pressure off us. The team is on the same page with how we are approaching the games."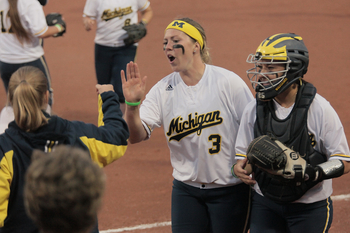 That's not to say the team is taking this weekend lightly. The Boilermakers visit Ann Arbor for one game on Friday (6 p.m., BTN) and a doubleheader Saturday (noon).
"All of us want to do it (win the conference) every year, it's always one of our main goals," said senior outfielder Bree Evans. We just want to win it for our university and for our team."
Michigan is 15-5 in conference play, the most Big Ten losses it's had since 2003.
As one of the coach Carol Hutchins' younger teams, this year's Wolverines have seen some ups-and-downs during the season. After winning nine of its first 10 games, the team currently sits at 36-15 on the year.
With only four seniors and four juniors on the roster, Evans is still confident the leadership will help with any pressure the underclassmen could be feeling.
"There's going to be a little pressure, but as the upperclassmen we have to show them how to not let the pressure get to them. They've been getting better and better as the year goes on," said Evans.
So what will be the key for the Wolverines this weekend?
"Timely hitting is something that we need to be a little more consistent about. We need to keep playing our game and encouraging our pitching staff," said Chidester.
Evans agrees.
"When we get those big hits with people on base and we're not leaving people on base, it's huge. A lot of it will have to do with hitting and getting those key hits" said Evans.
This weekend can serve as a nice test for the Wolverines, who will begin regional play of the NCAA tournament next weekend. As two of the four members of the team that reached the Women's College World Series in 2009, both Chidester and Evans think this year's team is capable of a return.
"The key is determination. Not letting anyone tell you that you can't make it. If our team is at its best, we can make the World Series no doubt," said Evans.
And with only a handful of games left for Chidester, getting back to Oklahoma City would be a great way to cap off her career at Michigan.
"The College World Series was unreal, and it's something that I want to get back to. I want my teammates to experience it," she said.