Posted on
Tue, Mar 23, 2010 : 10:22 a.m.
Michigan hockey team hopes to make Fort Wayne a hockey home away from home
By Jeff Arnold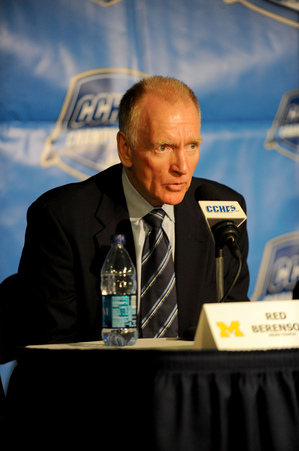 Red Berenson
wasn't overly choosy about where the
Michigan hockey team
ended up this weekend.
But when the Wolverines ended up in the NCAA Midwest Regional in Fort Wayne, Ind., a smile crossed Berenson's face. Rather than dealing with a long list of travel details, the Wolverines will enjoy a relatively normal week before tending to hockey.
No flights to book. Few classes to miss. Plenty of time to prepare for Saturday's regional semifinal against Bemidji State at the Allen County War Memorial Coliseum.
"It's a simple trip for us," Berenson said Sunday. "Flying these days - even with a charter - can be a hassle, so I just think this is ideal. I would rather bus somewhere rather than worrying about flying."
Michigan will practice at Yost Ice Arena before busing to Fort Wayne Thursday night. The Wolverines play in Saturday's second semifinal after tournament No. 1 seed Miami (Ohio) and Alabama-Huntsville face off in the other regional semifinal.
The winner of this weekend's regional advances to next month's Frozen Four in Detroit. Being in close proximity to the site of this year's national championship gives the Wolverines plenty of incentive to play well.
But even in Fort Wayne, Berenson believes his team will enjoy a home-ice feel as opposed to previous years when the Wolverines were shipped to the East for its NCAA assignment.
"How many times have I sat here and said I feel bad for our fans because it's hard to travel (to previous playoff destinations on short notice," Berenson said. "Well, it's not hard to get to Fort Wayne. This is the first time in a long time that our fans could actually get to a regional on short notice. You've got to take advantage of that.
"It's all about how we play, but I can't say enough about our fans and how they've helped to get us where we are right now. I think our fans are in touch with our team."
Chris Summers may play Senior Chris Summers skated for the first time Saturday since suffering a leg injury in the first game of Michigan's first-round CCHA playoff game against Lake Superior State. The veteran defenseman missed the sweep of No. 2 Michigan State as well as both of the Wolverines victories over the weekend at Joe Louis Arena.
Berenson said Sunday that Summers could be ready to play this weekend. Summers, who missed just three games in his career before the injury, has scored four goals and registered 12 assists in 38 games this season.
A nice old building Berenson's memories of the War Memorial Coliseum include his own college experience.
During his freshman year at Michigan, Berenson traveled to Fort Wayne to watch the city's International League franchise play, giving him a chance to watch some of his junior hockey league team back in Regina, Saskatchewan, play. The Coliseum was constructed in 1952 and originally seated 8,000.
In 2002, the building underwent a renovation that raised the coliseum's roof 41 feet, allowing for the addition of another 2,500 seats.
"They made it into a really nice old building," Berenson said. "They've made it much better than it was. It was an old barn when I saw it, and now it's a newer old barn."
Say what? Junior forward Carl Hagelin is accustomed to seeing a large Swedish flag flying in the Michigan student section at games this season. If he sees one Saturday, Hagelin will have to think twice who it is there for.
Hagelin will Emil Billberg, who is a junior forward for Bemidji State and who was Hagelin's linemate in junior hockey back in Sweden.
The two former teammates speak twice a week. Hagelin planned to call Billberg on Sunday after learning they'd be playing against one another this weekend.
So will Hagelin talk a little trash to his fellow Swede?
"In Swedish, yeah," Hagelin said.
Hagelin, who had three assists in Friday's 5-2 upset of Miami, proceeded to give reporters a quick demonstration of trash talk in his native language, but declined to translate.
Collecting the hardware Four Michigan players were named to the CCHA All-Tournament team. Goalie Shawn Hunwick picked up the tournament's Most Valuable Player award and was joined by teammates Steve Kampfer (defense), Louie Caporusso and Hagelin (forwards) on the team.
Jeff Arnold covers Michigan hockey for AnnArbor.com. He can be reached at jeffarnold@annarbor.com or 734-623-2554. Follow him at Twitter @jeffreyparnold.