Posted on
Wed, Apr 20, 2011 : 2:02 p.m.
Ypsilanti High School's George Haggarty named state's Mr. Basketball ... 90 years later
By Rich Rezler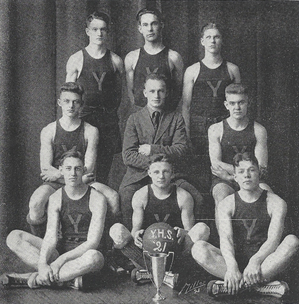 Courtesy Ypsilanti Public Schools
Ninety years after he last pulled on his wool Ypsilanti jersey and quilted shorts, George Haggarty has been recognized as the best basketball player in the state of Michigan.
A 1921 graduate of Ypsilanti High School, Haggarty is the recipient of a "retro" Mr. Basketball award from the Basketball Coaches Association of Michigan.
The decade-long project organized by a BCAM committee and high school sports historian Ron Pesch honors the state's top players from 1920 to 1980, bridging the eras before the Hal Schram Mr. Basketball Award was first given in 1981.
Ann Arbor High School's Dick Walterhouse was named a finalist for the 1941 award won by Don Osterman of Detroit St. Theresa.
Campy Russell of Pontiac Central -- called at the time "the best offensive high school player in the country" by Johnny Orr, his future coach at Michigan -- won the award for 1971.
Haggarty was an All-State selection for an Ypsilanti team that finished among the top eight in the state, according to the 1921 "Ypsi-Dixit" yearbook - which described Haggarty as "impetuous, active, fierce and young."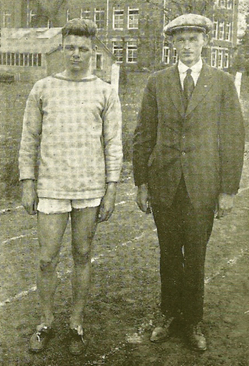 Courtesy Ypsilanti Public Schools
He was the team's high scorer with 105 baskets in 10 games. Fred Williamson was next with 35.
On the track team, Haggarty won state titles in the high and low hurdles his senior season at a championship meet meet held in Ann Arbor. According to the Ypsilanti yearbook, he wore out before a national meet:
"The National track meet came next at the University of Chicago. Stiff competition was given, and had Haggarty been in form first honors in low hurdles would have been Ypsi High's. However, George is not super-human, and two track meets with two baseball games in one week are too much for any man. As it was, he took third place, but the time made by the winner was no better than Haggarty's at Ann Arbor."
Nominees for the retro Mr. Basketball award are pulled from lists of All-State, All-Conference and All-Tournament teams from years gone by.
This year's class of honorees is the second set, with selections being made from 1921, 1931, 1941, 1951, 1961 and 1971. The process will be complete at the end of the 2019 season.
BCAM 2011 Selections 1921: George Haggarty, Ypsilanti 1931: Edward Huttenga, Grand Haven 1941: Don Osterman, Detroit St. Theresa 1951: Webster Kirksey, Saginaw 1961: Reggie Harding, Detroit Eastern 1971: "Campy" Russell, Pontiac Central
BCAM 2010 Selections 1920: Harry Kipke, Lansing Central 1930: John Tooker, Kalamazoo St. Augustine 1940: Ralph Gilbert, Flint Northern 1950: Charlie Primas, Detroit Miller 1960: Pete Gent, Bangor 1970: Rick Drewitz, Garden City West 1980: Tim McCormick, Clarkston