Posted on
Mon, Dec 17, 2012 : 3:12 p.m.
Ypsilanti Panthers Pop Warner football competes at National Championships in Florida
By Kyle Austin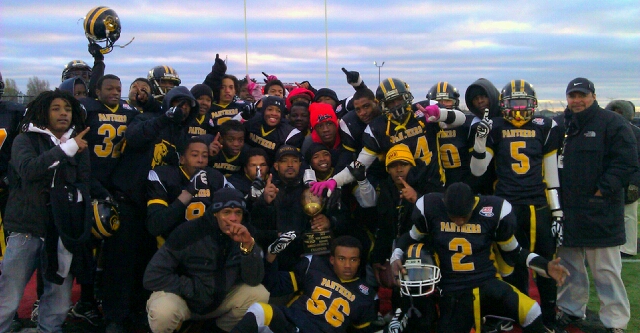 Courtesy of the Ypsilanti Panthers
The Ypsilanti Panthers youth football team advanced to the Pop Warner National Championships earlier this month, coming within two games of the Pop Warner Super Bowl.
The tournament was held Dec. 1-8 at the ESPN Wide World of Sports Complex in Lake Buena Vista, Florida.
The Panthers fell in their opener to the West Lynn Rams of Massachusets, 29-0, and to the North Raleigh Bulldogs of North Carolina, 36-12, the next day in the consolation round of the Division II Midget bracket.
The team qualified for the tournament by winning a division title, and then winning a pair of regional games in Chicago.
The team of 14-16 year olds is coached by Donald Payne.
Local state champs in running for Punt, Pass and Kick national titles
Two Ann Arbor youths recently won the NFL Punt, Pass and Kick state championships at Ford Field in Detroit and are now waiting to find out if they qualified for the national competition.
Connor Alderman, of Ann Arbor, took first place in the Boys 6-7 division with a total score of 141-feet, one inch, a state record for his division. He also broke a state record for longest punt with a score of 50-feet, one-inch.
Total score is calcuated by adding the distances a participant's punt, pass and kick travels in the air. A participant's accuracy is taken into account as well, with scores reduced based on how far the ball lands away from a straight line.
Logan Evans, also of Ann Arbor, won the Boys 10-11 division with a final score of 241-feet, four inches, more than 23 feet ahead of the runner up.
By winning state championships, Alderman and Evans could possibly qualify for the Punt, Pass and Kick national tournament. Their scores will be compared to every other state champion in the country and the top four in every division will compete at the national championship at the NFC Championship game the weekend of January 12, 2013. Qualifiers will be announced after Dec. 26.
Have a local sports brief to tell us about? Contact us at sports@annarbor.com.
Kyle Austin covers sports for AnnArbor.com. He can be reached at kyleaustin@annarbor.com.