Posted on
Sun, Jul 28, 2013 : 5:30 a.m.
Ypsilanti's Savannah Roberson a track national title contender after sitting out high school season
By Kyle Austin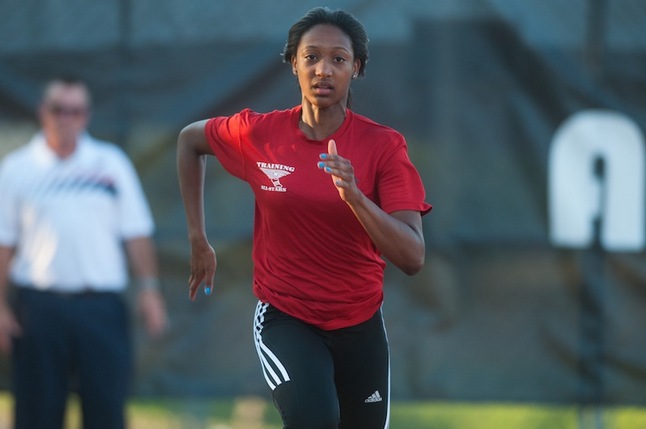 Courtney Sacco | AnnArbor.com
Lincoln High School
senior-to-be
Savannah Roberson
may have been one of the fastest high school sprinters in Michigan this spring, and in contention for a title at the Division 1 state meet June 1.
How she would have fared there is something she will never know after she made the difficult decision to sit out high school track and focus on the AAU season.
But she does know that it's a decision she doesn't regret.
"It's a decision I had to make to improve a lot," Roberson said. "I just took a chance."
Roberson sat out the high school season so she could be her best right now, as she gets ready to compete in the AAU Junior Olympic Games at Eastern Michigan's Rynearson Stadium next week.
Events get underway Monday at 8 a.m., and continue through Saturday, Aug. 3. with athletes from around the country age 8-and-under to 18 scheduled to compete.
Roberson is one of more than 10 athletes from the Ypsilanti-based Michigan All-Stars that qualified for the national tournament, and represents the club's best chance at taking home a national title on its own turf. Roberson has the top seed of 11.83 in the girls 17-18 100-meter dash, and the second seed in the 200 at 23.82.
"I'm actually really excited," Roberson said. "It's motivation to be No. 1."
The fact that she owns a pair of top-two seeds is one she attributes in part to her decision to put her focus solely on club track.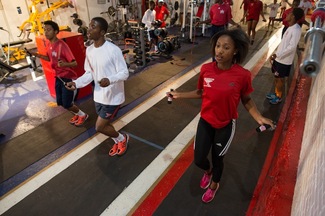 Courtney Sacco | AnnArbor.com
Roberson competed for the Lincoln track as a freshman, but had to sit out her sophomore high school track season due to a stress fracture in her foot. It was during that sophomore year that she began working with the Michigan All-Stars and coach Rad Greaves, who introduced her to his program that emphasized building strength to drop time.
Her training schedule included increased weightlifting, allowing her single-repetition squat from 180 to 300 pounds in six weeks this spring. Her time dropped simultaneously, including two seconds off of her 200-meter time.
But the intense weight training and five-month indoor season that finished in mid-March also necessitated a recovery period immediately after the season culminated, to be able to be in top shape for the AAU outdoor season that starts in June.
That recovery period happened to fall when high school track holds its outdoor season.
"We're doing a dual-peak season, one indoor and one outdoor," Greaves said. "If you throw traditional high school track in the mix, you don't get time to go down, and if you do go down then your high school coach isn't happy because you're going down on his time."
That presented Roberson with a difficult decision: sacrifice her recovery period and possibly her conditioning for the summer AAU circuit, or sit out high school track.
Also contributing to the decision was the fact that high school track athletes are generally asked to compete in events outside of their specialties to help score team points. Staying exclusively with club track allows Roberson to train exclusively for the 100 and 200.
It wasn't easy, but Roberson said she decided to sit out high school track, and brought the plan to her mom.
"I said 'If this is what you want to do and you believe in your coach, then go for it,'" said Cheryl Misher, Roberson's mother. "And I've been pleased. Very pleased.
"She made the decision and had to make some sacrifices. She had to be strong and stay firm to what her decision was. It was a hard choice for her."
With her decision came "drama," as Roberson puts it.
"A lot of people at my high school didn't really understand why I wasn't running, they were kind of upset with me, like 'Why are you not running?'"
But now Roberson, her mother and her coach are all happy she made her decision. The 11.83 100-meter dash she ran at the national championship qualifier in late June is faster than any time turned in at the state meet.
But instead of that, Roberson is focused on a national meet, and one in her hometown.
"It's great," Roberson said. "I'm hoping that everybody can show up."
Kyle Austin covers sports for AnnArbor.com. He can be reached at kyleaustin@annarbor.com or 734-623-2535. Follow him on Twitter @KAustin_AA.